The 10 Funniest Fools in Las Vegas
It's April Fools' Day, and time to reflect on all the great fake news stories we didn't have time to write this year.
Our reflection complete, we thought it an opportune time to compile a list of the funniest fools in Las Vegas. These are the folks that keep audiences from around the world laughing when they're in Sin City. In no particular order. Because we bump into these people from time to time.
1. Jeff Civillico
Jeff Civillico is both a friend and a fan of this blog, which means he gets to sit atop our list of the funniest performers in Las Vegas. His rat-a-tat delivery and charisma are consistently winning. Oh, and he also juggles like a boss. See his family-friendly Comedy in Action show at the Linq Hotel & Casino. Civillico was recently named "Best Family Attraction" in the Best of Las Vegas awards. Yeah, we don't get it either.

2. Frank Marino
Also at the Quad Hotel & Casino is Frank Marino who serves as the quick-witted emcee of "Divas Las Vegas," a female impersonation extravaganza. Even if you don't think female impersonators lip-syncing isn't for you, you're wrong, you just don't know it yet. Learn more.

3. Carrot Top
Few performers are more underrated than Carrot Top, and we have no clue why because this guy kills. Prop comedy isn't the most respected in comedy circles, but who the hell cares what other comedians think? We want to laugh, and laugh hard, and Carrot Top never fails to deliver. Catch him at Luxor.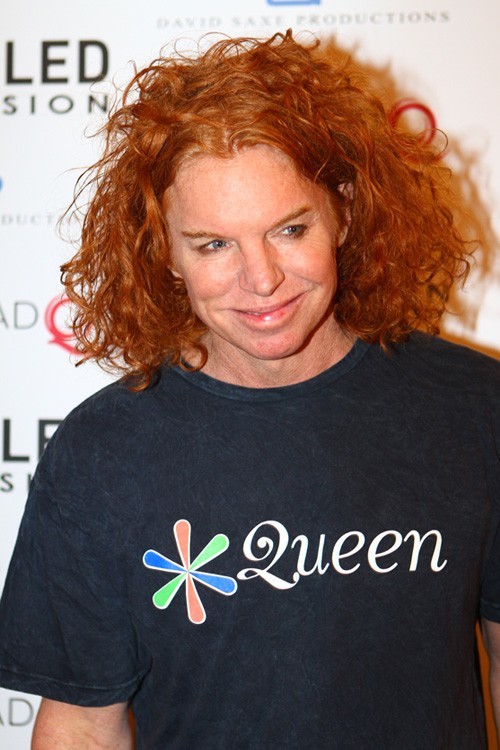 4. Mac King
The multi-talented Mac King is a fixture in Las Vegas and for good reason. His talents include being a great magician, a hysterical comedian and a very nice guy, all at once and pretty much all the time. See Mac King, his Fig Newtons and "cloak of invisibility" at Harrah's.

5. Anthony Cools
Comedy-hypnotist Anthony Cools has comedy down cold. He consistently puts on one of the funniest shows in Vegas, and every show is different (for the most part) because he uses random audience members (for the most part) as his subjects. He's a master of timing, raunch and OMFG. Anthony Cools performs at Paris Las Vegas.

6. Vinnie Favorito
To call Vinnie Favorito an insult comic would be, well, an insult. This seasoned comedian works an audience like a Kardashian works a red carpet. In both cases, it's a wonder to behold, and you're bound to feel a little guilty for enjoying it so much. Vinnie Favorito can be found at Flamingo Las Vegas.

7. Penn & Teller
These two are undeniably double trouble, and thankfully so. Penn Jillette and Teller (that's his legal name) put on an incredibly smart and funny show at the Rio, and continue to update their production with new illusions. They also hang out with fans after their show, because they actually appreciate them.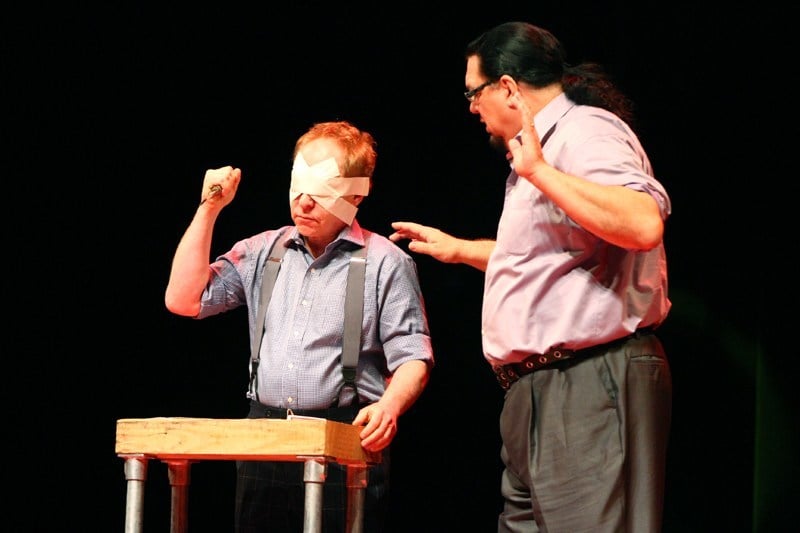 8. Mike Hammer
Comedy-magician Mike Hammer doesn't get a lot of attention, but he should. His shows at downtown's Four Queens are heavy on improvised comedy and audience participation. Oh, and the tickets are cheap, making it an even better value. (There's often a guy outside the Four Queens with deeply discounted tickets, so schmooze him heavily.)

9. The Blue Men
They're blue, they're quiet and they always travel together. The blue men of Blue Man Group are seriously funny. The music is just a bonus, and an exceptional one at that. The blue men do their blank stare thing at Monte Carlo.

10. Marc Savard
Top-notch comedy-hypnotist Marc Savard make hilarity look easy in his lively show at the V Theater inside Planet Hollywood's Miracle Mile Shops. Savard performs about 300 shows a year, and he seems as amused by his victims (sorry, subjects) as the rest of us are. A good time, every time.

Yes, they're all men. We don't make the rules, we just subjectively report them in a completely biased way. Besides, it's rude to call a lady a "fool."
A guy who should be on this list but isn't is Louie Anderson. The funnyman's show recently closed at the Plaza. He'll find another venue soon.
We'd have thrown a bone to Jeff Dunham, too, whose Las Vegas residency recently began at Planet Hollywood. But puppets.
An honorary place on the list goes to George Wallace, formerly at Flamingo Las Vegas. Another goes to the ailing Amazing Jonathan.
Hope you liked our list, and happy April Fools' Day.