Tequila Taqueria and Buca Cafe Italiano Open at Bally's, Along With Great Buffet Value
Things are hopping at Bally's Las Vegas, with two new restaurants opening recently, including the introduction of a solid buffet value.
The two restaurants are Tequila Taqueria and Buca Cafe Italiano, the latter an offshoot of an existing Italian chain, Buca di Beppo.
Each restaurant takes the place of an existing offering at Bally's. Tequila Taqueria is in the former Tequila Bar and Grill space and is open noon to 6:00 a.m.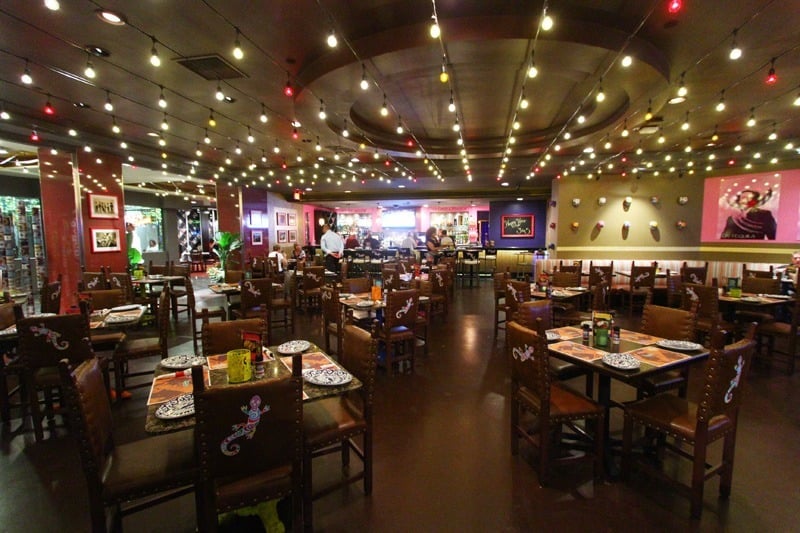 We aren't entirely sure why Bally's decided to replace a Mexican restaurant and tequila bar with another Mexican restaurant and tequila bar, but then again, tequila.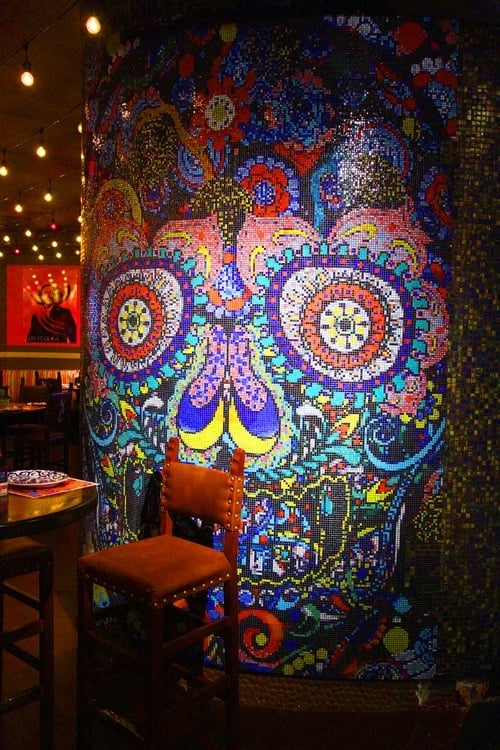 Tequila Taqueria features 37 premium tequilas and 10 kinds of Mexican beer.
The usual culinary suspects are in plentiful supply on the menu, including tacos, enchiladas, fajitas and tortas. Guacamole is prepared at your table.
There's also a little bar that seats about nine people. Not that you'll be able to count them after trying the 37 premium tequilas.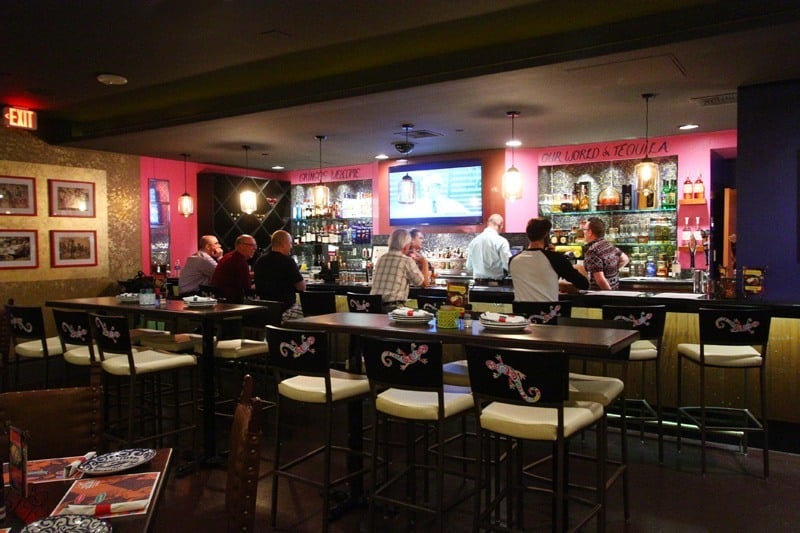 The official Tequila Taqueria Web site says, "Feed your inner revolución!" This Las Vegas blog is no food critic, but we're fairly confident a Mexican restaurant shouldn't promote its food as feeding an "inner revolution." Just saying.
Visit the Tequila Taqueria site for more, and see the full menu here.
Buca Cafe Italiano takes over the former Bally's Sidewalk Cafe. Buca di Beppo is a popular chain of restaurants across the country, known as much for its quantity as its quality.
Buca Cafe Italiano has made some adjustments in its partnership with Bally's, a hotel in the Caesars Entertainment family.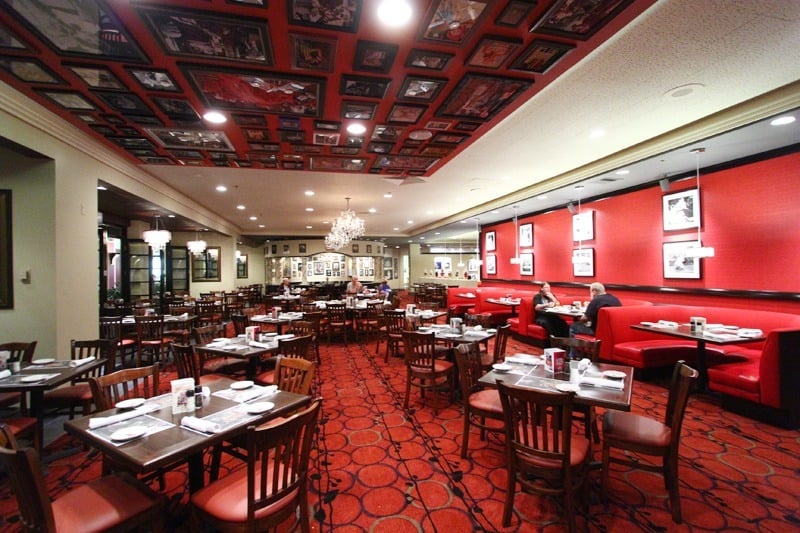 Fans of Buca di Beppo will feel right at home with the decor of the Bally's outpost, with plentiful photos and a "Pope Room."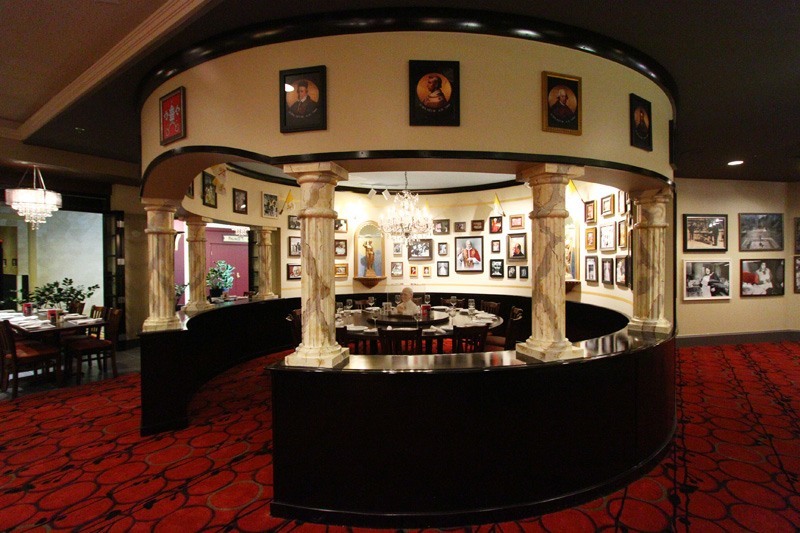 Easily the best thing about Buca Cafe Italiano is its great buffet value. While Bally's has long had its pricey Sterling Brunch (previously at Bally's Steakhouse, now at BLT Steak), it's been lacking a buffet for those unwilling to fork over $90 per person.
While the buffet Buca Cafe Italiano isn't expansive, it's filling and delicious, especially if your favorite station at a buffet is the carving station.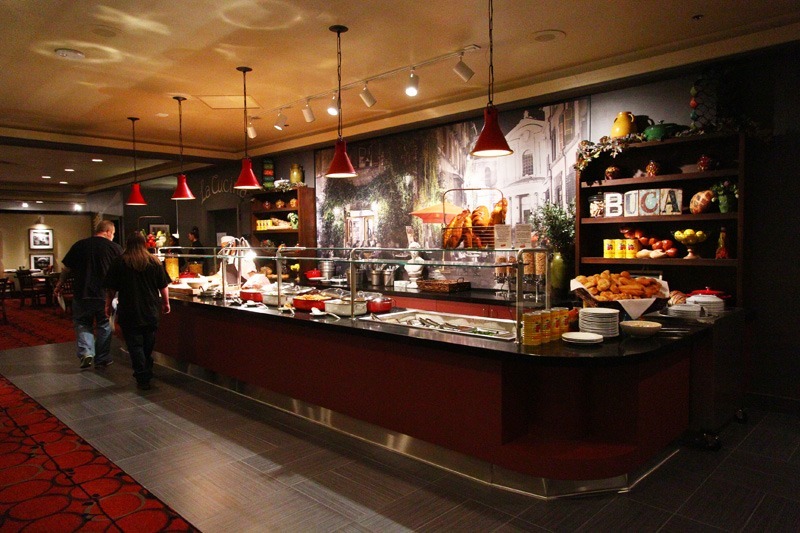 The buffet is a reasonable $19.99 ($18.99 with a Total Rewards players card). When we heard the price, we asked the manager, "For that price, is it an all-you-can-eat buffet?" He seemed to enjoy that. It is Vegas, after all.
The star of this buffet is the hand-carved beef, turkey and pork.
There's pretty much one or two of everything else, including salads, soups, rolls, veggies, potatoes and desserts. Again, not a huge selection, but on The Strip, $20 is a great deal and we'd do it again in a second.
Our only question: Why no pizza at the buffet? It's Buffet 101. Fill up guests on bread, salad, pasta and pizza and your meat costs go down. Help us help you, Buca Cafe Italiano. Pizza.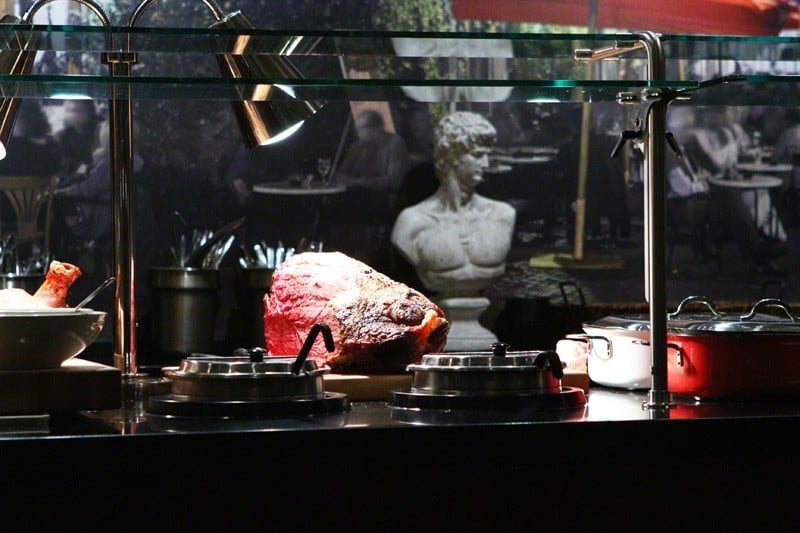 Also worth a mention: Another accommodation Buca made for its Bally's location is that it serves breakfast, if you're into that kind of thing.
Visit the official Web site for further details, and check out the menu (.pdf format).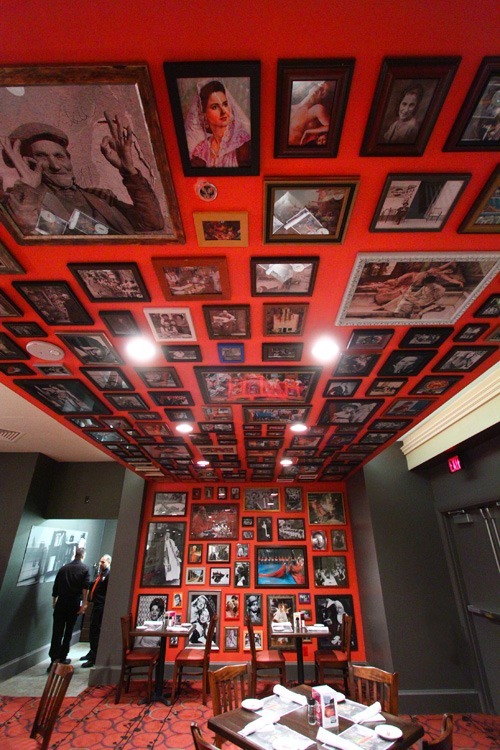 While we didn't try Tequila Taqueria (apparently our pleading for a Captain Morgan Spiced Rum Taqueria fell on deaf ears), we highly recommend Buca Cafe Italiano and its excellent buffet deal.
Check out more photos from these new offerings at Bally's in the photo gallery below.
Oh, and while we're at Bally's a couple of random items.
First, if you know Bally's, you are probably familiar with Jarrod's Party Pit. There's a sign for it. Well, there's no actual Jerrod anymore. He's moved on and now works at Planet Hollywood according to the folks in his namesake pit.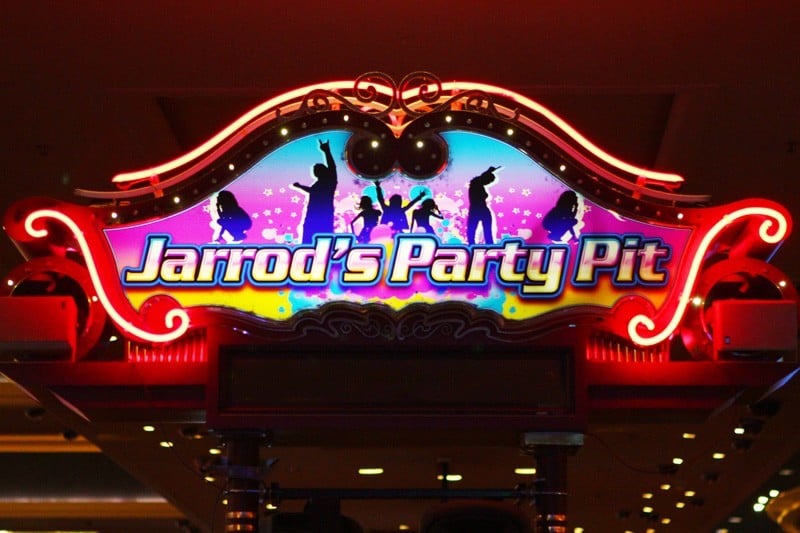 Second, Bally's is getting a CVS. (In Las Vegas, it's the law.) What's remarkable about it is a sign for the new CVS now runs the entire width of the resort on Las Vegas Boulevard and obscures much of the aforementioned Grand Bazaar Shops. Which, on second thought, isn't the worst outcome.

On a brighter note, restaurant photos!
New Restaurants Open at Bally's Las Vegas