Sparkly New Tao Beach Dayclub Set to Return in Spring 2022
Tao Beach Dayclub is set to reopen in spring 2022, and they just dropped some renderings so glorious we are nearly tempted to break out our Ab Roller and don our
banana hammock for the long-awaiting return of this popular venue at the Venetian.
Nearly. And good luck trying to unsee that.
Behold, the new Tao Beach.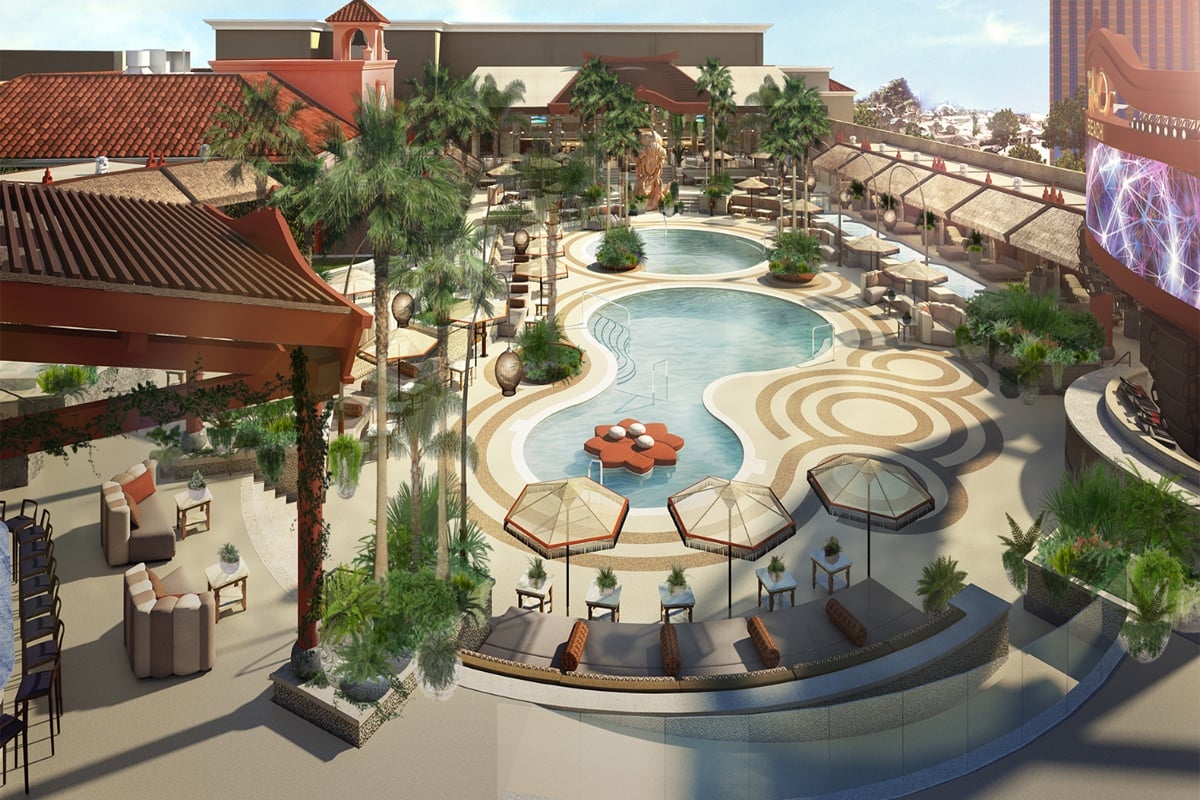 Tao Beach claims to have been "completely reinvented," and the renderings seem to support that assertion.
A news release says, "The transformation of Tao Beach is two years in the making, the final step of a complete reimagining of the five-acre rooftop pool deck of the original tower of The Venetian Resort."
From what we can see, it was worth the wait.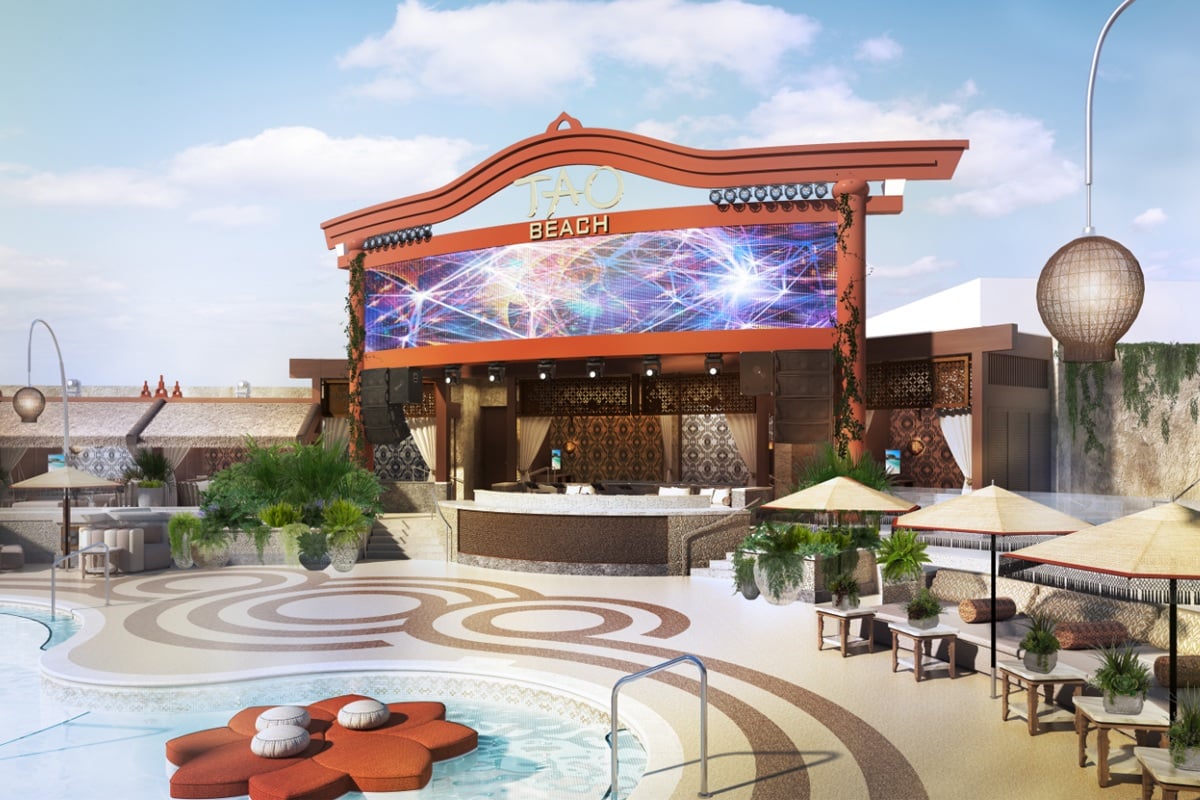 The redesign of Tao Beach is courtesy of Rockwell Group, which has designed just about everything in Las Vegas. They did Virgin, they did Palms, the list goes on and on.
The new Tao Beach is double its former size. Surprising, because it involves a pool.
Fun fact: That "Seinfeld" episode ("The Hamptons") aired in 1994, making this joke an astonishing 28 years old.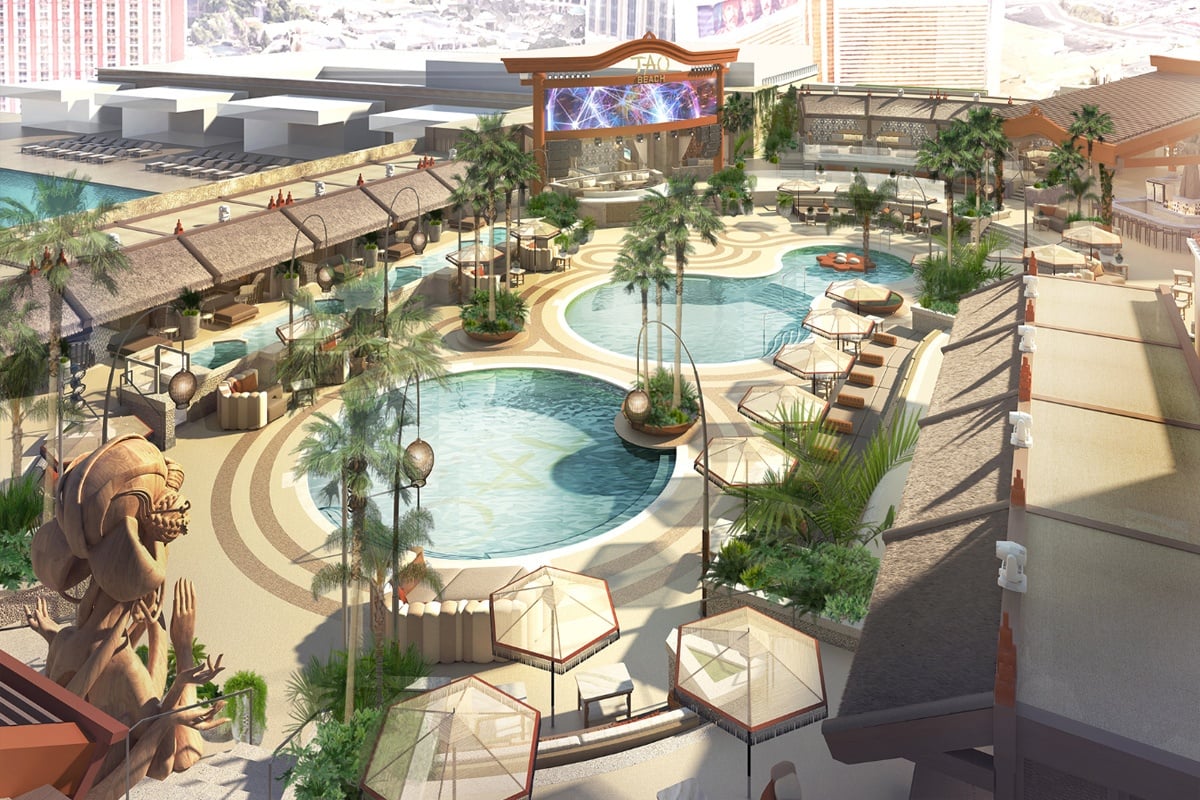 The re-imagined Tao Beach Dayclub can accommodate 3,000 people, with an average of six having any sense of modesty whatsoever.
Guests will be able to reserve one of 21 luxury cabanas with seven VIP cabanas featuring individual "private plunge pools," which sounds dirtier than it really is, probably.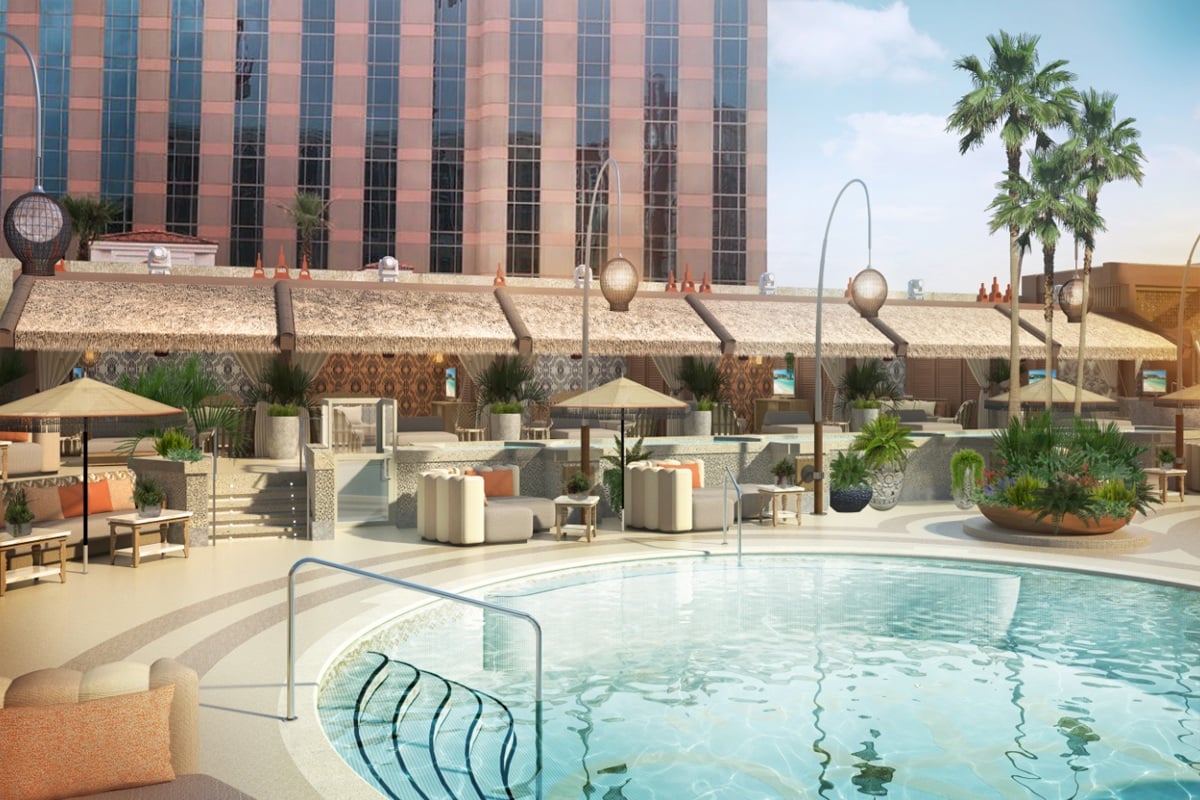 More from the news release, "A natural material palette with orange and warm wood tones creates a backdrop for a variety of art installations, including two 15-foot-tall sculptures by acclaimed artist Daniel Popper. Known for his larger-than-life works, Popper created a pair of sculptural hands at the entry and a tree goddess that
welcomes guests to the main bar."
Popper did a similar sculpture for the Resorts World pool area as well.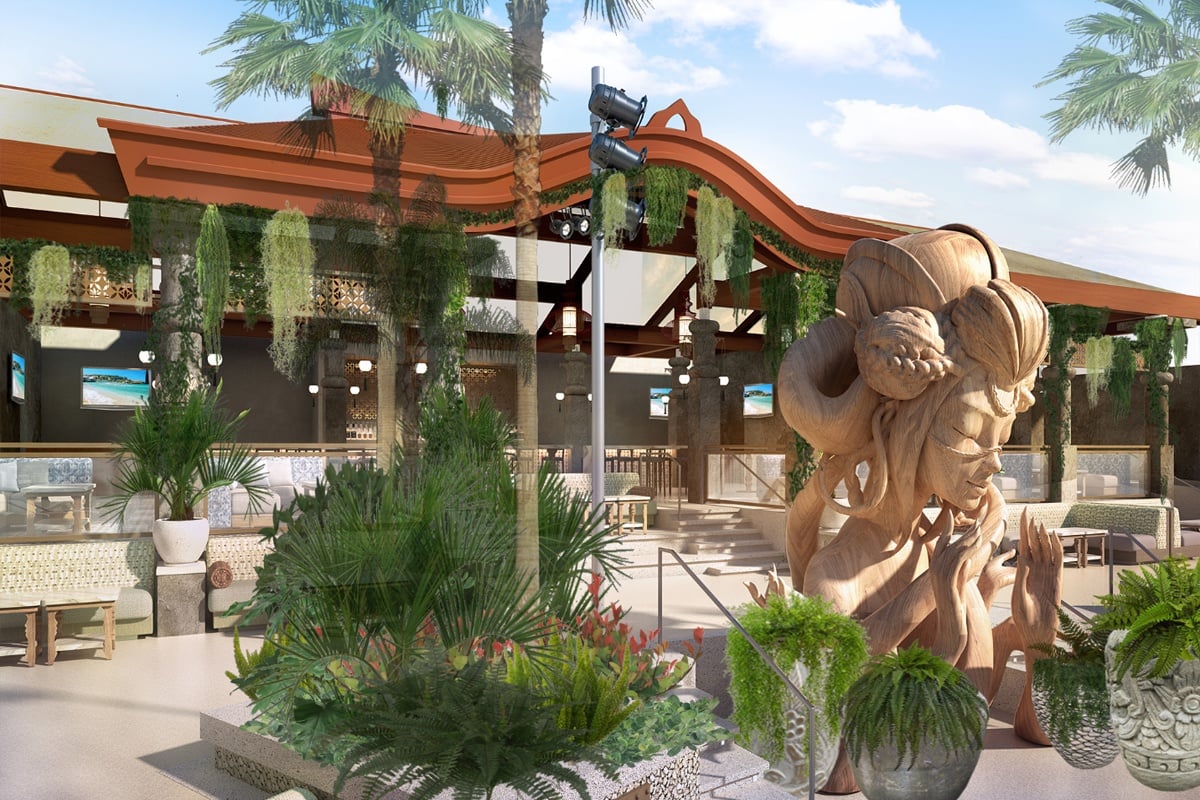 Tao Beach Dayclub's artist line-up will be anchored by DJ Alesso (he's locked in a multi-year residency) and platinum-selling DJ and producer Fisher, entering the second year of his residency with Tao Group Hospitality.
The season will be filled with many additional top artists we have also never heard of, which isn't saying a lot as we are not really a frequent dayclub goer.
Playing off of its longtime moneymaker, Tao Asian Bistro at Venetian, Tao Beach will offer a new poolside and cabana menu.
Offerings will include oversized sushi boats and "over-the-top edible structures." Other Tao favorites will also be available poolside, including seafood towers, sashimi carved table-side and hand rolls.
Overall, Tao Beach Dayclub looks and sounds as spectacular as Tao Group says it is.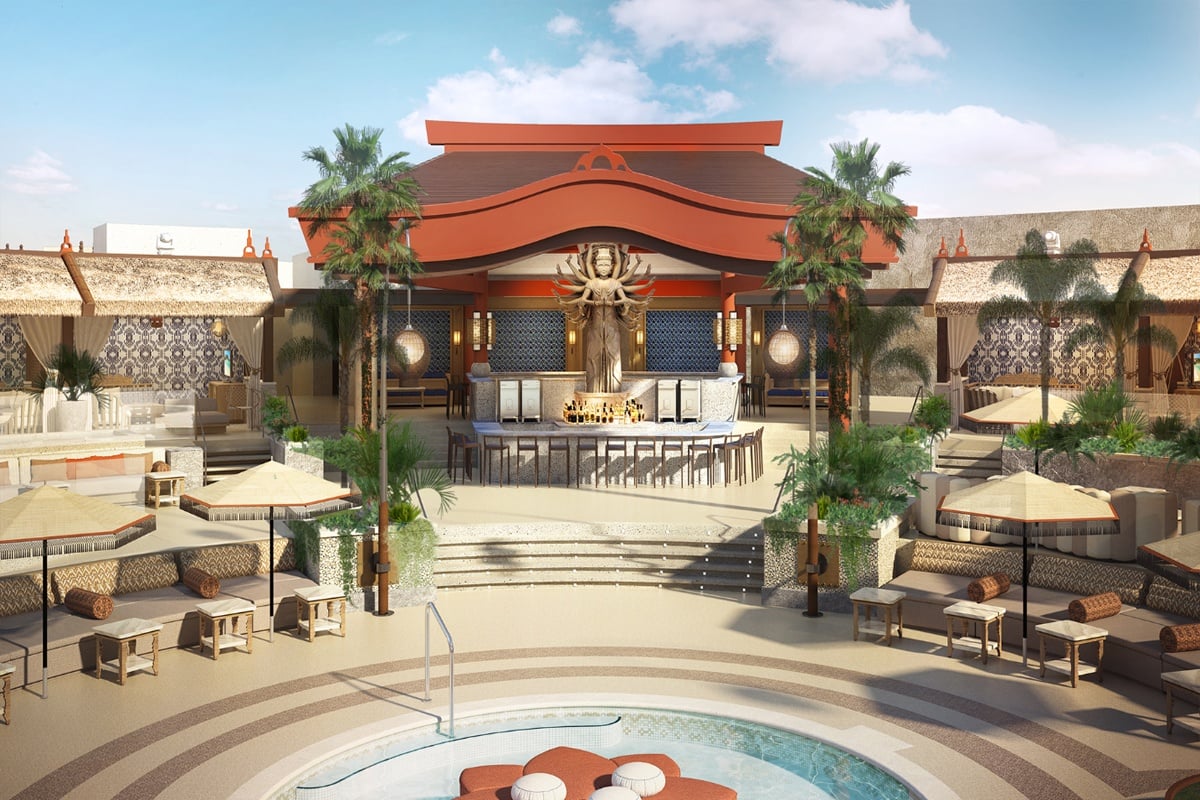 Tao Group has become the biggest nightclub/daylife player in Las Vegas since it acquired Hakkasan Group in April 2021.
The company operates not only Tao, but Hakkasan at MGM Grand, Omnia at Caesars Palace, Marquee at Cosmopolitan and other venues. As the kids say: Yuge.
Tao Group is part of another yuge entity, Madison Square Garden Entertainment.
Tao Beach Dayclub looks like it has all the ingredients for success: 1) It's gotten a stunning overhaul, 2) there's a solid food and beverage tie-in, 3) there's good (but not wildly expensive) talent and 4) it's not being operated by Station Casinos.
What, we weren't going to get in a dig at Kaos? Do you know us at all?
We look forward to checking out Tao Beach Dayclub when it opens this spring. While dayclubs may not be our scene, we do have eyes, and there's no better treat for the ocular orbs than a Las Vegas dayclub.