Something Big's In the Works: Music Festival Impresario Pasquale Rotella Could Partner With The D
Las Vegas is about to get a brand new entertainment and music festival venue, the Downtown Las Vegas Event Center.
The site is across the street (diagonally) from The D (formerly Fitzgerald's), and was purchased by The D's CEO, Derek Stevens, for a cool $10 million.
The purchase included a full city block, the home of the former county courthouse, which is being flattened right this minute.

We took a metric ass-ton of demolition photos, for no particular reason.
Except it's a convenient lead-in to the fact the man responsible for the hugely successful Electric Daisy Carnival (bonus: Holly Madison's husband), Pasquale Rotella, recently met with representatives of the Downtown Las Vegas Event Center to discuss, we presume, a potential partnership. Or possibly the tasty sandwiches in The D Grill. But probably that first thing.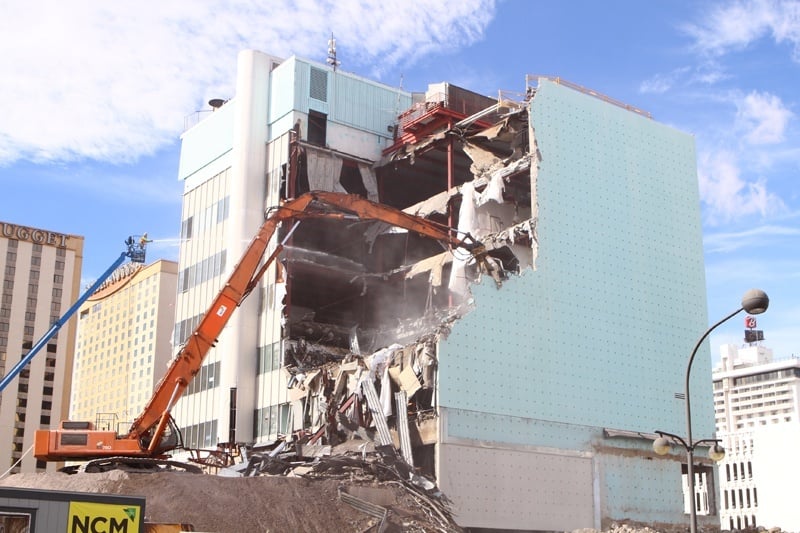 This possible partnership bodes well for a new entertainment venue already getting a lot of buzz thanks to: 1) it not being on The Strip, 2) its proximity to one of the more popular downtown casinos, The D, and 3) its connection to Derek Stevens, perhaps the coolest casino owner since Howard Hughes. But without the long fingernails and other weird stuff there toward the end.

Pasquale Rotella, who is believed to have been named after a pasta, and his Insomniac Events, recently announced two new music festivals coming to Las Vegas, expansions of existing California festivals, Beyond Wonderland and Nocturnal Wonderland.
If you haven't had your fill of demolition photos, please enjoy our exclusive photo gallery, and we'll keep a close eye on what's next for the Downtown Las Vegas Event Center.
Downtown Las Vegas Event Center Construction