Seven Magic Mountains Sculpture Adds Splash of Color to Desert Near Las Vegas
A new, larger-than-life public art installation is adding some vibrant color to the otherwise drab desert near Las Vegas.
Take a look at Seven Magic Mountains.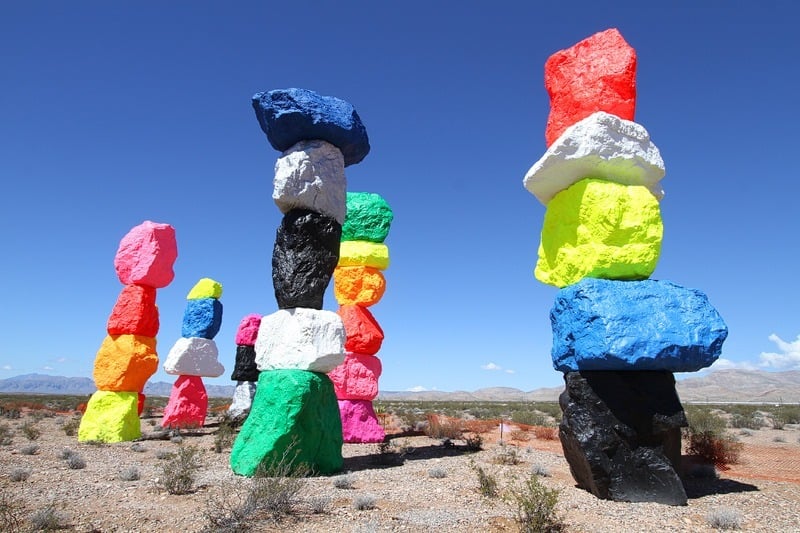 The art consists of seven mammoth pillars, each between 30 and 35 feet tall, of brightly-colored limestone boulders.
The neon rocks artwork was five years in the making and cost $3.5 million. It was privately funded, so don't have a freak-out.
It's an eye-catching new attraction, and naturally we droned the living hell out of these "rainbow rocks."
The art project, by Swiss artist Ugo Rondinone, officially opens May 11, 2016.
Then again, when you wait for something to open officially, it's not really a security breach. So, screw that.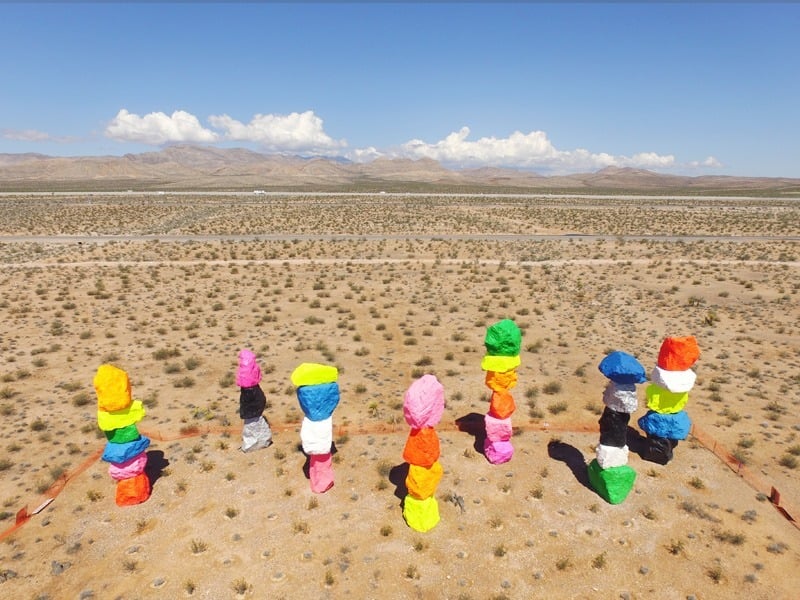 Seven Magic Mountains (we're assuming Six Flags isn't litigious), is easily seen from the I-15 freeway, the main artery connecting California to Las Vegas.
A recent survey by the Las Vegas Convention and Visitor Authority says 57% of Las Vegas visitors in 2015 arrived by ground transportation, and 29% of all Las Vegas visitors come from California, so that means a metric hell-ton of people are going to be enjoying Seven Magic Mountains during their drive.
Seven Magic Mountains will be on display for two years. After that, somebody's going to end up with some pretty epic DayGlo paperweights.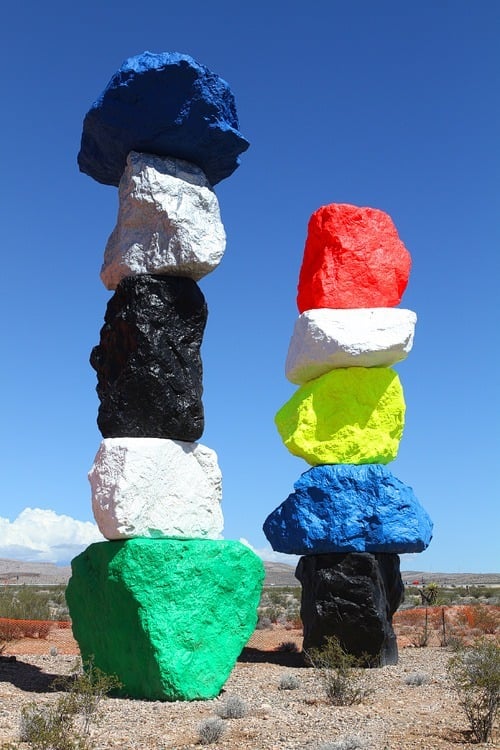 The sculptures are already drawing tourists for photo ops, and that's expected to happen even more when the installation is officially open.
How to get to the colorful rocks outside Las Vegas:
If you'd like a selfie with the Seven Magic Mountains, be forewarned, you can't get there from here.
Here's what we mean. Seven Magic Mountains is about 20 minutes from the southernmost tip of the Las Vegas Strip. It's set back from the I-15 quite a bit, but easily accessible from Las Vegas Boulevard. Yes, Las Vegas Boulevard runs far, far south, parallel to the I-15.
Directions from the Las Vegas Strip:
The location of Seven Magic Mountains is most often described as being in Jean, Nevada, but if you're driving from The Strip, you need to exit much earlier than the Jean exit. Take the exit for M Resort, then drive south 10 miles on Las Vegas Boulevard.
Directions from California on the I-15 north:
Where is the exit to the colorful rocks in Las Vegas? If you're driving from California on the I-15, you need to take the Jean exit (exit 12).
It's about 10 miles before you can even see the sculptures.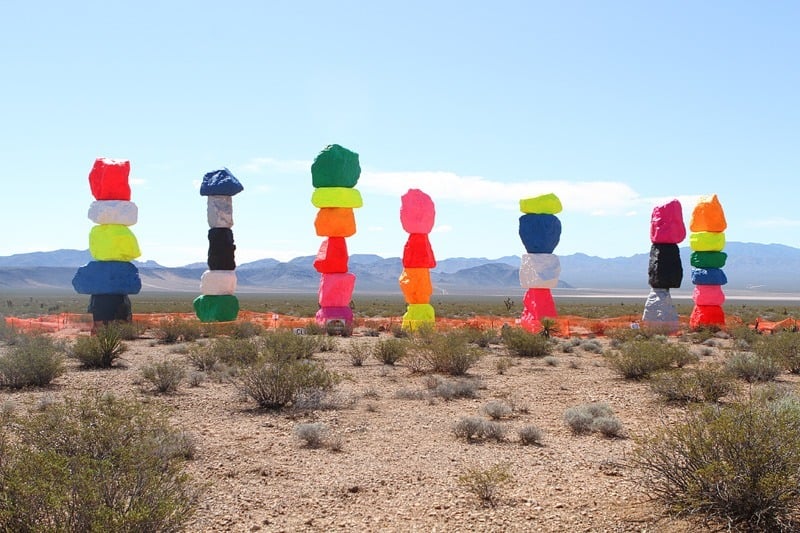 Once you near the colorful blocks, there's a pull-out and parking area. Nothing fancy and no pavement. There's a path that's been marked by little red flags. It's unlikely the path will be paved, so you're on your own. It's a desert, so expect to see critters. We did.
There are no restrooms, there's no bar, there are no food vendors or tchotchke kiosks. Plan accordingly.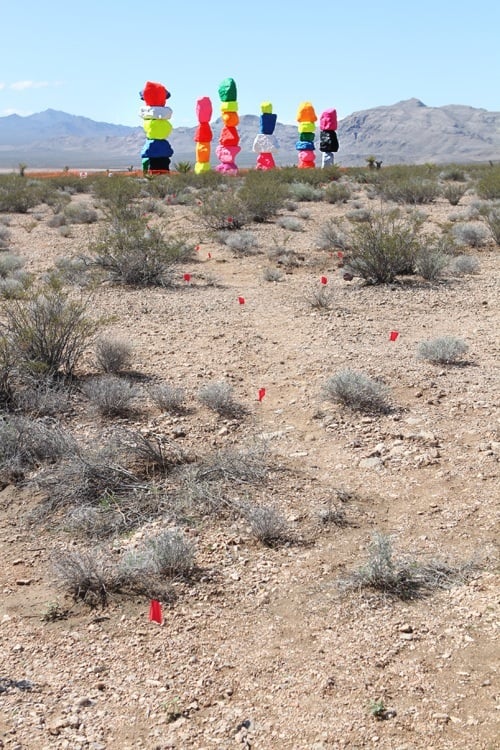 Beyond the where, there's also the matter of why.
As artists are sometimes forced to do, Ugo Rondinone has tried to explain in human language the intent of his work. He says, "Seven Magic Mountains elicits continuities and solidarities between human and nature, artificial and natural, then and now."
In the art world, this is what's called "artsy-fartsy gobbledygook." Which, now that we think of it, would make a pretty good band name.
Here's what Seven Magic Mountains really is: It's an eye-popping jolt of color in an otherwise bleak landscape.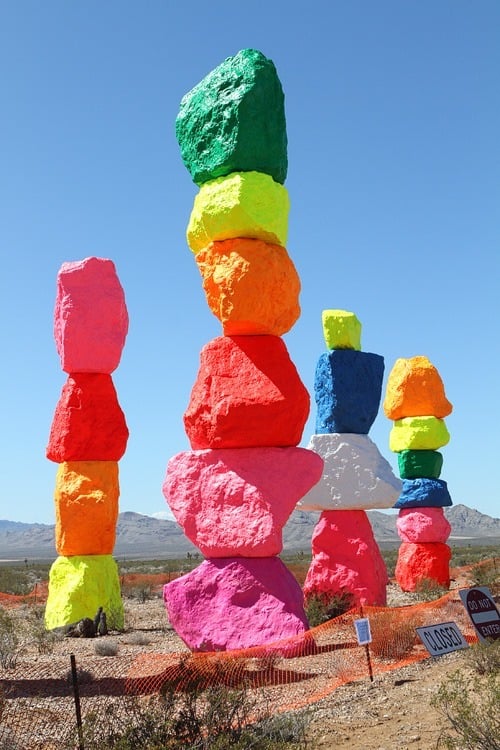 Seven Magic Mountains is a clever take on a practice that's taken off in recent years, rock stacking or balancing. It's part art, part discipline, and its practitioners say rock balancing has a calming effect.
Beyond its scale, Seven Magic Mountains differs from traditional rock balancing in that it uses an inner support structure, presumably to help it withstand the desert's high winds.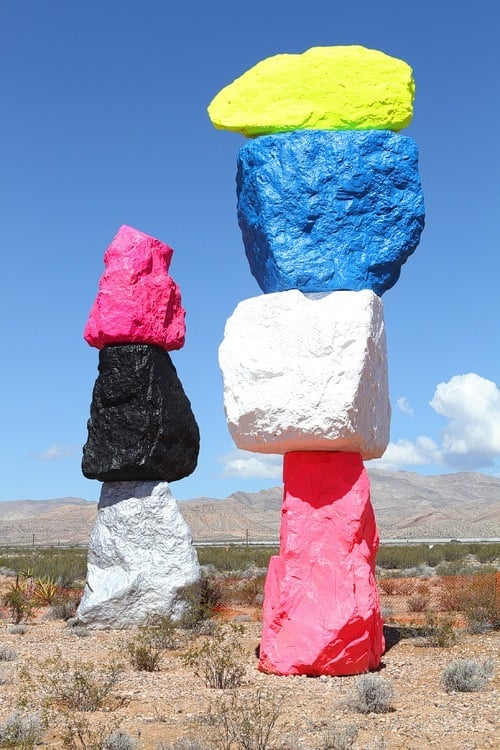 What Seven Magic Mountains does have in common with rock balancing is it is almost certain to spark controversy. Many say they want to experience nature in its "undisturbed state." Those who dislike rock balancing are pretty much guaranteed to have their heads explode at the sight of the fluorescent Seven Magic Mountains.
It's jarring. It's disruptive. And that's what's great about it. It's nature, but amplified.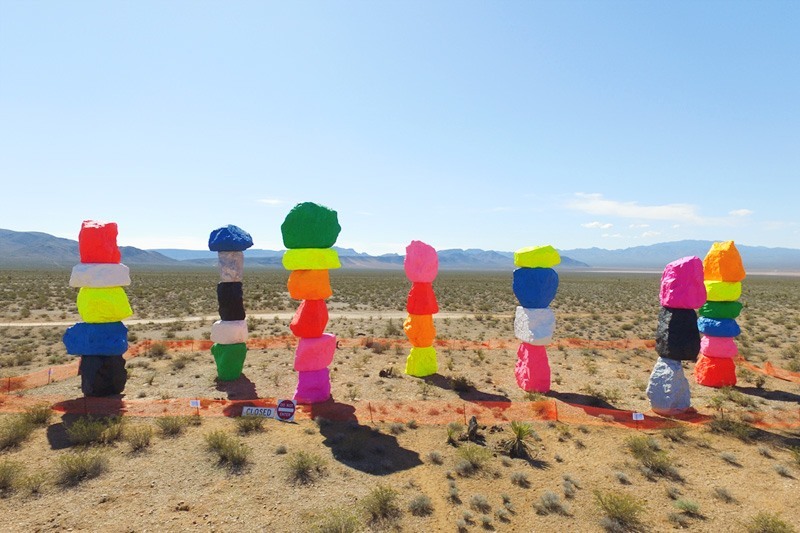 When you think about it, Seven Magic Mountains is a lot like Las Vegas. It's a radiant shock to the system, a glittery jewel in the middle of a barren wasteland.
The Nevada Museum of Art says of Seven Magic Mountains, "The work pays homage to the history of Land Art while also offering a contemporary critique of the simulacra in nearby Las Vegas."
We have no idea what a "simulacra" is, but it sounds like something hotel housekeeping would need to look for with a black light.
Learn more about this new Las Vegas attraction at the official Seven Magic Mountains Web site.
What do you think? Visionary or absurd? Garish or glorious? Leave a comment with your thoughts, especially if your thoughts include complimenting us on our drone piloting.