Red Rock Resort Celebrates Turning 10 With Fireworks We Droned the Hell Out Of
Popular off-Strip casino Red Rock Resort celebrated its tenth anniversary with a fireworks display on April 16, 2016.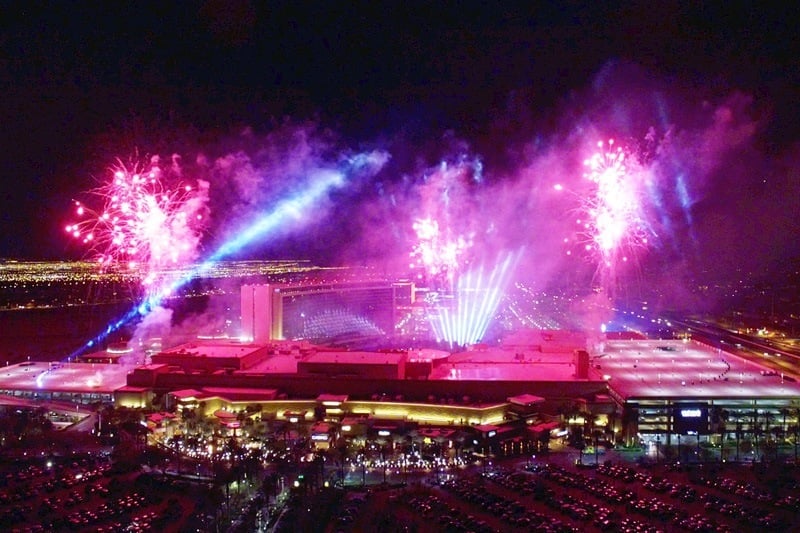 This blog, naturally, took to the sky for some exclusive video of the light and fireworks display, designed by Fireworks by Grucci.
It was an extravaganza worthy of Las Vegas, and we're going to venture a guess it cost in the $50,000 range. (Red Rock declined a request for the exact cost.)
Red Rock Resort is about 10 miles west of the Las Vegas Strip.
When Red Rock opened, in 2006, it was the most expensive locals casino ever built.
Useless fact: While Red Rock is unfamiliar to many Las Vegas visitors, it gained some national attention when it was announced the second season winner of "Hell's Kitchen" would get a gig at the hotel as an Executive Chef. Heather West won, but never got her promised Executive Chef job. She ended up as Senior Chef at Terra Rossa, which later closed, and is now Salute restaurant. She currently works as head chef at Monterey Restaurant in Long Beach, New York. We do not use the word "useless" lightly.
Although it hasn't been reported by the media, a guest at Red Rock during the fireworks show shared that a small fire was ignited by the pyrotechnics. Hotel security and other staff responded immediately and the fire was quickly extinguished.