One Las Vegas Happy Hour Towers Above the Rest
Lots of Las Vegas bars claim to take cocktails "to new heights," but Level 107 Lounge at Stratosphere actually does!
Level 107 not only provides spectacular views of the Las Vegas Strip (see below), but also a winning happy hour.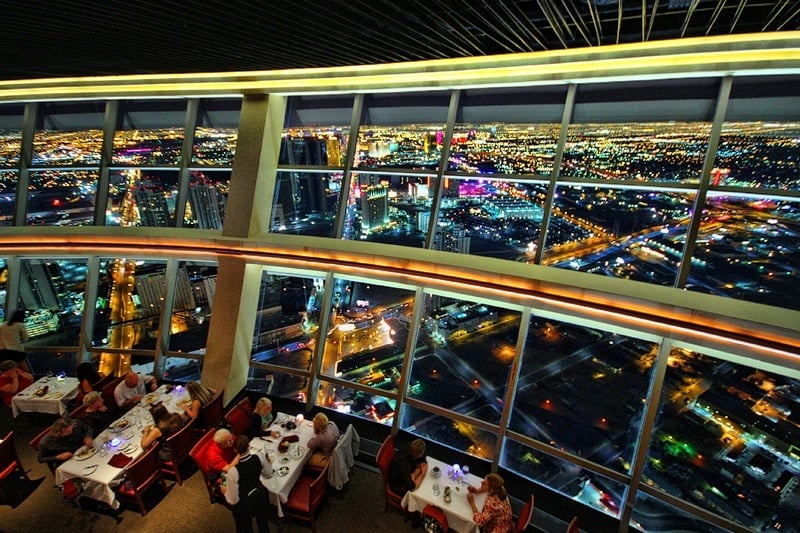 The happy hour at Level 107 Lounge offers up 2-for-1 cocktails, 4:00 p.m. to 7:00 p.m.
While the happy hour applies to all cocktails served in the lounge, it's worth taking a look at the specialty cocktails, as they are delicious.
First up, the Blue-Tini.

Next, Level 107 does its take on sangria with a Summer Sangria, with Mondavi white zinfandel, blackberry brandy, strawberry syrup, lemon-lime and champagne.

Our third happy hour cocktail is the White Peach Margarita, a personal favorite among the signature cocktails.

The Negroni isn't currently on the signature cocktail list, but you can still order it. Just tell them your sixth favorite Las Vegas blog said so.

And finally, it's the Summer Mint Margarita, a delicious mixture of Hornitos Reposado tequila, Cointreau (an orange-flavored liqueur), sweet and sour, fresh mint and lime.

Just when you start to think the happy hour at Level 107 couldn't be any better, you realize you're wrong (hey, first time for everything). That's because appetizers are half-off, too.
The appetizer menu includes things like lollipop chicken wings, roasted tomato fondue, calamari, roasted pork belly, grilled portobello and buffalo mozzarella, shrimp cocktail and some perfectly excellent Black Angus sliders.

Check out the full cocktail and appetizer menu at the official Level 107 Lounge site.
Is this the best happy in Las Vegas? Let us know what you think.
And here's some highly valuable scoop: Level 107 also has a late night happy hour, 10:30 p.m. to 1:00 a.m. In between the Level 107 happy hours, go one floor up to AirBar. AirBar is the highest bar on The Strip, and has some pretty sweet drink specials of its own, including $4 frozen margaritas.