Mob Museum Wedding, Officiated by Oscar Goodman, May Be the Best Nuptials, Ever
Rachel and Scott were recently wed. Beyond offering our condolences, we have to say, of all the possible weddings one can or must have in Las Vegas, Rachel and Scott's may have been the best one, ever. Here's why.
This charming pair was wed in the Mob Museum, a vital thing to do in downtown Las Vegas, even if you're not getting hitched.
The Mob Museum's official name is the National Museum of Organized Crime and Law Enforcement, or NMOCLE for short. (Actually, no one's ever used that initialism, but let's not get bogged down by "facts.")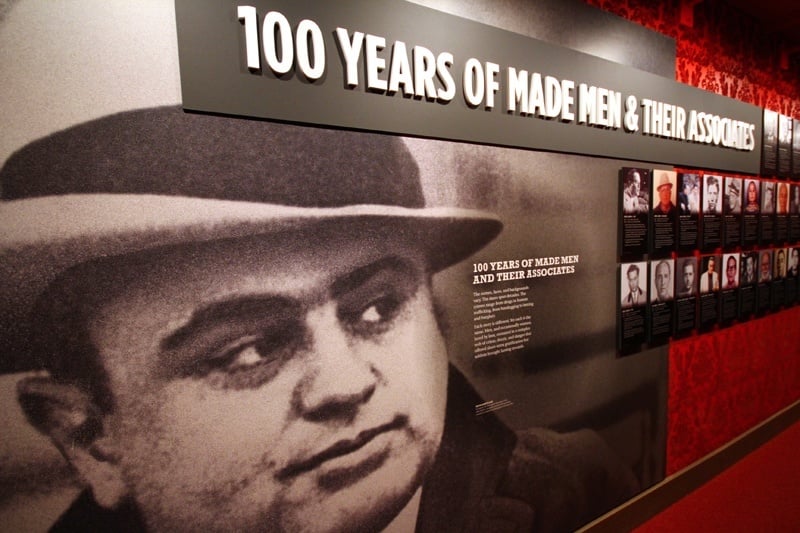 The Mob Museum is truly one of the gems of Las Vegas. The museum is in the former Las Vegas Post Office and Courthouse. The building was erected in 1933 and is listed in the National Register of Historic Places.
A visit to the Mob Museum is an eye-opening experience, and one could spend the better part of a week exploring all the exhibits. One of our favorites is the wall from the Saint Valentine's Day Massacre, a landmark event in the annals of mob whackings.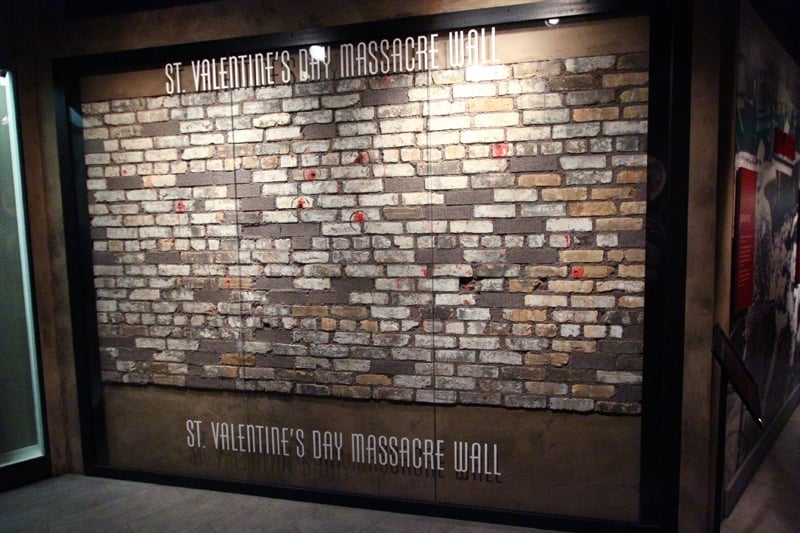 The former courthouse is also notable for having been one of the locations of the Kefauver Committee hearings which gave organized crime a serious smack-down in 1950 and 1951.
But back to the wedding.
Until Rachel and Scott's wedding, we honestly had no idea one could get married at the Mob Museum. For Vegas lovers, it's hard to imagine a wedding venue steeped in more Sin City history. The Mob Museum was decked out in full wedding regalia, which mainly consisted of flowers and places for wedding guests to sit.
While the location of the wedding made it incredible to begin with, the real shocker was the officiant at these nuptials, none other than former Las Vegas Mayor Oscar Goodman.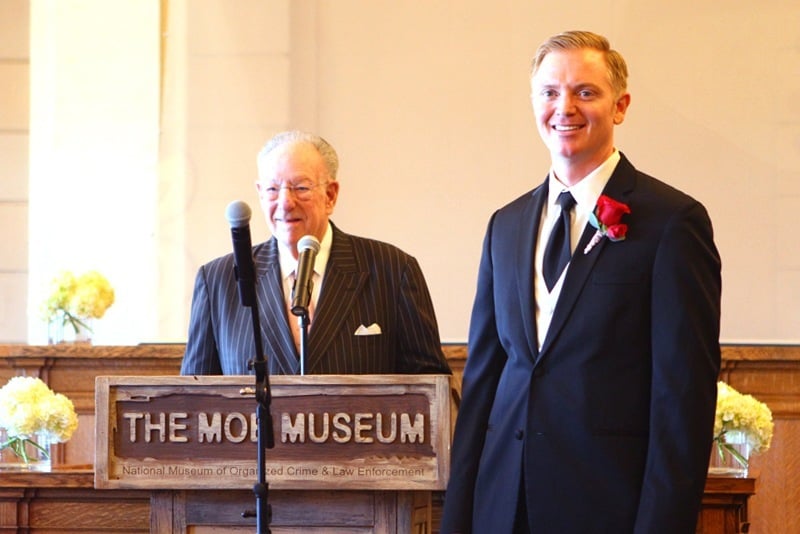 Before Oscar Goodman became the coolest mayor in the entire history of politics, he was known as a "mob lawyer," representing some of the most colorful organized crime figures in Las Vegas back in the day. His list of seedy clients made Goodman unpopular with some, but for those who understand the way our American legal system works, he was a hero of sorts, a staunch believer in the right of everyone to get a fair trial, with passionate advocates on both sides.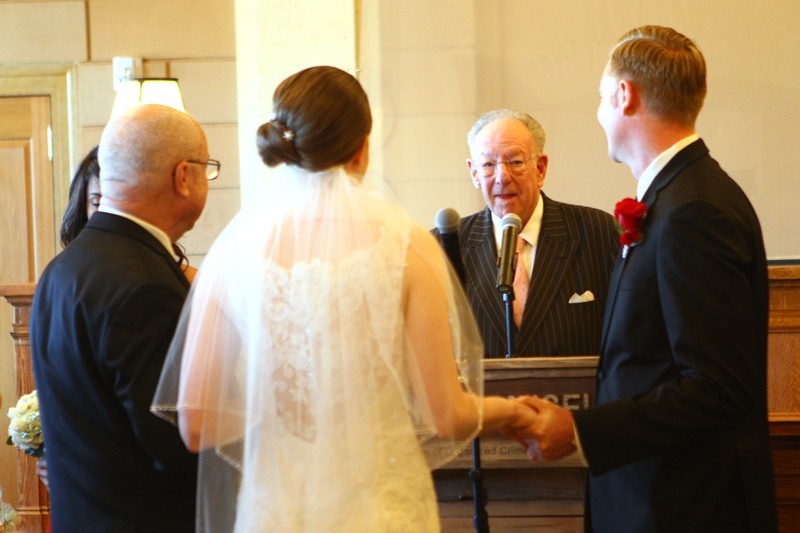 Do yourself a favor and get this book: "Being Oscar: From Mob Lawyer to Mayor of Las Vegas," and you'll quickly figure out why he's greatly admired by this blog and his legions of fans and admirers.
Also, read our list of 15 Fascinating Things We Learned From Oscar Goodman's Autobiography.
So, Rachel and Scott's wedding was a confluence of both a one-of-a-kind venue and a personality whose storied career had often taken him to that very building to plead the cases of guys with nicknames like "Ant," "Lefty" and "The Animal." Amazing. (Goodman also represented Mike Tyson, but nobody's perfect.)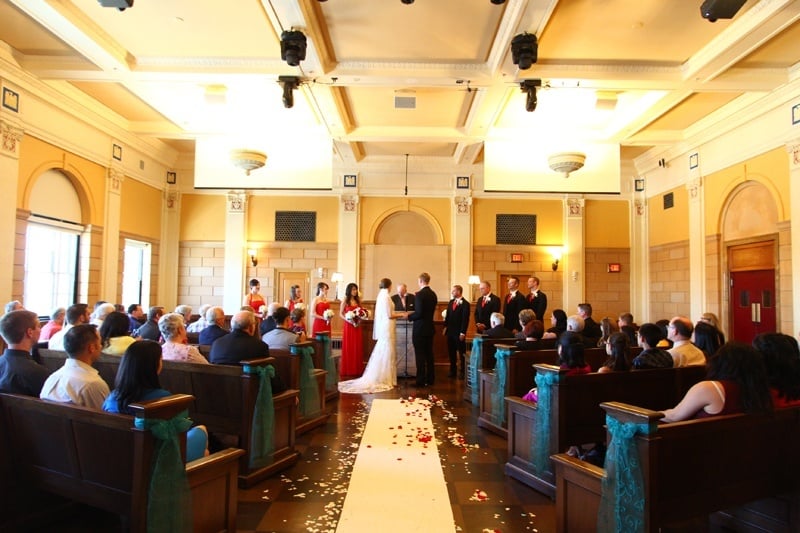 The wedding was especially remarkable because it was the first time we've ever seen Oscar Goodman without a martini in his hand.
"Hizzoner" kept the ceremony mercifully brief, and made sure he didn't upstage Rachel and Scott on their special day.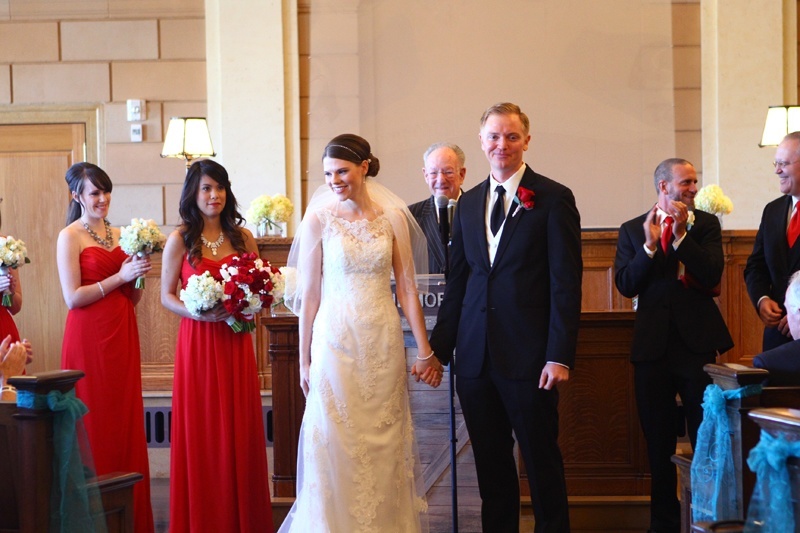 The whole proceeding was surreal, especially when, after the ceremony, Oscar Goodman began filling out the paperwork necessary to make the knot-tying official.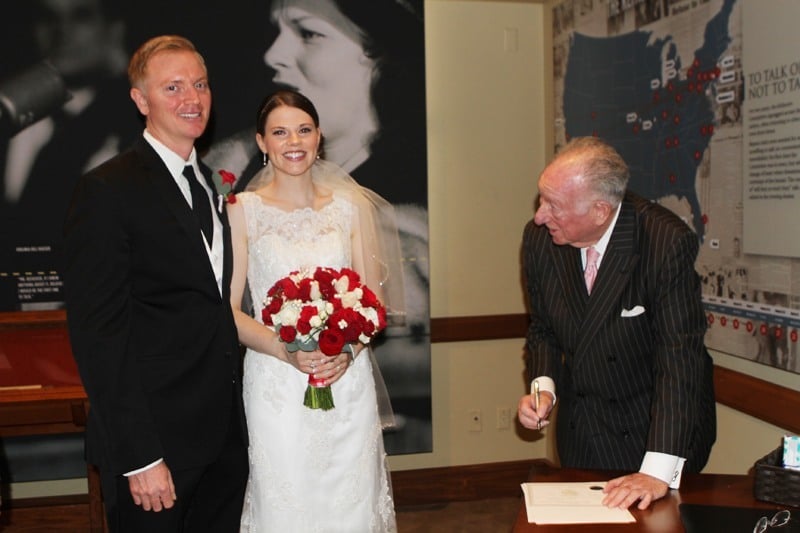 A perk of attending a wedding at the Mob Museum is everyone in attendance gets a wristband allowing them to explore the Mob Museum at their leisure after the ceremony concludes.
In the case of Rachel and Scott's wedding, everyone filed outside for a group photo in front of the historic building.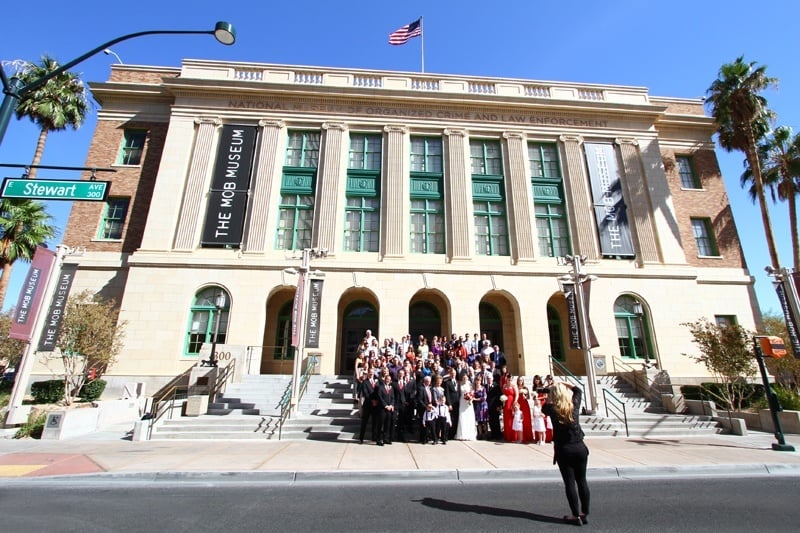 It was a magical day few on either side of the aisle will soon forget.
We don't know all the details of how Oscar Goodman ended up officiating the wedding, but from what we've heard, a friend of the bride just asked, and Oscar Goodman said "yes."
In case you wondered, weddings at the Mob Museum start at $1,000, and no, Oscar Goodman isn't included in the wedding packages. That part's up to you.
Wedding packages at the Mob Museum have names like "Married to the Mob," "Dressed to Kill" and "Luck Be a Lady." Find out more about Mob Museum weddings on the official Web site.
Our best wishes for a long, happy marriage go out to newlyweds Rachel and Scott! If things ever go south, they're already ahead of the game. At least one of them is going to have a really great lawyer.