Lucky Player Snags Million-Dollar Jackpot at Cannery Casino
There's been a spate of big wins in Las Vegas casinos in recent weeks. This, despite the fact we're only partially sure "spate" means what we think it means.
Eh, we'll go with "plethora" just to be on the safe side.
The local's win was a whopping $1,024,065.45, rounded down to $1,024,065 because there's a coin shortage.
The wager? A mere $3.75.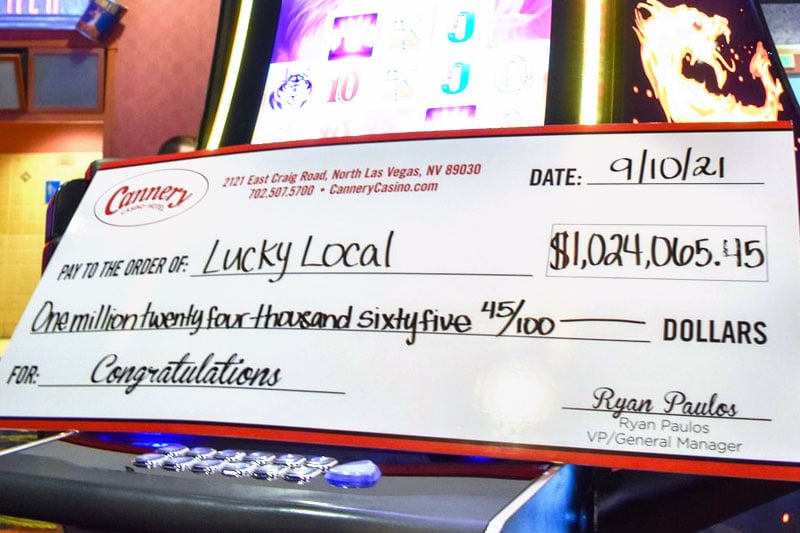 This big hit happened in the wee hours (2:19 a.m.) of Sep. 10, 2021 at Cannery in north Las Vegas. The win was officially announced Sep. 13. Our Twitter followers heard about the humongous jackpot on Sep. 12, mainly because we omniscient. Or possibly because our Twitter tipsters are are bad-asses, but mostly that first thing.
The million-dollar-plus jackpot was hit on a Buffalo Grand slot machine. That was a big relief to Cannery, owned by Boyd Gaming, as those jackpots are paid by the machine manufacturer, not the casino.
How much does the player actually get out of that million-dollar prize? Generally, The Man holds onto 27% for federal tax purposes, or about $276,000. Government do take a bite, don't she?
That leaves about $748,000, or the equivalent of 57,582 Chili Stuffed Idaho Baked Potatoes at the casino's cafe.
As we always say, the next best thing to hitting a monster jackpot is being able to pretend we're happy for someone else hitting one!
Big wins keep the Vegas dream alive, so congrats to the lucky winner, complete lack of resentmentwise.