Las Vegas Blog Claims World Record for "Most Photos Taken With a Million Dollars"
In a world full of questionable world records, this one could only happen in Las Vegas.
We're pleased to announce this Las Vegas blog has claimed a new world record for "Most Photos Taken With a Million Dollars."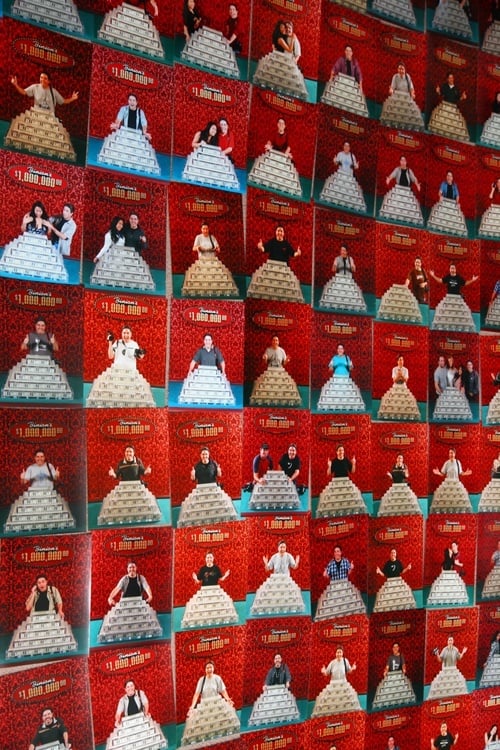 All 109 of the record-setting photos were taken at Binion's Gambling Hall & Hotel (emphasis on the Gambling Hall part).
Unlike world records sanctioned by Guinness World Records, which often take months to apply for and have verified, this record was awarded in about 24 hours. The "Most Photos Taken With a Million Dollars" record was bestowed by the Las Vegas-based Record Setter.
Here's our official world record page at Record Setter, a company that believes "everyone can be the world's best at something." We're not entirely sure we grasp this philosophy, but it certainly didn't stop us from taking full advantage of it.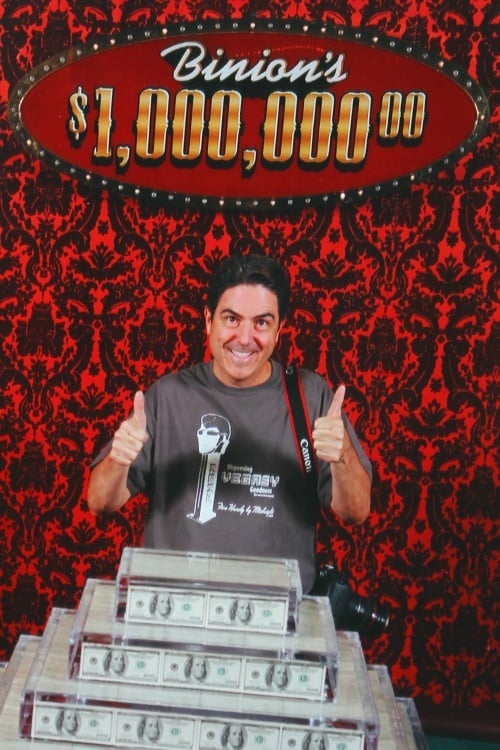 The requirements for the "Most Photos Taken With a Million Dollars" record were very strict. We know this since we made them up. All photos must be different, and can include groups. The million dollars must be in cash (no Monopoly money).
Binion's, of course, has been providing guests with a free photo with a million dollars in cash for many years. It's one of the best free things to do in Las Vegas.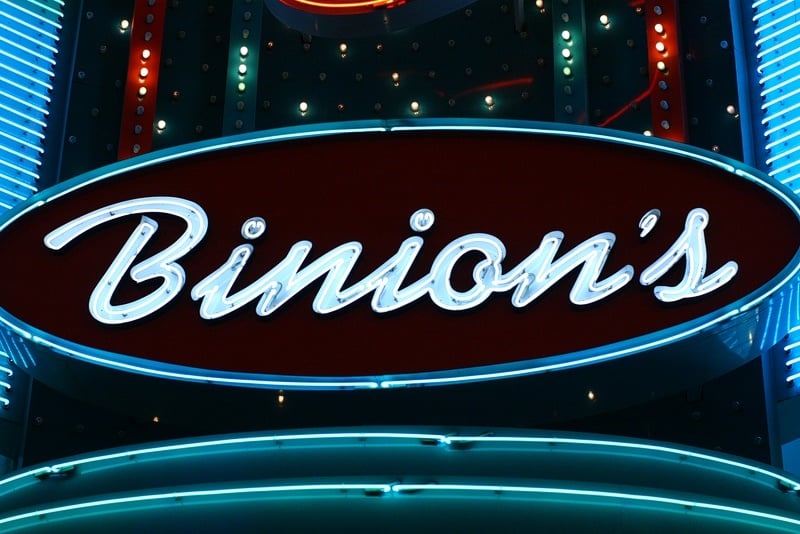 The history of the free photo op at Binion's is as colorful as the casino itself.
In 1951, Las Vegas legend (and, yeah, convicted felon) Benny Binion bought the Eldorado Club and Apache Hotel and re-opened them as the Horseshoe Casino. When Binion got into some legal trouble, he temporarily sold the Horseshoe to Joe W. Brown to help pay his legal costs.
While Brown ran the casino, he installed the $1 million display. Brown sold the display in 1959, then it was installed again by Binion in 1964. The 1964 version used a hundred $10,000 bills.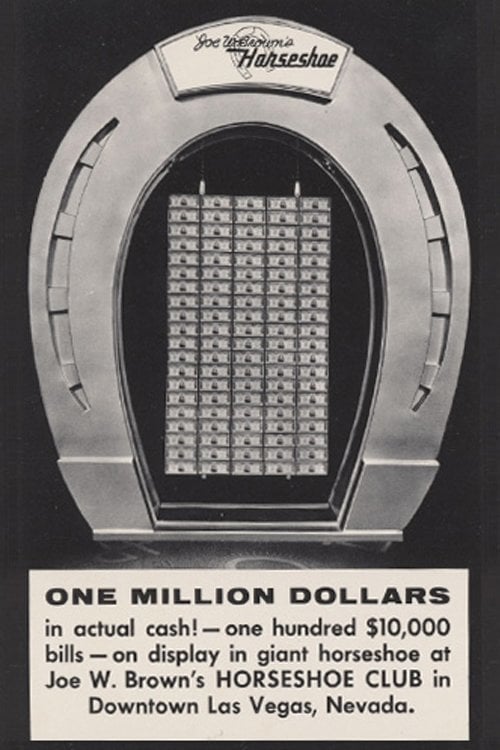 After some familial in-fighting, Binion's daughter Becky Behnen got custody of the casino and sold off the $1 million display yet again.
In time, the attraction was back again. When it came back in 2008, it featured 2,700 $100 bills, 34,400 $20 bills and 42,000 $1 bills, built into a pyramid under thick plexiglass.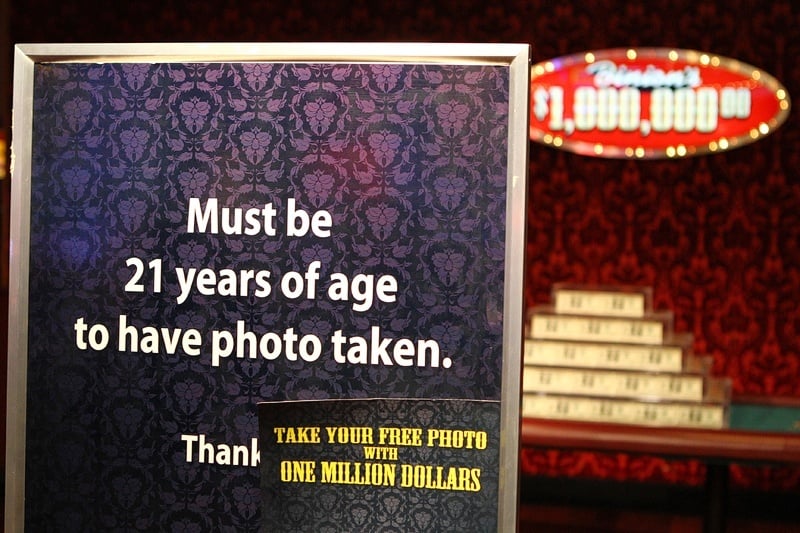 Insider tip: Binion's says it takes 30 minutes for your photo to be printed. It doesn't. The casino wants you to stay and play, of course! Our 109 record-breaking free photos, in fact, are estimated to have cost us $43,214 at the craps table alone. We're just saying.
Here's a fascinating piece of trivia about our world record, assuming you define "fascinating" very, very loosely. If you put all our 109 photos, each eight inches tall, end-to-end, the line of photos would stretch more than 72 feet. (Yes, the free photos from Binion's are six inches by eight inches, perfect for exactly no standard picture frame, ever.)
Why 109 photos? Well, 109 happens to be the average temperature of a summer day in Las Vegas! We kid. (But, no, really. It gets hot. The average temperature in July is 106. Seriously.)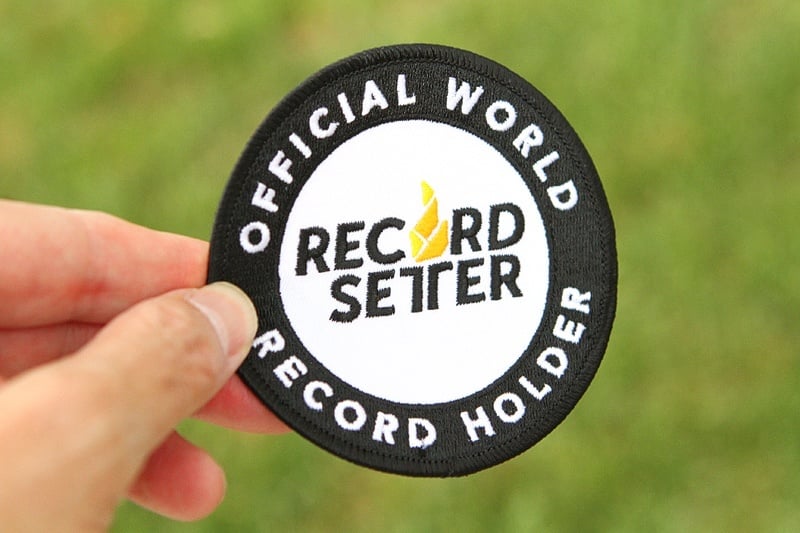 Here's another link to the Record Setter Web site, so they don't hate us for making fun of them a little. Some of the world records are pretty creative, by the way.
So, what world record are you up for breaking in Las Vegas? Most timeshare hawkers dodged? Longest period of time without a royal flush, ever? Most calls to a bail bondsman during a single Las Vegas visit?
Or maybe you'll try to beat our world record. We dare you, and we'll see you at Binion's.
Update: The million-dollar display at Binion's closed when the casino did due to the pandemic, in March 2020. The display did not reopened, and the bills were integrated back into the casino's cash-on-hand in the cage. The General Manager of Binion's, Tim Lager, says it's unknown if the display will ever come back, but the bills were counted, and the total in cash was one million dollars, to the penny.
G.M. of Binion's says his team did a count of the million dollar display when it was taken off the casino floor last year and it was exactly one million bucks, to the dollar. No word on when it may return.

— Vital Vegas (@VitalVegas) May 22, 2021
The former million-dollar display area at Binion's is now used for slot tournaments.
Former million dollar display space at Binion's is now used for slot tournaments. pic.twitter.com/wYVminX2A0

— Vital Vegas (@VitalVegas) May 17, 2022