Kamu Ultra Karaoke is the Fun Escape Las Vegas Needs Right Now
When we first heard about plans for a massive karaoke bar at Palazzo, Kamu Ultra Karaoke, we didn't pay much attention.
For starters, we aren't exactly a karaoke person, and it also felt like the wrong time to open an ambitious, sprawling new venue.
Well, we're an idiot.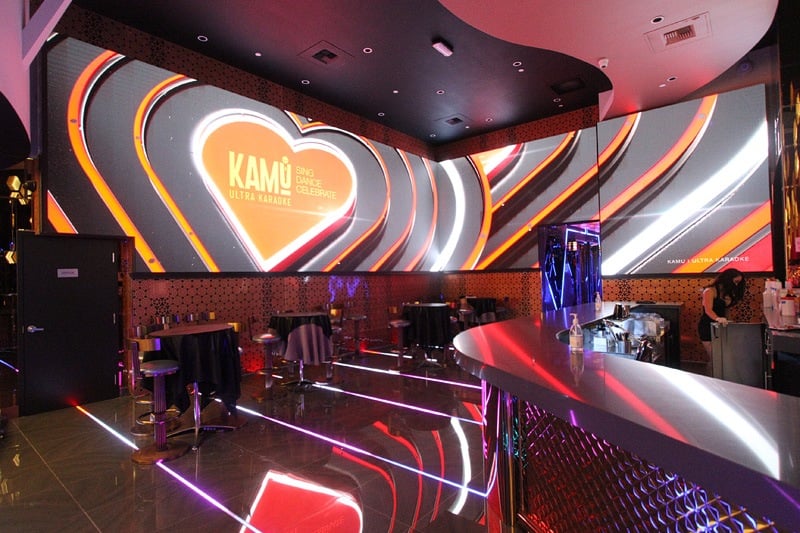 Kamu Ultra Karaoke isn't just another karaoke bar, it's precisely the kind of eye-popping, over-the-top, high-tech, let-it-all-go escape from reality Vegas and the world could use right now.
Kamu Ultra Karaoke does everything right. It brings people together (with 40 private rooms), but keeps them safely distanced. It offers high-end, nightclub-inspired VIP experiences, but also
caters to family-friendly fun (adults only after 8:00 p.m.).
The food and drink is far better than it has to be, and perhaps the best part: Karaoke is optional.
Hey, you don't need to play golf to love Top Golf, and straight guys have fun at Chippendales.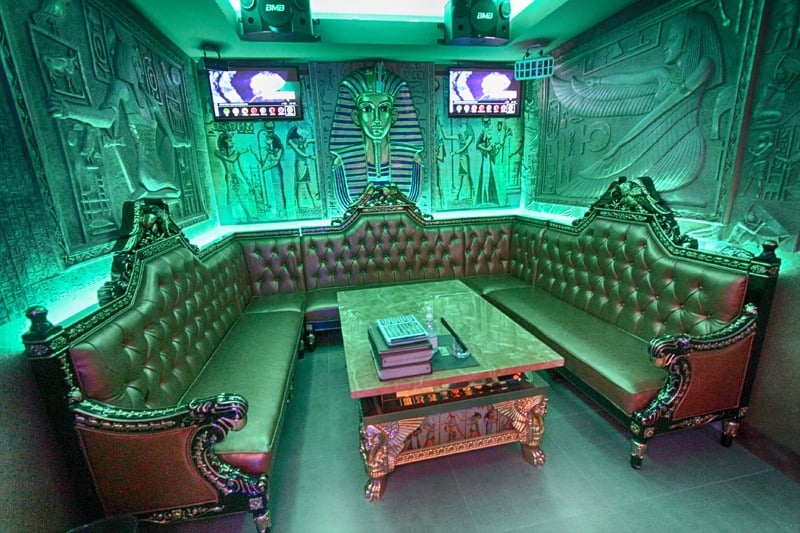 Let's start at the beginning. Kamu is Korean in origin, a mixture of "ka," meaning "song," and "mu," meaning "dance."
Kamu Ultra Karaoke is the manifested dream of a dude you'll want to party with, Jeff "Kemo" Kim. This isn't Kim's first karaoke rodeo (we should probably trademark that term), as he's had a successful karaoke lounge in Korea Town in L.A. for more than a decade.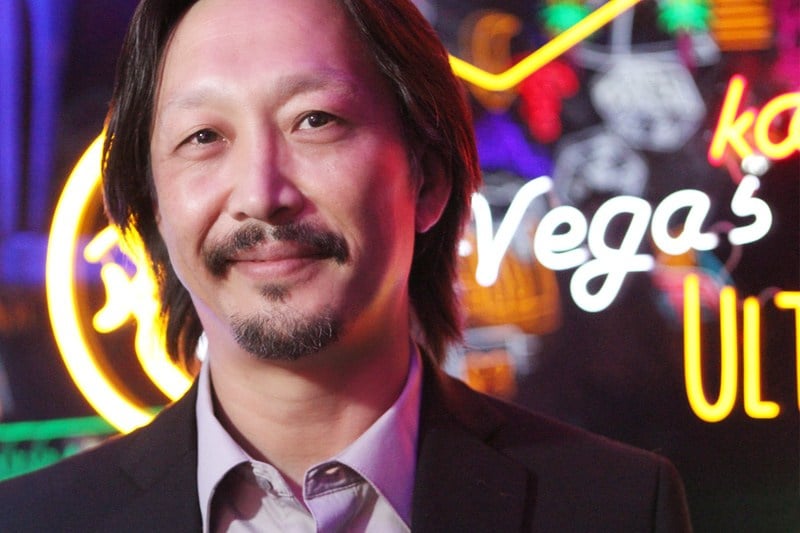 We had a lot of preconceived notions about what karaoke is, but Kim's Kamu Ultra Karaoke turned all that on its head.
Kamu isn't a big room with an audience enduring strangers singing. It's 40 rooms, each with a custom design, where groups of friends can eat and drink and party. And, yes, if they insist, sing.
The rooms start at $50 an hour, typically, but there are lots of upgrades and a number of rooms that look more like luxury suites at Vegas resorts. There's also bottle service, because somebody needs to pay for this colossal, 17,000-square-foot space.
Each karaoke room is cushier than the last, and each has a distinctive theme. One is adorned with glorious neon signage. You'll never guess which room we chose.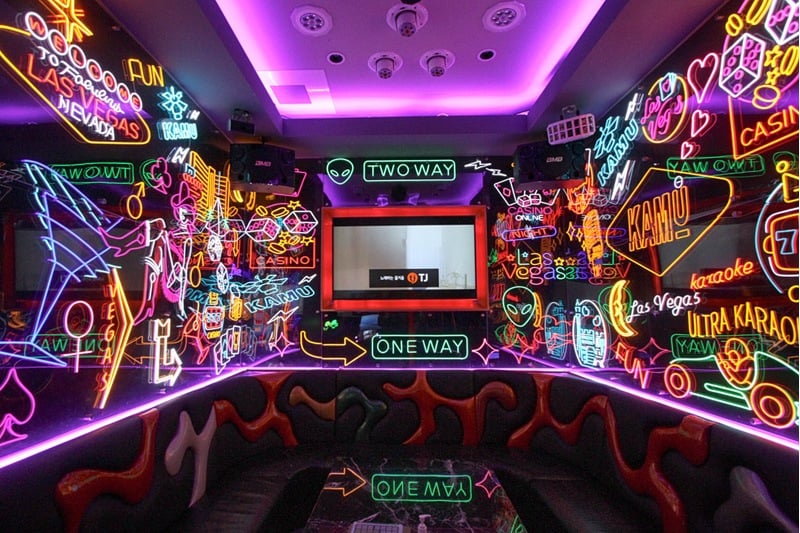 As this review is an unqualified rave, we reserve the right to poke fun at Kamu just once!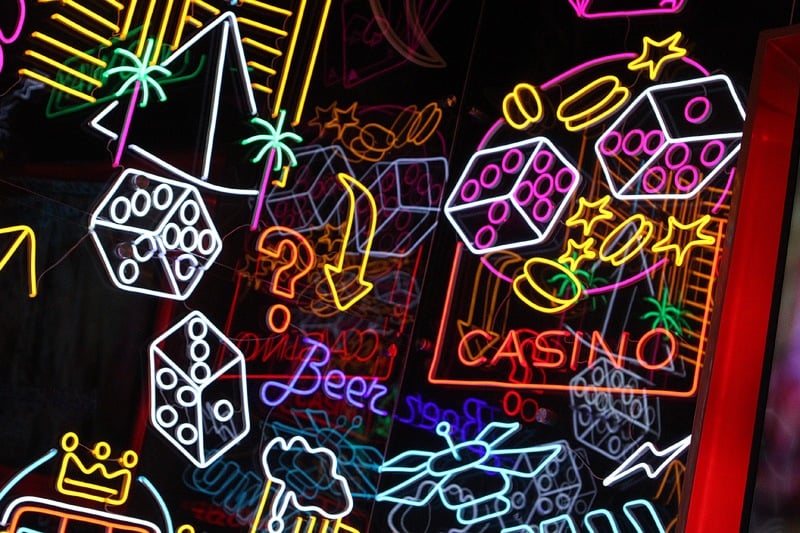 The singers will be happy to hear there's a massive selection of songs. Guests also have the option to play the music from their iPhone (or YouTube) on the impressive sound system.
Each room is also equipped with sound-activated lighting. Guests can completely control their experience, from the volume of the music (thankfully) to the light displays and just about every other element of the space, including the room temperature.
There's a call button for servers, too.
And speaking of servers. Boom. Behold our new favorite cocktail, the Lychee Love.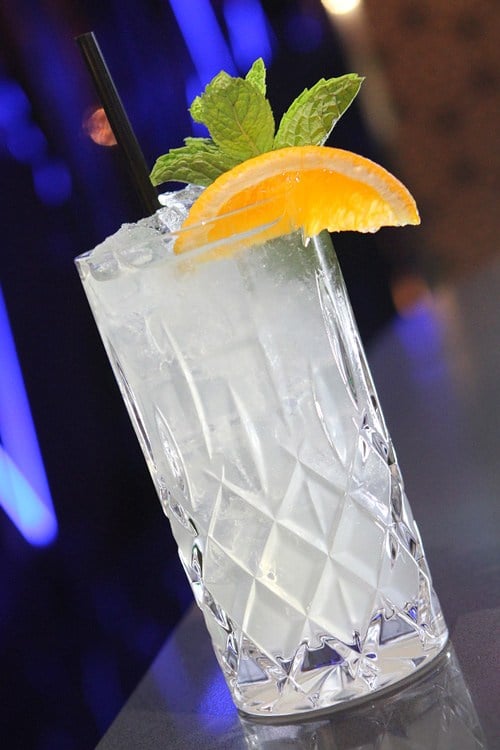 The Lychee Love features Roku gin, Pomp & Whimsy gin liqueur, Nagomi lychee syrup, fresh lemon juice and San Pellegrino Limonata.
We adored the Lychee Love and the hits just kept on coming.
A close second was the Kamu Cooler, with 21 Seeds Cucumber Jalapeno tequila, Aperol aperitif, watermelon juice, lime/mint sour and Fever Tree ginger beer.
We don't care for ginger beer, but Kamu has a way of making us love even the things we think we hate. Including singing. Unless it's the Bee Gees. We'll spare you the video.

The drinks are just the beginning at Kamu.
That's because the venue has a secret weapon, kick-ass executive chef Marty Lopez. Lopez and his team have put together a winning menu, many dishes intended for sharing, most with an Asian flair, familiar but new.
Lopez has an arm-long list of Vegas restaurant credentials, including 35 Steaks + Martinis at Hard Rock, Alize at Palms, Andre's at Monte Carlo, Delmonico at Venetian, as well as stints at Bacchanal Buffet and Gordon Ramsay Pub & Grill at Caesars.
We dove headlong into the Caviar and Chips to start.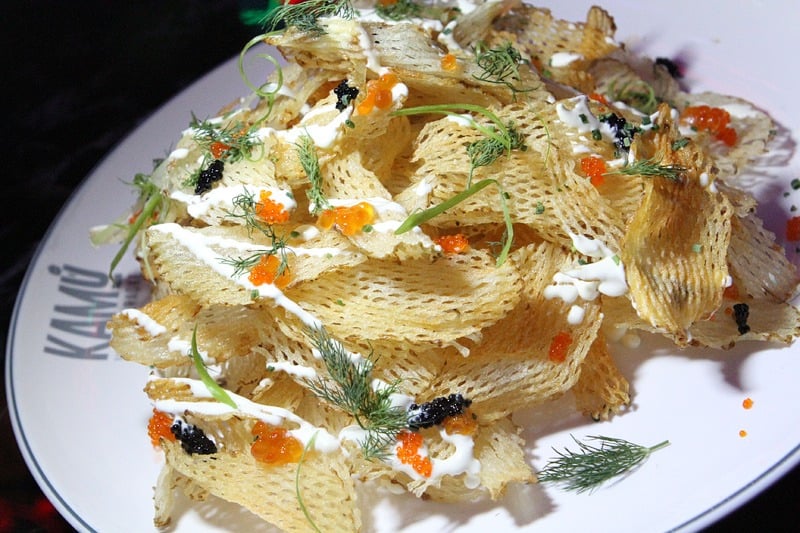 The top dish of the evening was the Korean Fried Chicken. These wings had a kick, and while we don't tend to like spicy, Kamu once again made us a believer.
The dry-aged tomahawk was prepared to perfection, and the parmesan truffle fries were simple but irresistible.
A highlight was the Honey Toast, which we didn't even realize was a thing until our visit to Kamu. We couldn't put this dish (with buttered sugar toast, Dulce de Leche ice cream, and honey whipped cream) into our face fast enough.
You can see all the amazing food at Kamu's official site.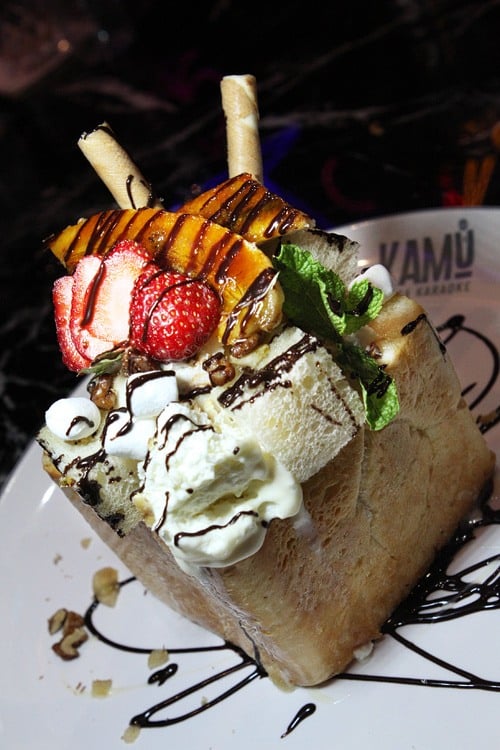 Whether one enjoys karaoke or not, the food and drink, combined with private spaces, is an
undeniable draw. Kamu is ideal for office parties, bachelor and bachelorette parties, divorce parties, the list goes on and on.
While there are some temporary procedures and protocols in place, they aren't intrusive.
Upon entry, guests get a temperature check and walk through a sanitizing unit.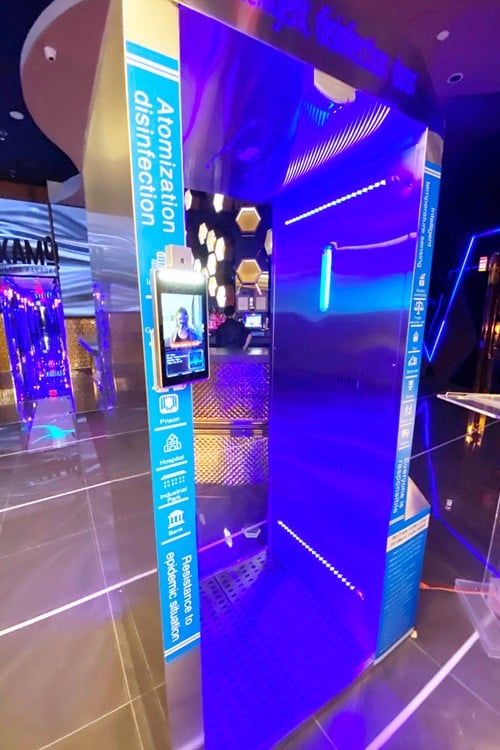 Inside the karaoke rooms, the mics have disposable covers.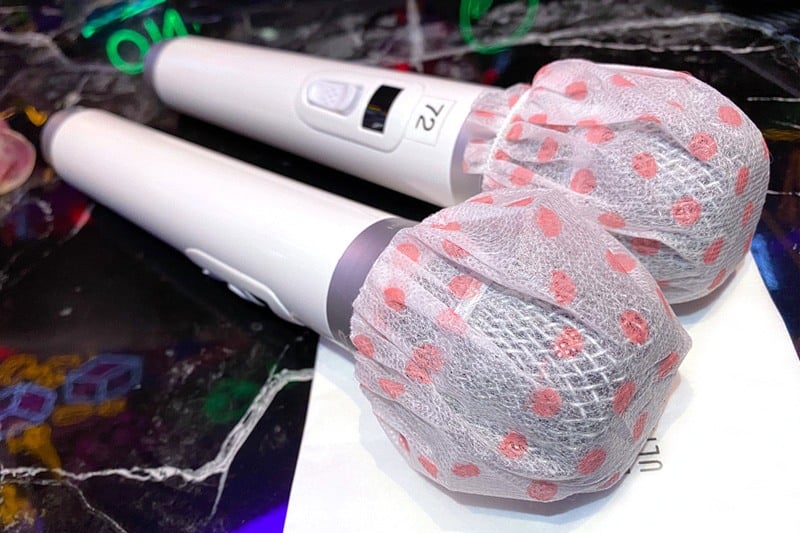 Here's a free hack.
Put the mic cover over your camera lens.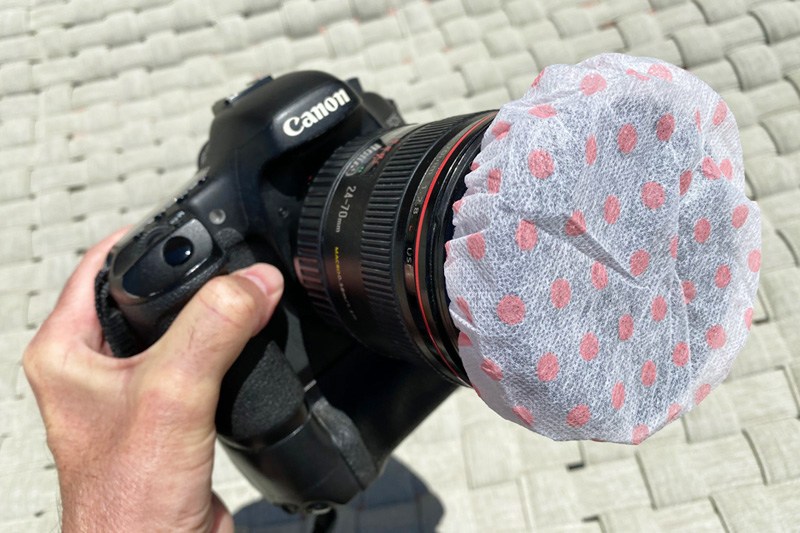 It's a great way to get a soft, dreamy effect. Are you not entertained?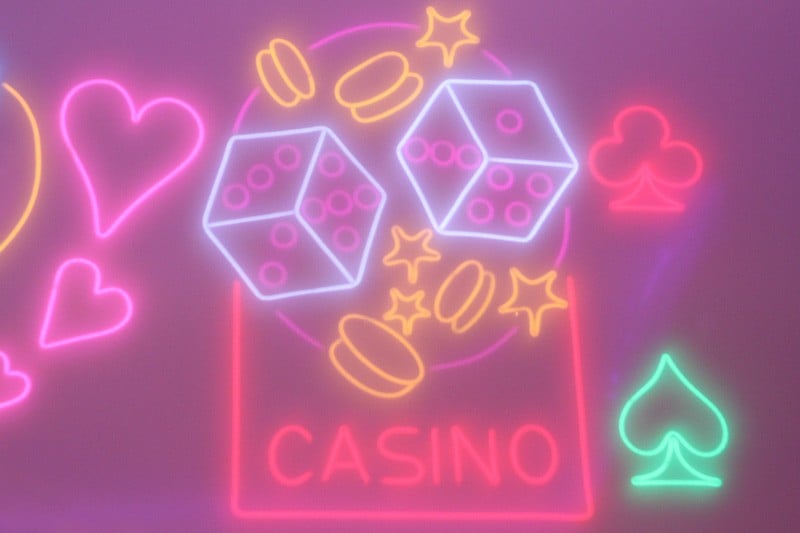 The bottom line is we love Kamu Ultra Karaoke and can't wait to go back.
On the way in, make sure to check out a sweet digital water curtain designed by Aqua Reign. The display has programmable patterns, the water droplets acting as pixels. We'd have captured some video, but we were busy learning about the nuances of lychee, if you get our drift.
We were pleased Kamu is easily accessible via Palazzo's self-parking garage. Grand Canal Shoppes can be challenging to navigate, but Kamu is within a few feet of the elevator, near the popular Sushi Samba restaurant.
Free parking is a great perk.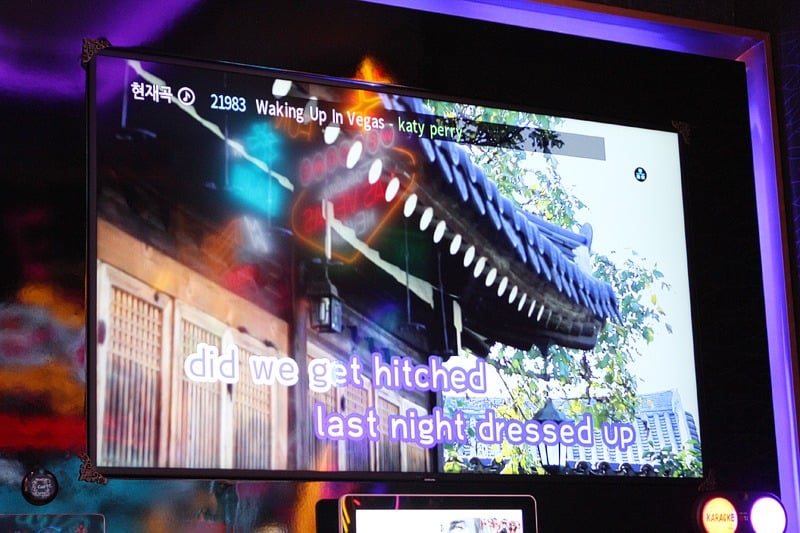 Another perk is the front lounge at Kamu, one of the big draws in the early weeks of the venue's debut. Many guests just do drinks after taking a tour of all the karaoke rooms.
Thanks to Kamu Ultra Karaoke for hosting our visit and for far surpassing all our misguided expectations.
Kamu Ultra Karaoke is a must-do Vegas experience. It's the karaoke place for people who may not even like karoke. And for the people who do, it's a wannabe pop star's wet dream.
For the moment, Kamu Ultra Karaoke is open seven days a week from 6:00 p.m. to 8:00 a.m. Adults only after 8:00 p.m.
Big props to the team at Kamu for opening during a surreal time in Las Vegas. If anything can succeed despite the obstacles, Kamu can.
Get more details from the official Kamu Ultra Karaoke site, and enjoy more pics from the first of what we expect will be many visits to this awesome new Vegas party destination.