FlyOver Las Vegas Virtual Reality Attraction Coming to Linq Hotel
It was recently announced a new flight simulator attraction is coming to the Las Vegas Strip, and now we know where it will land.
We've learned FlyOver Las Vegas will be located at the Linq hotel, on the resort's third floor Vortex deck.

The attraction will feature two domes, one a high tech theater, the other a ticketing, merchandise and concession space.
So, what's FlyOver Las Vegas?
According to the FlyOver Web site, "FlyOver Las Vegas utilizes state-of-the-art technology to give you the feeling of flight. You'll hang suspended, feet dangling, before a 52-foot spherical screen as our film whisks you away on an exhilarating journey over and above Las Vegas, Nevada and more local wonders. Special effects, including wind, mist and scents, combine with the ride's motion to create an unforgettable experience."
The ride will feature destinations in and around Nevada with filming locations expected to include the Grand Canyon, Zion and Arches National Parks in Utah and Lake Tahoe. More Vegas, please.
Each virtual reality show will run 8-10 minutes.
Here's a promotional video.
FlyOver Canada has already been a thing. Check out the
official Web site
.
Side note: The FlyOver Canada location has a pre-show presentation by a company called Moment Factory, featuring "2-D and 3-D animations as well as 360-degree video projection mapping." These are the same folks who did the incredible video display outside the Forum Shops. Let's have more of that in Vegas.
Here are some perfunctory details from the FlyOver Las Vegas permit filing:
The theater dome will be 7,854 square feet, 33 feet tall and 50 feet in diameter with about 1,963 square feet of floor area. The theater dome will accommodate 62 movie theater seats with bass shakers.
Fun fact: The Bass Shakers are one of our favorite bands, ever.
The ticket dome will be 17 feet tall and 26 feet in diameter, with approximately 531 square feet of floor area.
Thanks to @morenoapa on Twitter for pointing us toward the permit application.
The Linq's Vortex deck has been one of the most underutilized spaces on the Las Vegas Strip. Why you'd take people inside a dome for simulated views, rather than taking advantage of the Strip views from the Vortex deck, we have no idea. But we quite enjoy sparkly new Vegas things, so there's that.
If you have no idea what we're talking about, here's a look at the Vortex at Linq. You sort of can't miss it.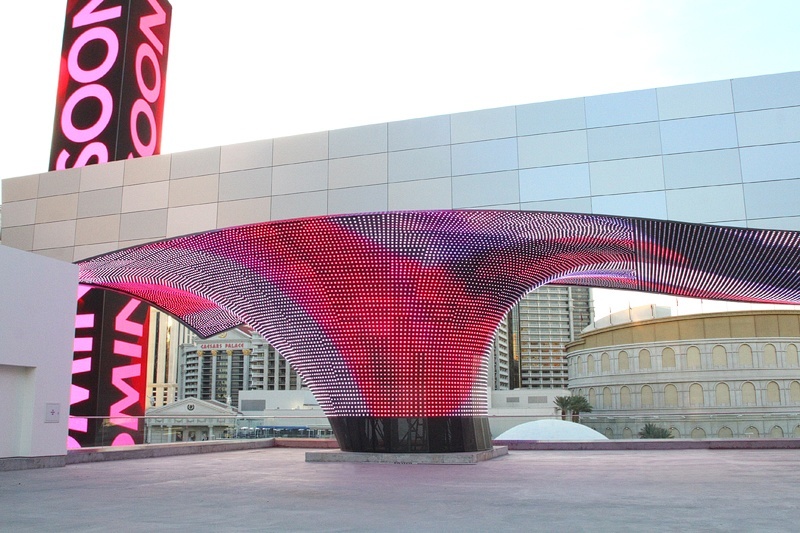 Construction of FlyOver Las Vegas is expected to begin in late 2019. Which is weird when you consider the attraction is expected to open in early 2021. It's domes.
Here's the official FlyOver Las Vegas Web site.
As gambling revenue declines over time, Las Vegas casinos continue to seek out partners to help generate revenue in other ways, especially attractions appealing to younger visitors.
While we tend to avoid attractions featuring heights (yes, even virtual) and the potential of motion sickness, FlyOver looks like it could be a fun new diversion in very visible location, so it has the potential to make a killing. This is one to watch!
Update (6/14/19): Plans for a virtual reality attraction at Linq have been confirmed, but it's called Fantasy Dome, "powered by Ominvision." We have no idea where the dome is, nor have we seen any publicity for it, but presumably it opened June 14, 2019. Here's the official site.