Downtown Discovery: Stoned N Baked at Downtown Container Park is Worth the Trip
If you've never been to the Downtown Container Park, Stoned N Baked is the perfect reason to swing on by.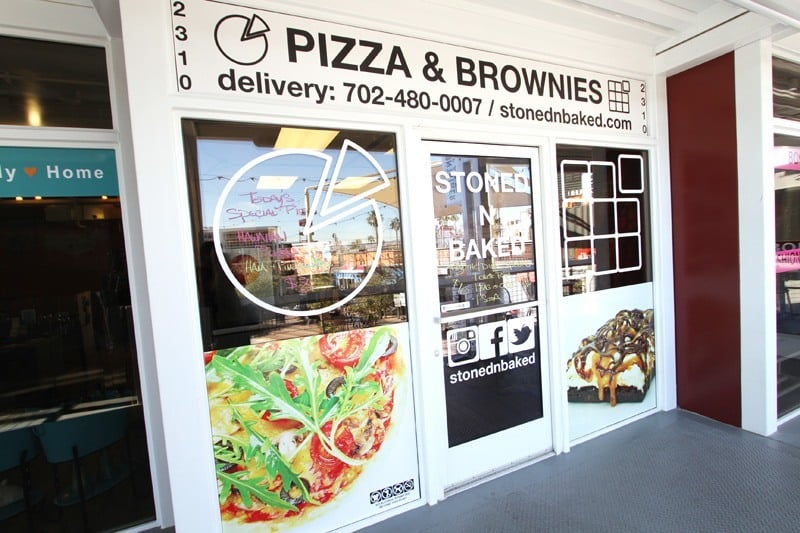 To say Stoned N Baked is compact would be an understatement. Like all the shops and restaurants at Downtown Container Park, this new offering fits inside a shipping container.
The quality and value at Stoned N Baked more than make up for the restaurant's diminutive size.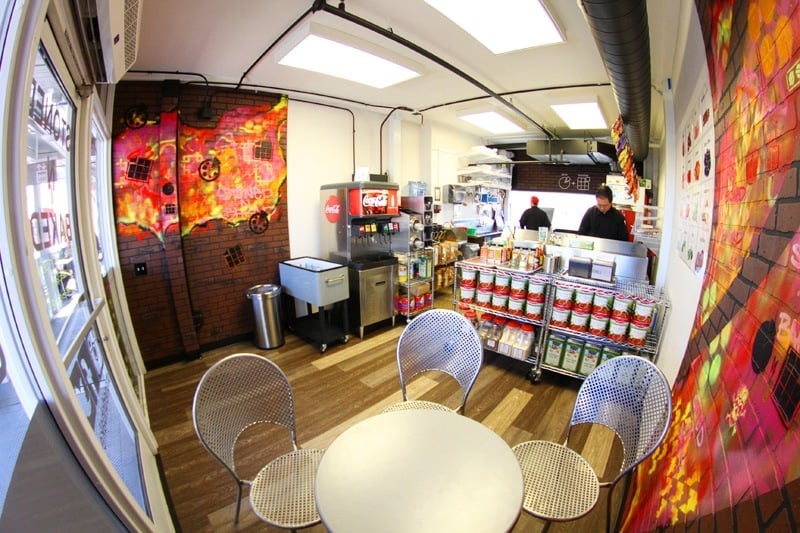 Seating is limited inside Stoned N Baked to say the least (there were three chairs during our visit, but we hear that will be expanded to six), so the food is mostly grab-and-go.
The restaurant's colorful decor is the work of an artist with a nearby shop, Tanya Michelle Watler of Lil Art Bodega.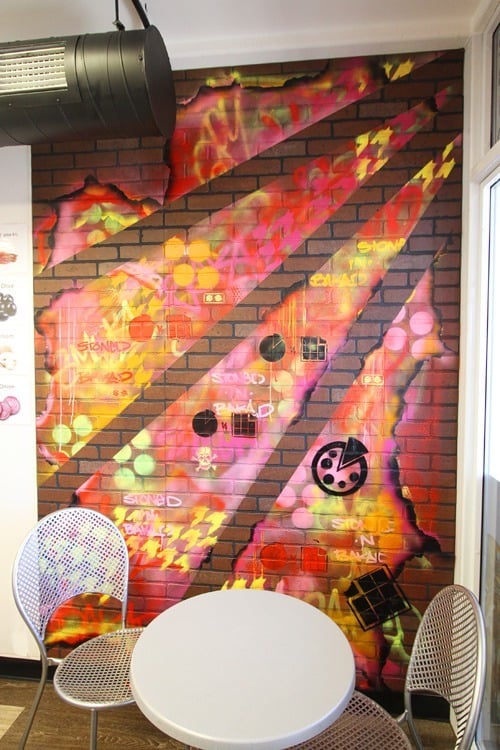 Stoned N Baked keeps things simple. The menu consists of pizza, salads (house, Caesar and arugula) and brownies.
Here's the menu. Yes, this is all of it.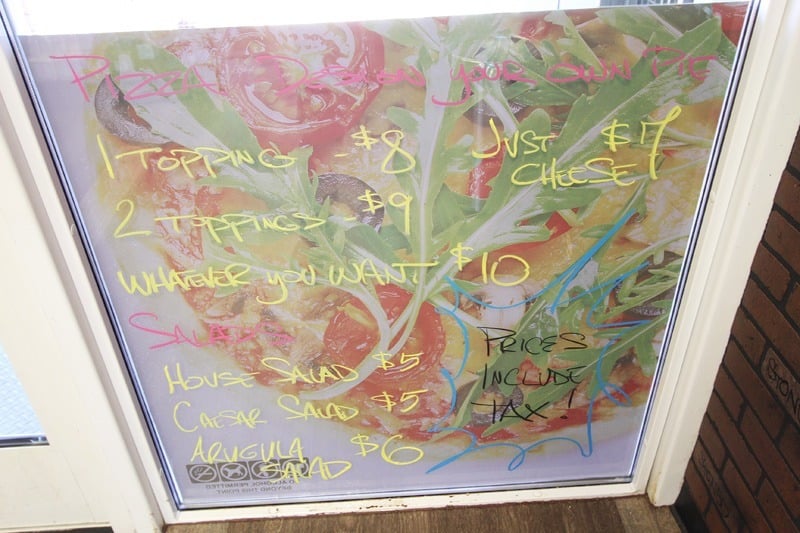 The basic cheese pizza is $7, and it's not available by the slice.
The prices are good and the pizza is top notch. There are currently 12 toppings to choose from. Why, here they are now.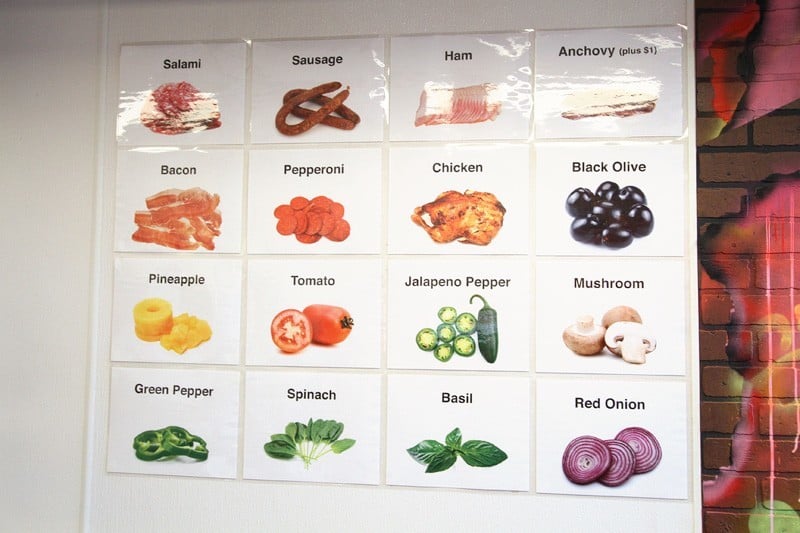 The pizza has a thin crust, crispy at the edges and chewy in the center. It's Chicago-style, so ingredents are under the melted cheese.
It takes only about five minutes for your pizza to be made from scratch and cooked in an imported Italian oven.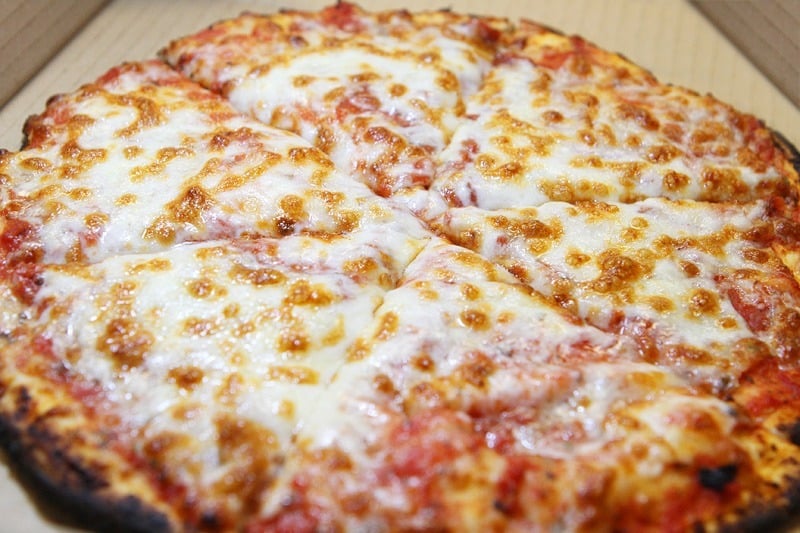 Playing on its edgy name, there's a "Dime" special (a reference to a $10 bag of marijuana), which includes a pizza, bag of chips and soda for $10. Tax is included.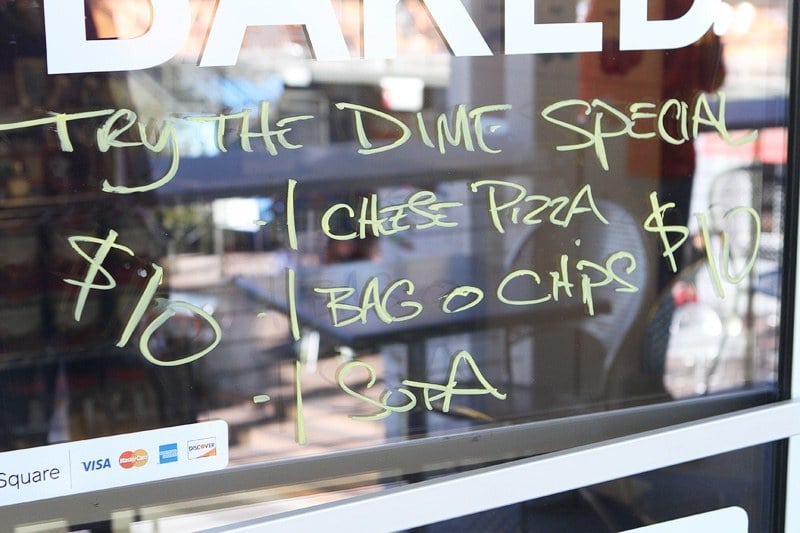 While this restaurant's pizza game is strong, the co-star on the menu threatens to overshadow the pies. The company that manages Stoned N Baked is SasaSweets, with a solid reputation for confections, and the brownies at Stoned N Baked are off-the-chart good. Yes, even when you're not under the influence of anything.
The turtle brownie below is $3.

When Nevada finally gets around to having a clue and legalizing recreational marijuana, Stoned N Baked is going to be poised for a serious windfall. (For the record, this blog has never personally even tried marijuana, but we hear it has some fans.)
Stoned N Baked joins a strong collection of eateries and is likely to be a hit with an under-served group of Downtown Container Park visitors—kids.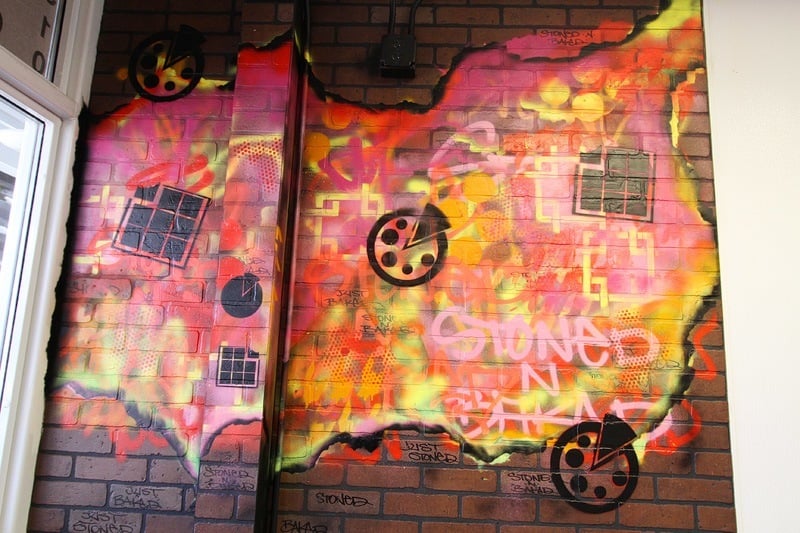 Downtown Container Park has a giant playground at its heart, and they've yet to invent a child that doesn't like pizza, so Stoned N Baked is a great fit for the quirky, eclectic shopping center.
Stoned N Baked can be found on the second floor of Downtown Container Park, in the space formerly occupied by Simply Pure Vegan Cafe. Don't freak out, vegans. Simply Pure Vegan Cafe moved to another spot at Downtown Container Park.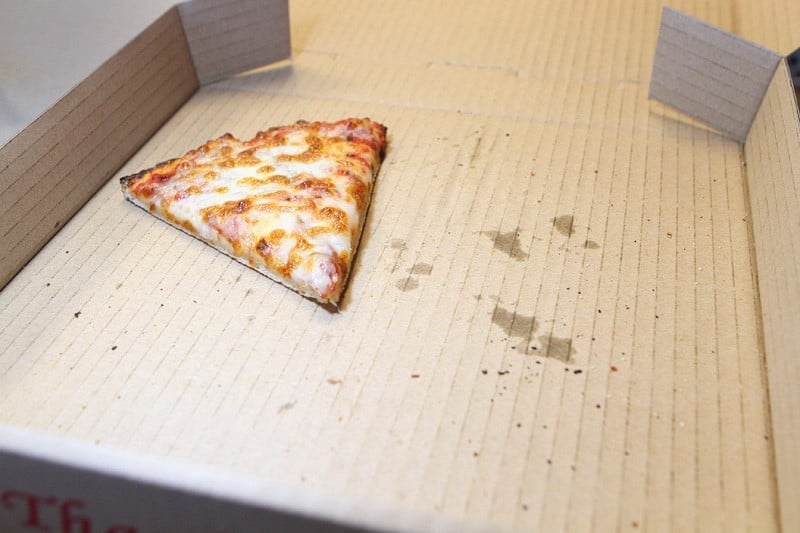 Stoned N Baked exceeded all expectations, and we'll be adding it to our regular rotation of restaurants downtown. Which, of course, is one of the highest honors a Las Vegas restaurant can receive that doesn't involve a trophy or cash prize.
Insider tip: If you visit Stoned N Baked, but are uncomfortable having "Stoned N Baked" show up on your corporate credit card, ask to pay at the establishment's sister shop, "ChillSpot."
If you stop by Stoned N Baked, say you heard about them at Vital Vegas. They won't have any idea what you're talking about, but it'll break the ice and help avoid having to make small talk about the weather.