Resorts World Is Spectacular Despite Hiccups
Resorts World, the first (mostly) ground-up casino megaresort in a decade on the Las Vegas Strip, opened June 24, 2021.
We say "mostly" because Resorts World was built on the bones of the abandoned Echelon Place project, and even more significantly, on the site of the former Stardust.
The opening of Resorts World, first announced March 2013, isn't a time for history lessons, though. It's a time for jubilation and possibly involuntary protein seepage because Resorts World is downright mind-blowing.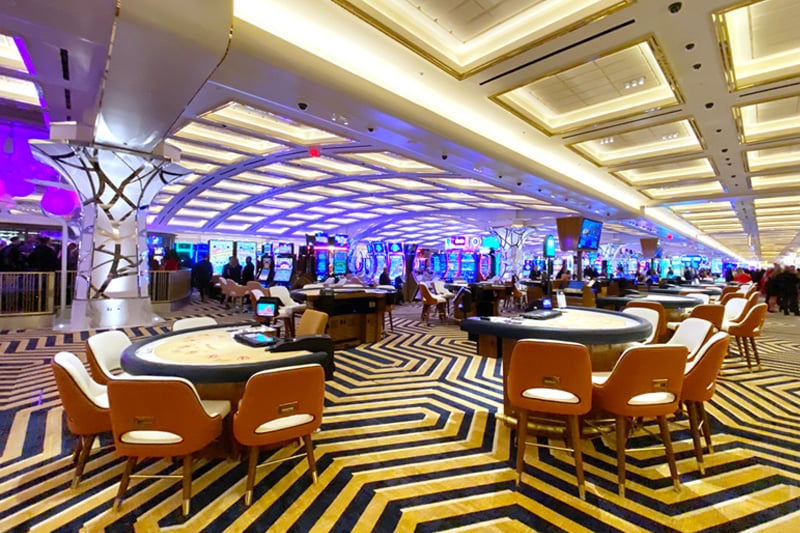 Resorts world cost $4.3 billion, making it the most expensive casino resort ever build in Las Vegas.
It shows.

Here's some video to wet your bamboo flute.
Ever since the resort opened, we've sat down daily to try and share our thoughts about the soft opening (June 24, 2021) and the grand opening (July 4 weekend), and have been overwhelmed by the task.
That's because Resorts World is so much everything.
For starters, the physical space is glorious. The entrances. The casino. The restaurants and lounges. Even the "mall."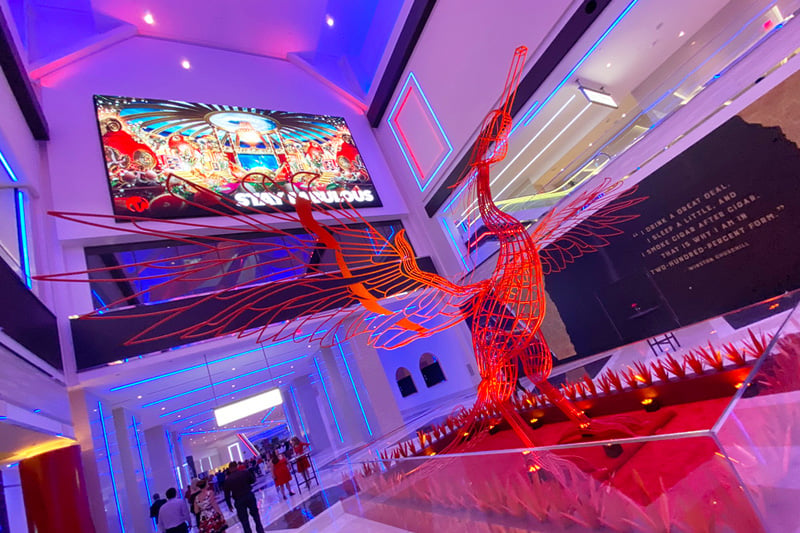 A phrase we've used a lot in the build-up to Resorts World is "spared no expense."
The owner of Resorts World, Genting Group, has very deep pockets, and it's clear there was a decision not to cut corners on this endeavor.
Resorts World is over-the-top, and its extravagance is a throwback to the days when Mirage and Bellagio and Wynn inspired wonder around the world.
The resort's high limit lounge is so beautiful, we've visited several times and we aren't really a high limit person.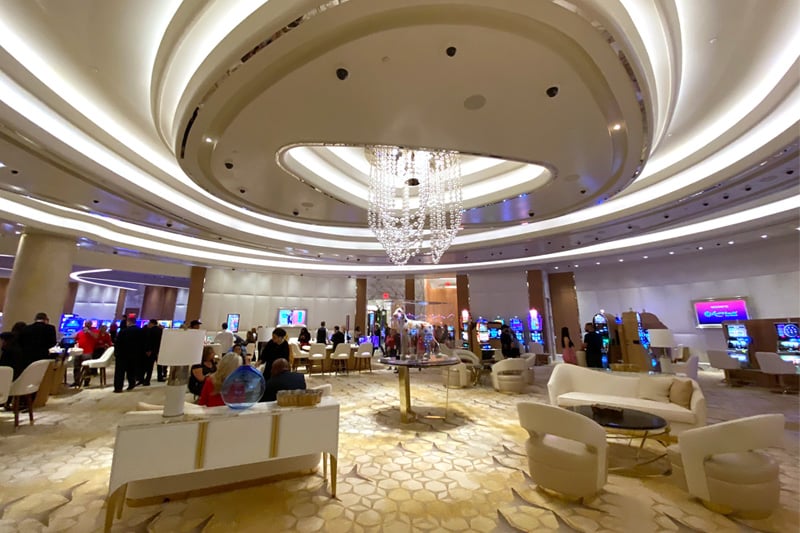 Being in this space just makes you feel special. And that's what Las Vegas is all about. It's how places and experiences make you feel.
Resorts World has a way of making everyone feel like a high roller, whether or not one's bankroll warrants that designation.
You may just want to skip our words and go straight to the photo gallery, our biggest ever.
There's just so much to see and do at Resorts World, we'd need a bigger Internet to describe everything.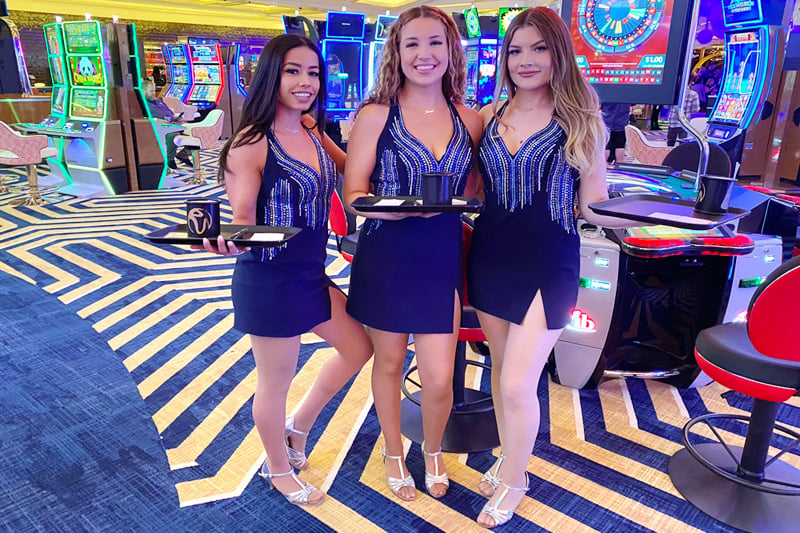 Fun fact: The cocktail servers at Resorts World wear necklaces with their names.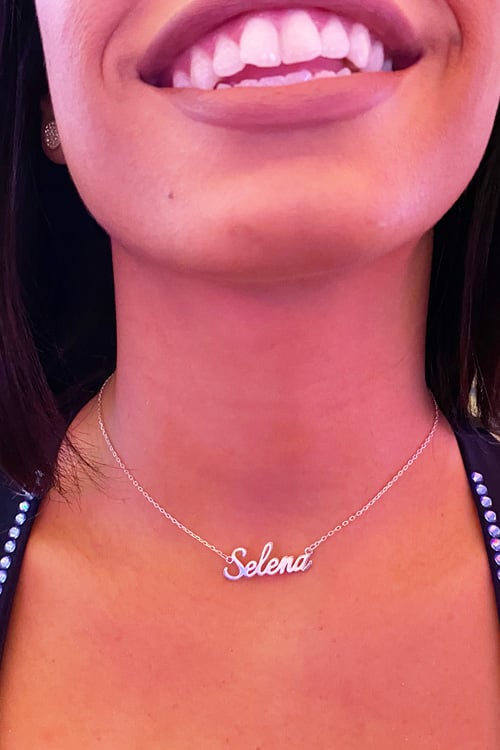 We haven't even talked about the restaurants yet!
There are a staggering 40 restaurants and bars at Resorts World, although not all are open yet.
The food court alone is worth a visit to Resorts World, as the sheer variety of the fare is simultaneously mind-boggling and utterly daunting.

There's a bit of a learning curve at the food court, but the prices are reasonable, everything we've tried has been great and if you're into EDM (electronic dance music), you'll love it even more. (There's a DJ blasting music throughout.)
The food court ordering system falls neatly into the "room for improvement" category. There are no prices posted at the individual food stalls, and once you order via touchscreen, it's challenging to figure out which of the 16 restaurants you ordered from and collecting your food can be an adventure all its own.
We should also mention the food court needs ice. Everyone's drinking warm $5 sodas and it's sub-optimal, as the kids say. Look, some kid said that once. Ironically, but they said it.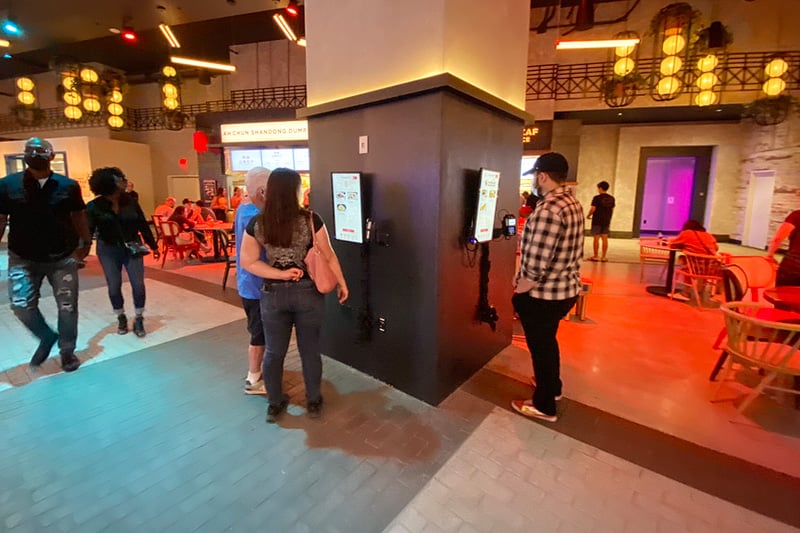 Check out all the Resorts World restaurants and bars here.
One of our favorite surprises at Resorts World is the hidden speakeasy in the food court. The storefront looks like a gift shop, but one of the shelves is a doorway to a cozy little lounge called the Here Kitty Kitty Vice Den.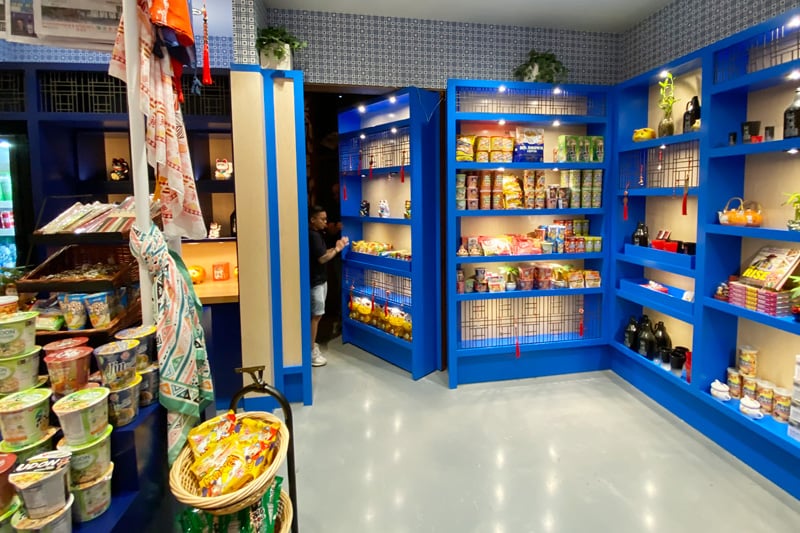 Here's a quick video to help find the hidden lounge. It's magical.
Where do we go next?
The lounges, of course. That's where the liquor is.
The Crystal Bar (in the center of the casino) at Resorts World is a jaw-dropper. So, just like every other part of Resorts World.

Another lounge, Gatsby's, has been packed during each of our visits.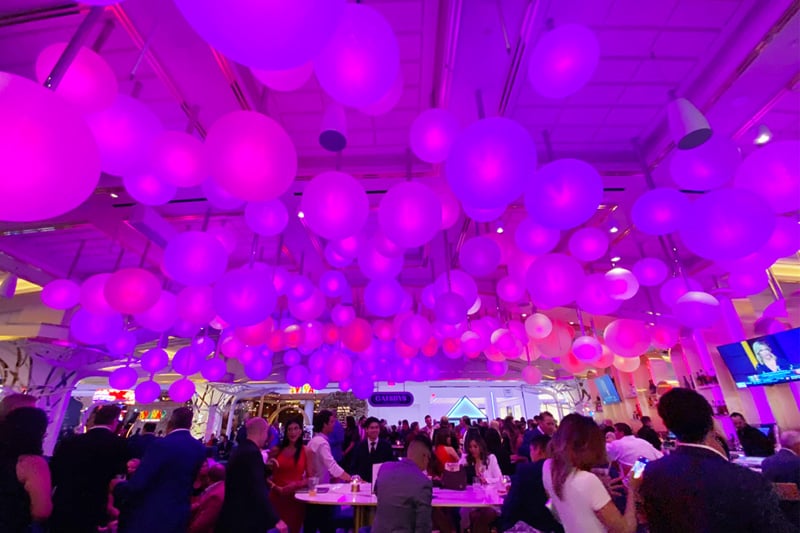 There's something for everyone at Resorts World, including at country bar, Dawg House, with live entertainment and some food. Skip the disappointing $15 grilled cheese sandwich and hit the food court. That said, the tater tots are great drunchies food.
Dawg House and the casino's Crystal Bar are about the only places we've found with bartop video poker, if you're into that. The pay tables aren't going to win any awards, but you're on The Strip.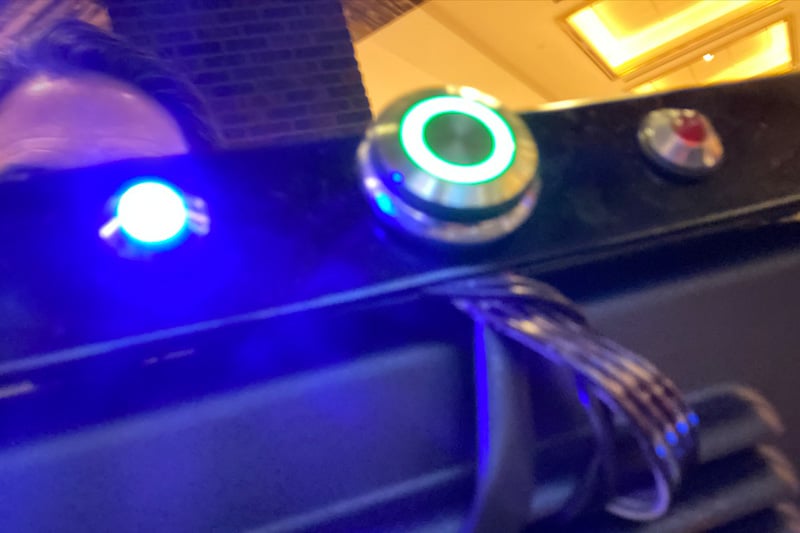 Overall, slot machines aren't really an emphasis at Resorts World.
Resorts World is a table games casino, and the resort is going for whales. We've already heard tales of one high roller dropping $8 million at Resorts World in the first couple of weeks. When we went to the cage, the cashier said the player in front of us had just deposited $500,000 cash in "front money."

That means baccarat over Buffalo, although there are plenty of options for most recreational gamblers.

Speaking of gambling, this is probably a good time to mention Resorts World has the option of cashless gambling.
The cashless system at Resorts World has been touted as easy and seamless. It is neither of those, and we'll probably devote a future story to how it all works.
This video isn't particularly helpful, but we're sharing it, anyway.
In the simplest terms, guests can pay for gambling, or presumably anything at Resorts World, via mobile device.
You install the Resorts World app, load up the app with money (cash at the cage or directly from your bank account), then at a slot machine or table, you can transfer the funds to the game. Your winnings go back onto the app, or you can turn your digital dollars into hard currency at the cage. (Tip: If there's a line at the main casino cage, look for a smaller cage in high limit.)
There's a small fee (2.95%) for loading up your app (about the same as using an ATM), but just about everything else is free. Moving money from the app back into your bank account also incurs a small fee.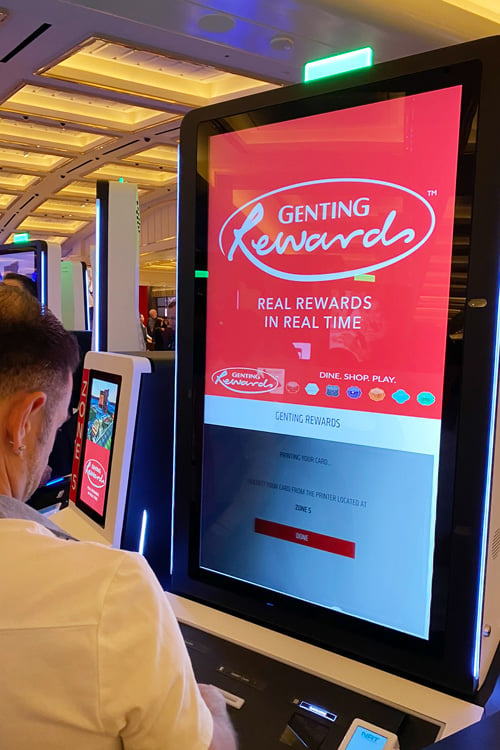 Once you get past the hurdles of signing up, it's actually very convenient to go cashless in a casino.
It's important to note the cashless system is optional. There's a surprising amount of confusion about this, actually. Cash is still king in Las Vegas, and no Las Vegas resort is turning down money.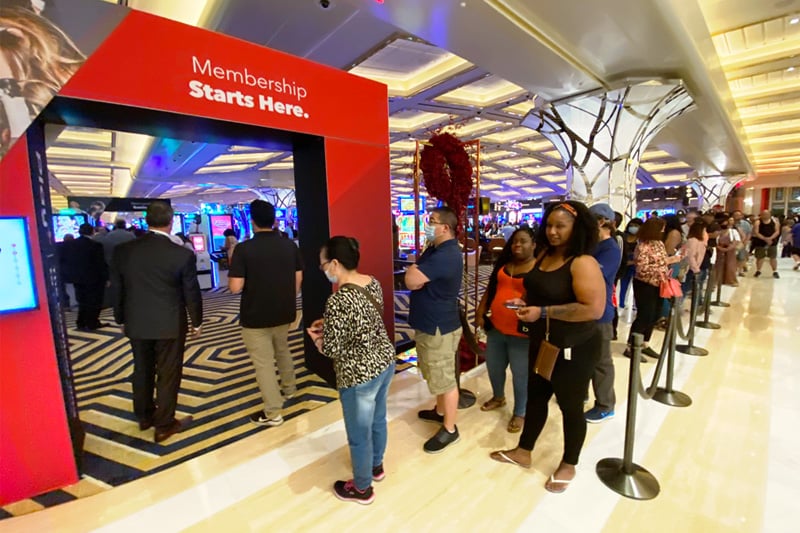 In the realm of loyalty club cards, it's worth mentioning Resorts World has a cool feature for slot players using their cards (or who are connected to their account using the app). Players have the option to reserve their slot machine if they need to step away. The higher your loyalty club tier, the more time you can reserve the machine. No more "savsies"! This function locks up the machine until you return.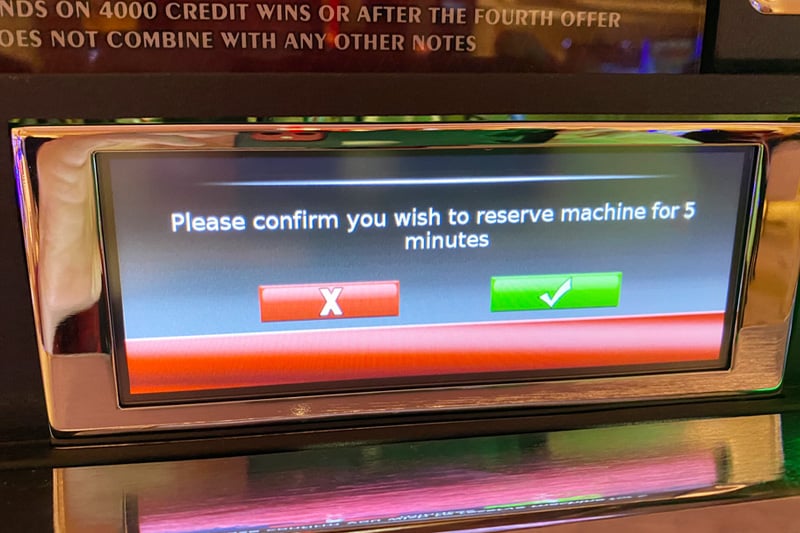 There are amazing discoveries around every turn at Resorts World, and a number of venues have yet to come online.
Just when you think you've seen everything, you find yourself in The District, the shopping promenade. Here, you'll be hit with another tsunami of great places not only to shop, but to dine and hang out.
In The District, you'll also find a new addition to the list of best photo ops in Las Vegas: A gigantic video globe.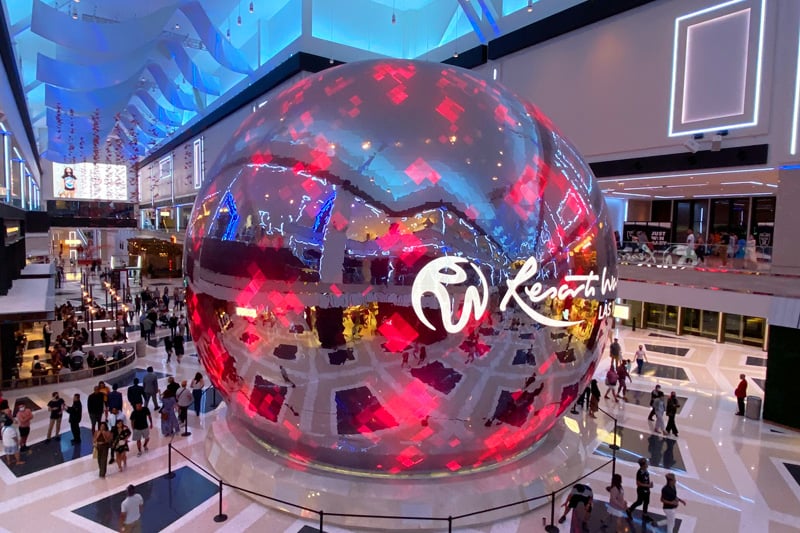 Resorts World is vast, so set aside some time to explore. Like August through October.
Resorts World is so big, it's not just one hotel, but three. Resorts World has a Hilton, Conrad and Crockfords. Each has its own entrance and amenities, it's three experiences in one.
During your visit, make sure to check out all the art. Resorts World has assembled a seemingly endless variety of art, and one of our favorite pieces is a Volkwagon bug smushed into a ball.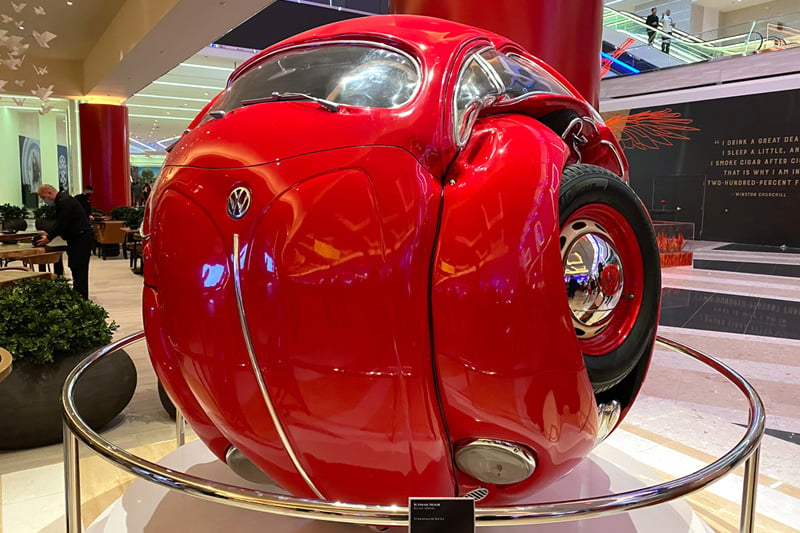 While our enthusiasm for Resorts World should be evident, we would be remiss if we didn't mention there were a number of glitches during the resort opening, and some persist.
Many of the problems were technical. Many were caused by the sheer crush of visitors. Parts of the resort weren't finished in time for the opening, and some are months away from being completed.
But Resorts World is a massive undertaking. No Las Vegas megaresort has ever opened flawlessly, and it's taken some time to work out the kinks.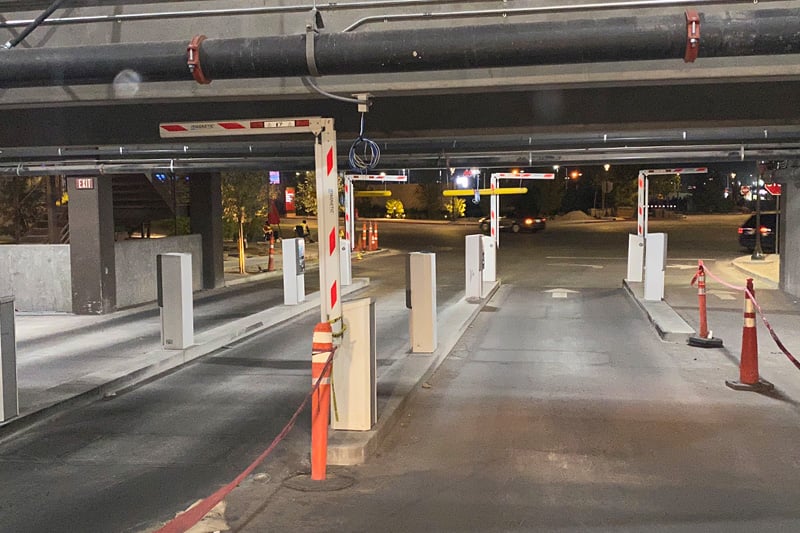 It was beyond baffling that during the first week of operation, some venues couldn't accept cash, while others could only accept cash.
Hotel guests had their own litany of problems.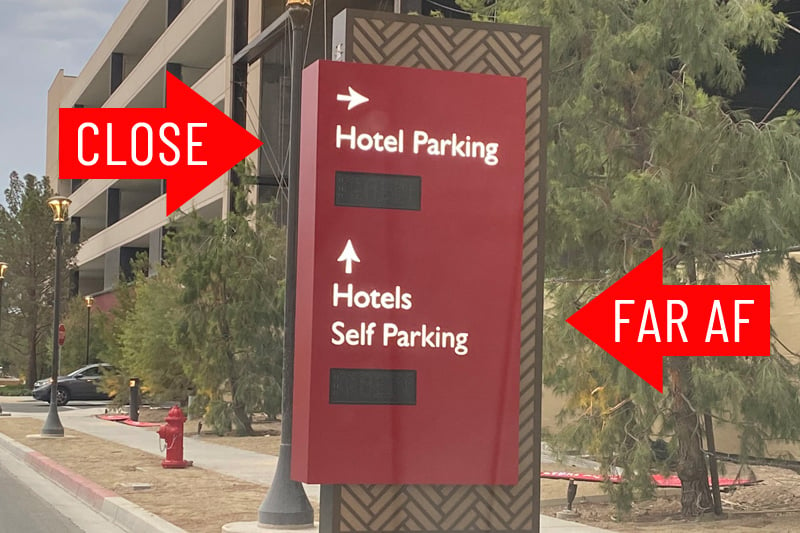 You never get a second chance to make a first impression, but we suggest if you were one of the people disappointed by Resorts World, give it a second chance.
We are a glass-half-full person, so we're not going to let some minor inconveniences ruin our enjoyment of a shiny new casino resort.
Ultimately, Resorts World is a remarkable accomplishment in the realms of technology, design and construction. It fully warrants the hoopla.
Beyond those things, Resorts World is a symbol. It's a symbol of a return to what Las Vegas does best. It makes wows.

Resorts World is also a symbol of what many expect will be a Las Vegas rebound following the pandemic.
It's amazing Resorts World exists at all, and we're going to support the endeavor in any way we can. Because we love when Las Vegas makes new places for us to eat, drink and gamble.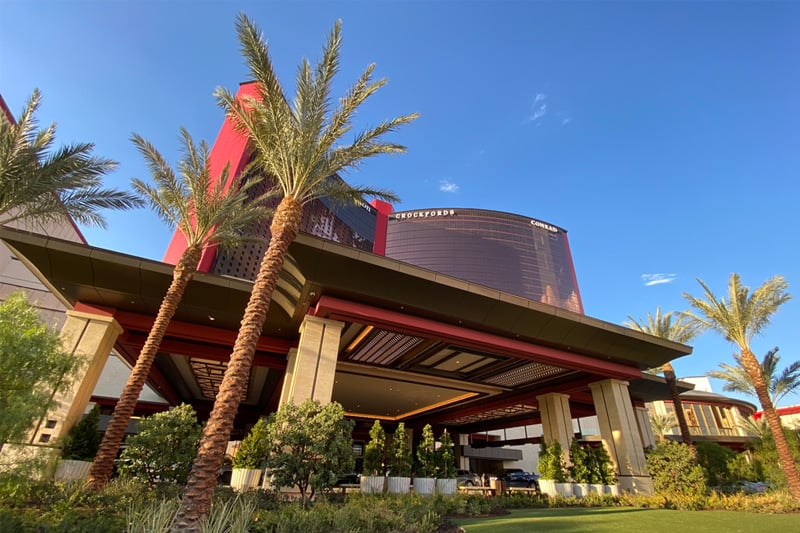 We feel like we've only begun to experience Resorts World.
We didn't make it to the pool, or the nightclub or dayclub. The theater is still under construction. The steakhouse, Carversteak, doesn't open until December.
While there may have been some rough patches for Resorts World when it opened, our town now boasts another world-class megaresort.
Dive into our exclusive photo gallery, and bask in the OMFG that is Resorts World Las Vegas.