10 New Things You Might Want to Know About Linq Hotel and Promenade
There's been a lot going on at the Linq Hotel (formerly the Quad) and its adjoining pedestrian promenade (formerly an alley). Let's do a little catching up.
1. New Bar Coming to Blvd. Cocktail Space
The shuttered Blvd. Cocktail piano bar will soon be given new life. Fine Entertainment is expected to open up a bar featuring beer from around the world, all served in cans. Fine Entertainment is the same group behind PBR Rockbar at Planet Hollywood, Rockhouse at Venetian and Chayo Mexican Kitchen at the Linq. No word on when the new offering will open, as it hasn't even been announced yet. (Update 12/11/15: It's AmeriCAN.")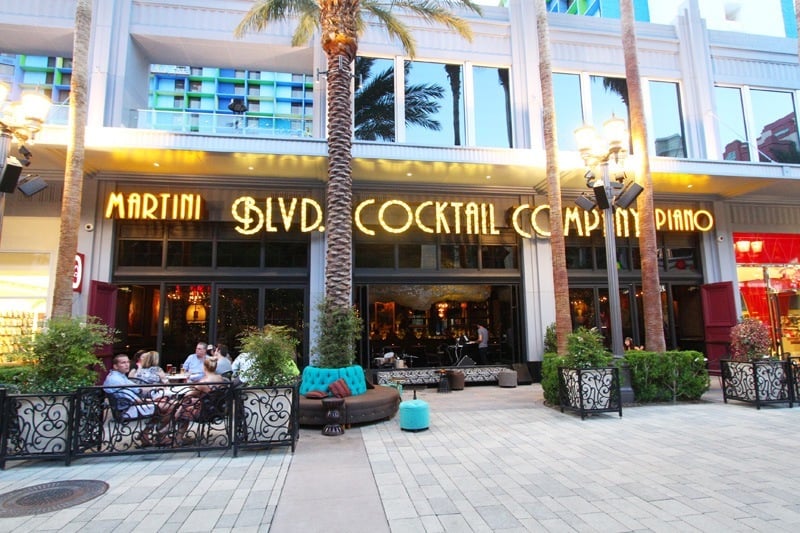 2. New Executive Team for Promenade and High Roller
The Linq promenade continues to struggle, but there's a glimmer of hope in the form of a new management team. Caesars has brought on Shaun Swanger as V.P. and General Manager of the promenade and High Roller Ferris wheel. Swanger has an extensive background in shopping center development and operations. Other new hires are a Managing Director of Sales for the High Roller, Ron Drake; G.M. of the Linq promenade, Tonia Chafetz (formerly of Tivoli Village, another struggling shopping center here in Vegas, but don't hold it against her); G.M. of the High Roller Eric Eberhart; and Director of Marketing for the promenade and High Roller, Lindsay Sanna (we worked with her at Caesars, she was nice and was the one who first floated the name The Quad, but don't hold it against her). It's been frustrating to watch such a squandered opportunity at the Linq promenade, so here's hoping some new blood shakes things up for the better.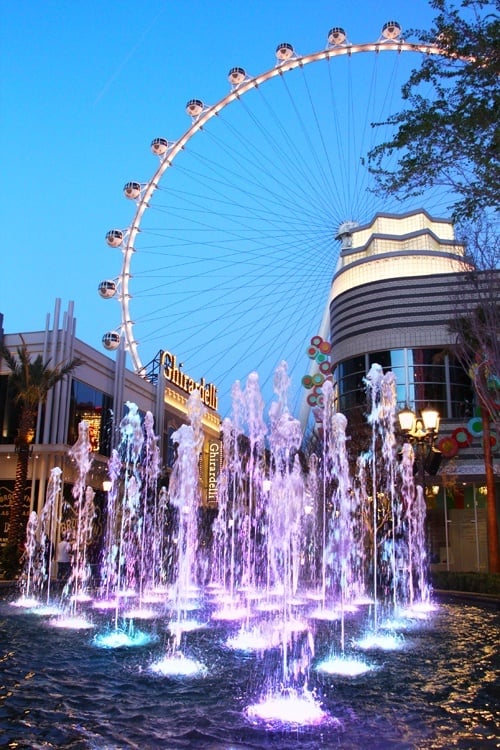 3. Nook Cafe Opens
It opened under the radar (possibly for fear of it competing with restaurants on the promenade), but the Nook Cafe has opened inside the Linq Hotel in the former Betty's Diner. There's a quickie version, Nook Express, nearby. The Nook Cafe serves up salad, pizza, sandwiches and other standard cafe fare.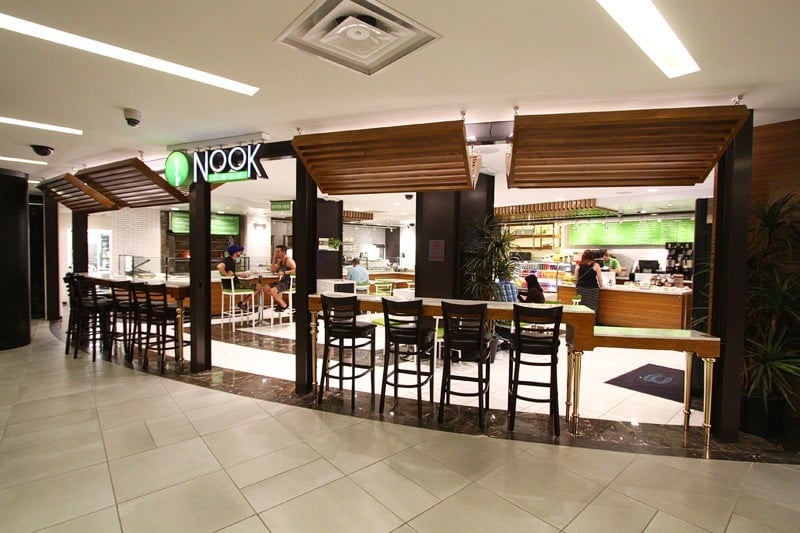 Here's a look at the Nook Cafe menu, in all its "20% more than you'd like to pay" glory.
4. Vortex Level is Hosting Events
It's a glorious, underutilized space, but the Linq's vortex level has been seeing some action recently. Caesars has been looking for a partner to create a permanent venue, but no luck so far. Aside from the sweet light funnel experience (photo below), the area provides one of the best views on The Strip. There have been rumors a Playboy Club is coming to The Linq, and we're hoping this will be the spot.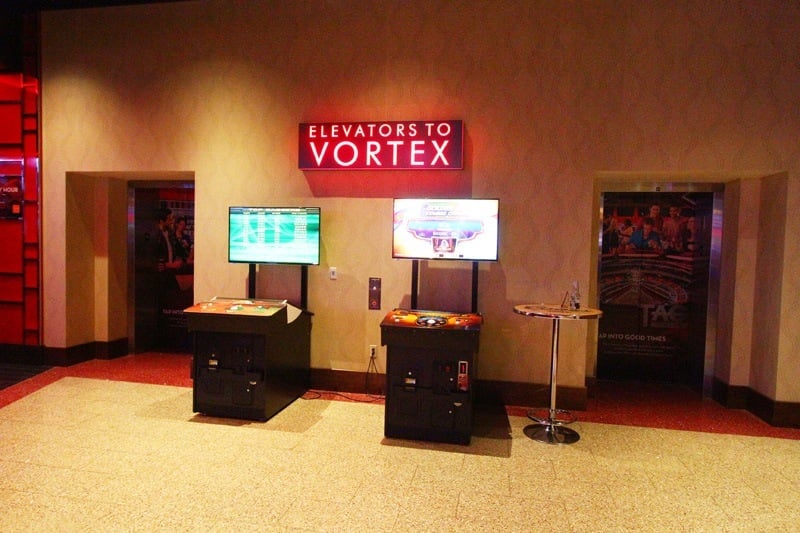 For today's security breach, here's the impressive light fixture atop the Linq hotel. It's even cooler at night.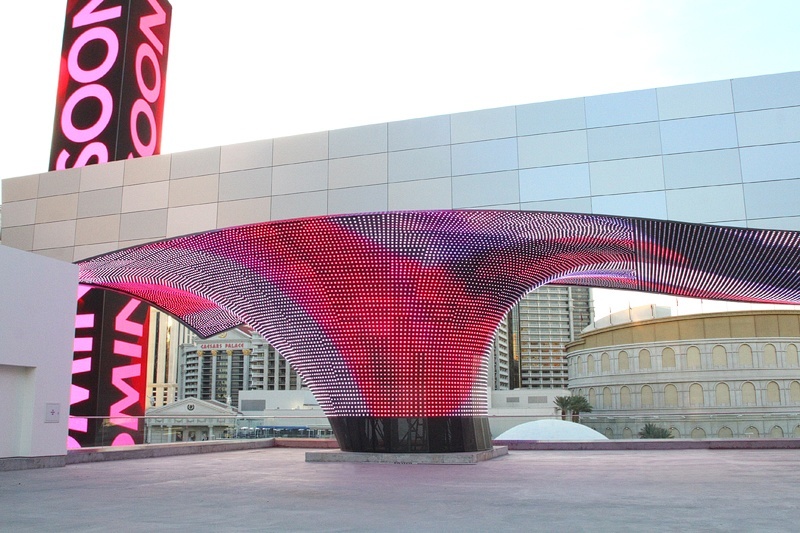 5. The Poker Room Lives
The poker room at at the Linq has been nomadic for some time now, closing and re-opening in different locations around the hotel. After being closed for six months, the poker room has yet another new home, near the southwest entrance, just across from the Flamingo.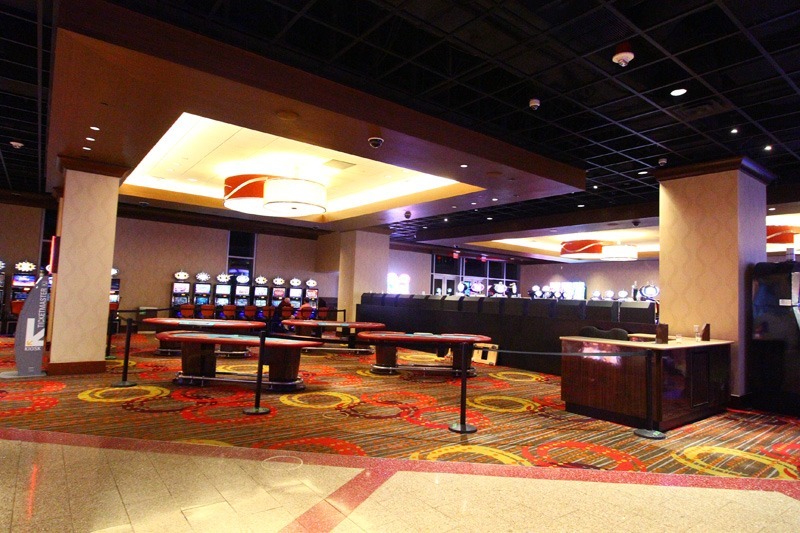 6. Mat Franco Moves In
Magician Mat Franco recently opened his new show at the Linq hotel, "Mat Franco – Magic Reinvented Nightly." We've heard exactly zero about it, despite a major showroom renovation to accommodate the "America's Got Talent" winner. Come to find out, it wasn't a huge gamble on the part of the Linq or Caesars Entertainment, as NBC paid for the lion's share of the renovation, presumably so it could say one of its winners snagged a bigtime show on the Las Vegas Strip. The best review of the show we've heard so far was from another Strip magician, who said, "It wasn't bad, but he's not reinventing anything." The Linq's "Divas Las Vegas" show remains at the hotel, but comedy-juggler Jeff Civillico has moved to Flamingo Las Vegas.

7. Gordon Ramsay's Fish & Chips Is Out
We were so excited when it was announced celebrity chef Gordon Ramsay would be opening Gordon Ramsay's Fish & Chips at the Linq promenade. For months now, however, we've heard nothing about the restaurant and it appears the restaurant isn't happening. It's always possible the project could come back to life if the promenade turns around, but until then, we'll have to made due with Ramsay's three other Las Vegas eateries, two of which are excellent (Gordon Ramsay Steak at Paris and BurGR at Planet Hollywood). Ah, what might have been.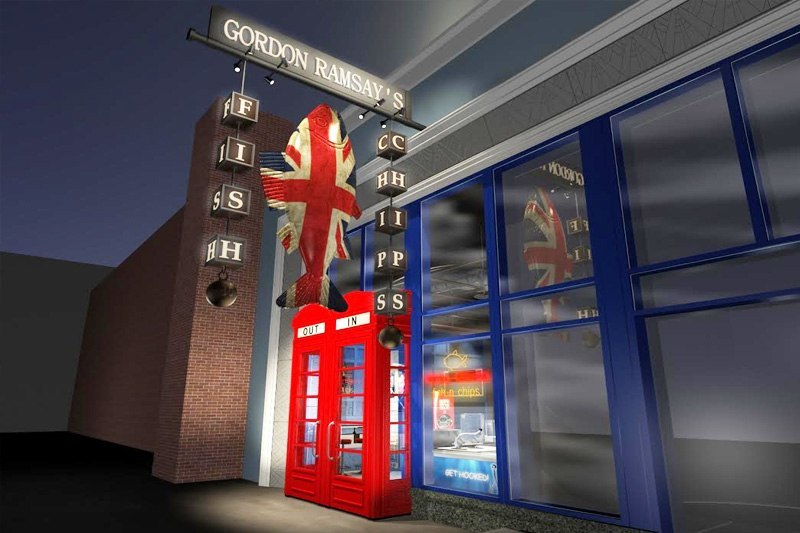 8. Flour & Barley Has Incredible Meatballs
So, it's not exactly new, but it was new to us. While the pizza at this Italian restaurant wasn't memorable, the meatballs sure were. They're our favorites on The Strip, and there are a lot of great meatballs on The Strip (Old Homestead Steakhouse at Caesars comes in a close second). Our favorite meatballs in town are still the ones at Pizza Rock, but Flour & Barley's are worth a try.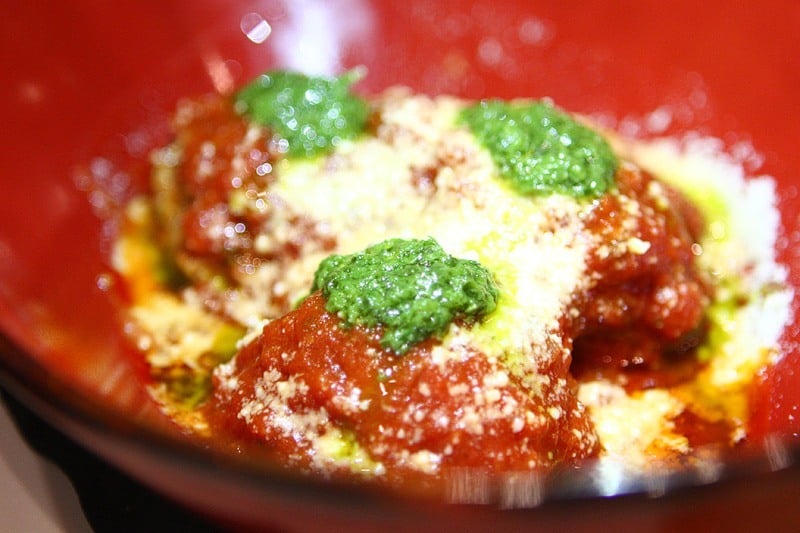 Flour & Barley has an open kitchen and the bar carries Captain and diet. And all was right with the world.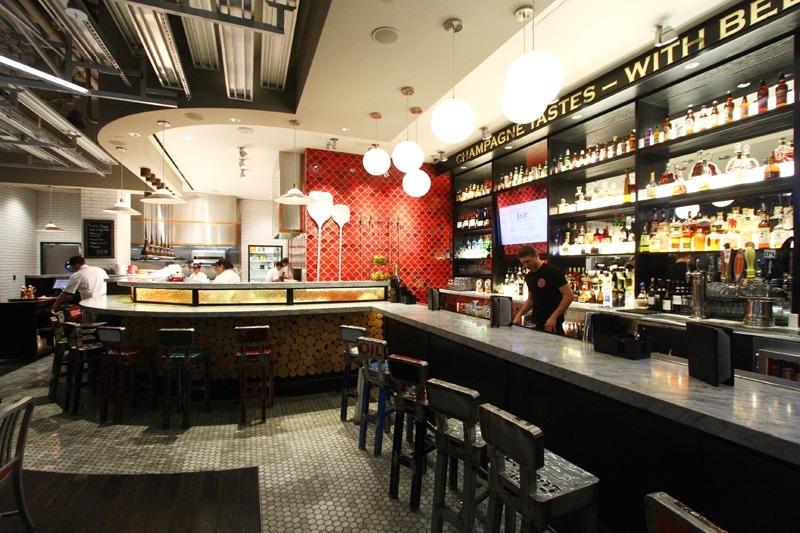 It's worth noting the Linq promenade is making a big push to lure Las Vegas locals, so just about every restaurant and bar, including Flour & Barley, offers locals discounts (typically 15-20%) when you show a Nevada I.D.
9. Off the Strip Restaurant Unveils New Menu
To start, Off the Strip isn't. It's on The Strip, and it's one of the best restaurants at the Linq promenade. The restaurant recently launched a new menu that features brunch dishes served from 5:00 a.m. to 2:00 p.m. There are things like jumbo shrimp cocktails, pancakes, yogurt parfaits and chicken and waffles. The dinner menu has been updated, too, including a build-your-own burger option. We love the place, and we'd love to know what you think.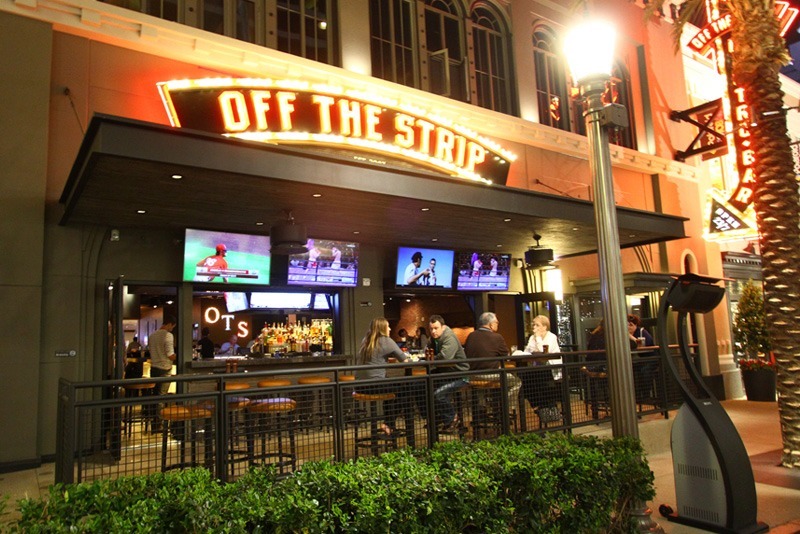 10. High Roller Finally Embraces Sex on the Wheel
Some time ago, we wrote a story providing tips for having sex on the High Roller observation wheel. It was far more popular than we ever anticipated. We intended it to be tongue-in-cheek, but now it's clear even the folks at the High Roller are seeing the marketing opportunity of a "550-Foot High Club." Check out this wrap touting the High Roller as a place to get some horizontal refreshment on the vertical. No, it's not Photoshopped!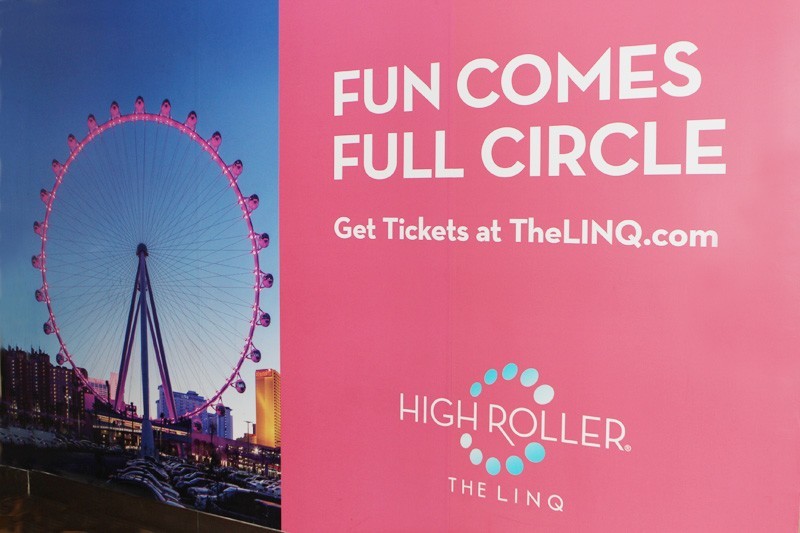 That's about it from the Linq Hotel and promenade. Yes, there have been more changes to the Linq than Terry Fator's Facebook relationship status, but we love all the new, all the next and we definitely love all the WTF. So, keep it coming! If you get our drift.