Bellagio Conservatory Whips Out Its Impressive Autumnal Regalia
It's fall, and the Bellagio's Conservatory & Botanical Gardens are once again resplendent with all things seasonally-appropriate and whimsical, including pumpkins, mythical and woodland creatures, ample foliage and a big-ass watermill.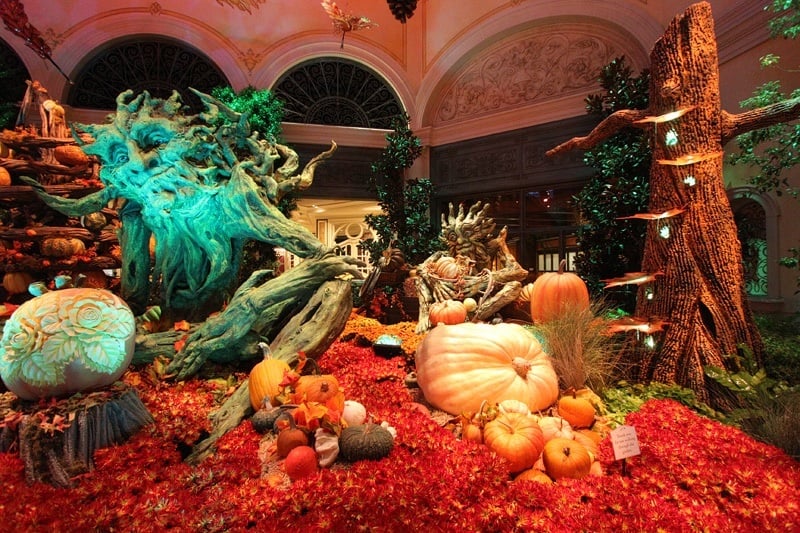 The Bellagio Conservatory will sport its fall display through Nov. 27, 2015. The annual holiday display opens Dec. 3 and runs through Jan. 2, 2016.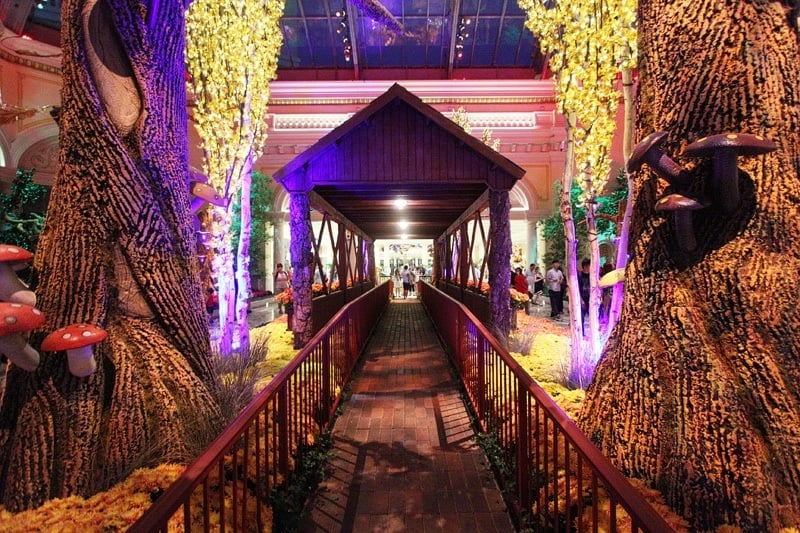 Some of the elements of this year's fall display will be familiar to frequent visitors to the Conservatory, but it's a must-see nonetheless. And not just because it's free. But in case there were any question, it's free.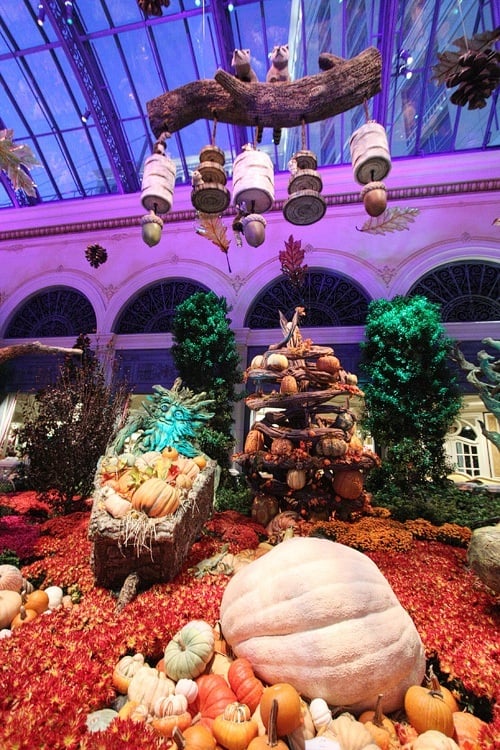 At the center of Bellagio's fall display is the aforementioned 33-foot-long bridge. We love aforementioning. Somebody has to do it.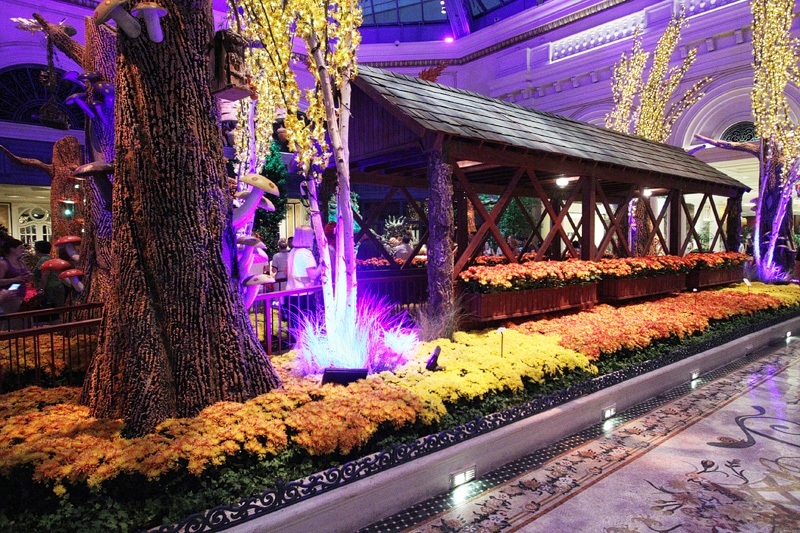 There's also a talking tree, which is only creepy for a minute and the kids seem to love it.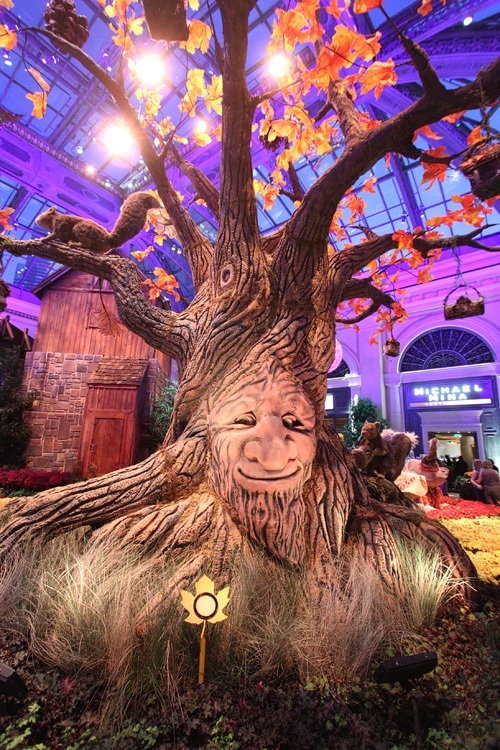 New additions to the autumnal display are three larger-than-life dandelions. At least we think they're new. We were fairly tanked during our last autumnal visit.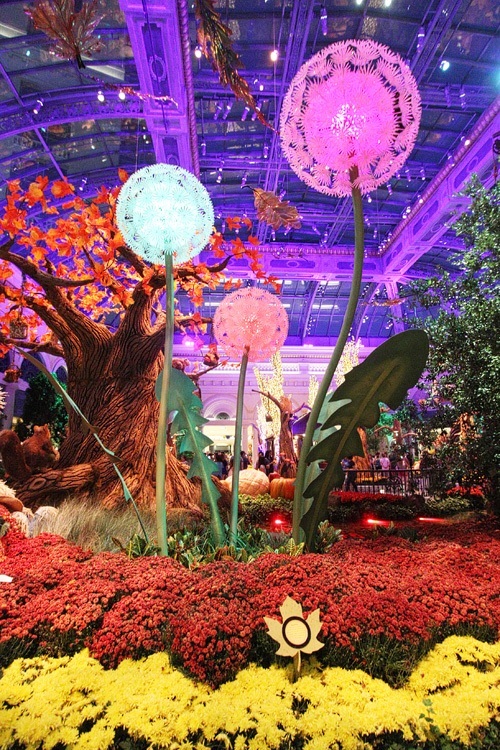 As with all the displays at the Bellagio Conservatory & Botanical Gardens, there's an incredible attention to detail and an enviable amount of creativity.
There's a wagon overflowing with pumpkins, scarecrows, bales of hay and various water features. One of the pumpkins weighs 1,000 pounds, evidence even pumpkins can't resist a delicious Las Vegas buffet.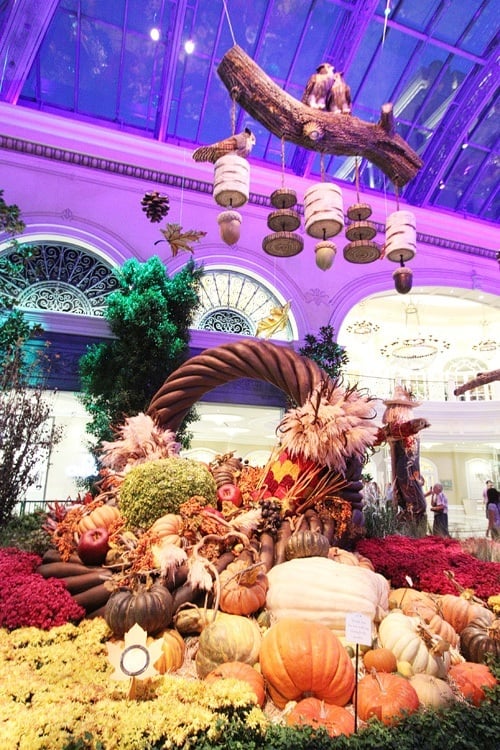 And, of course, there are lots of flowers.
Over the course of the fall exhibit, about 45,000 flowers will be used (about 7,500 a week), and let's not forget the shrubs. The shrubs never get any of the glory, but there are 1,950 of them. Shrubs should seriously think about unionizing. As the watermill would say, "What goes around comes around."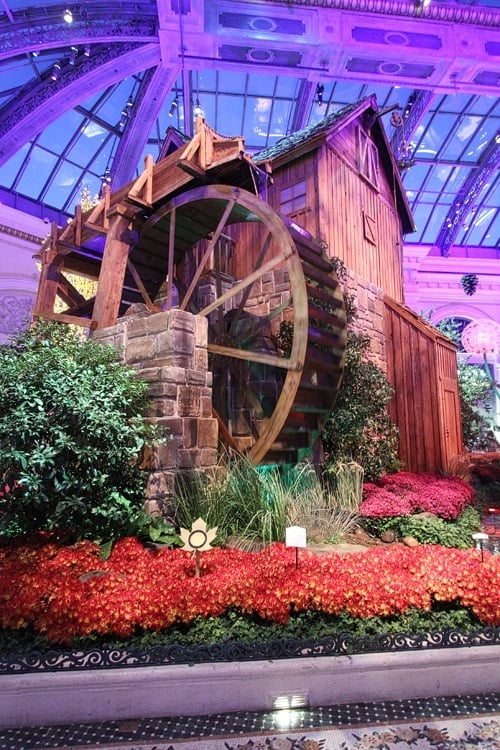 The mythical tree creatures, called Ents, are especially indignant about the shrubs being taken for granted. You tell them, Treebeard-looking dude.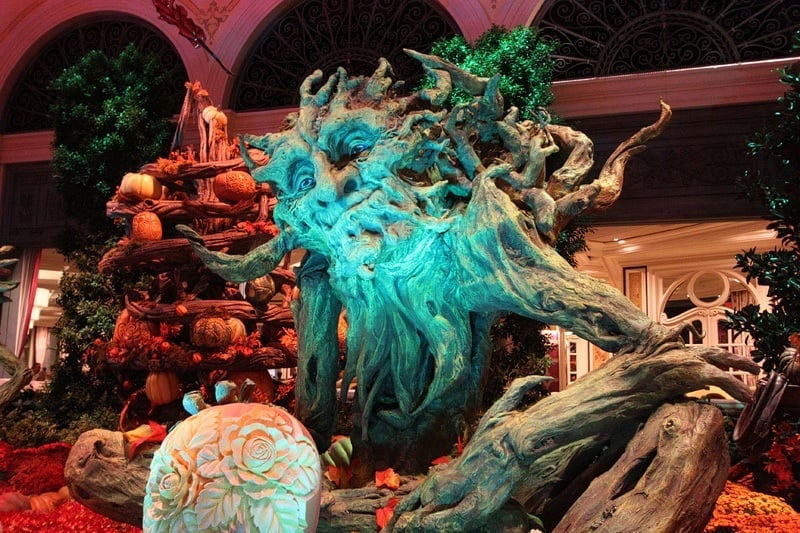 Las Vegas visitors always look forward to seeing the latest display at the Bellagio Conservatory, and we rarely fail to miss one. While the there are signs Bellagio is starting to cut corners a bit (the polite term is "recycling"), the seasonal displays remain one of the best free things to do in Las Vegas.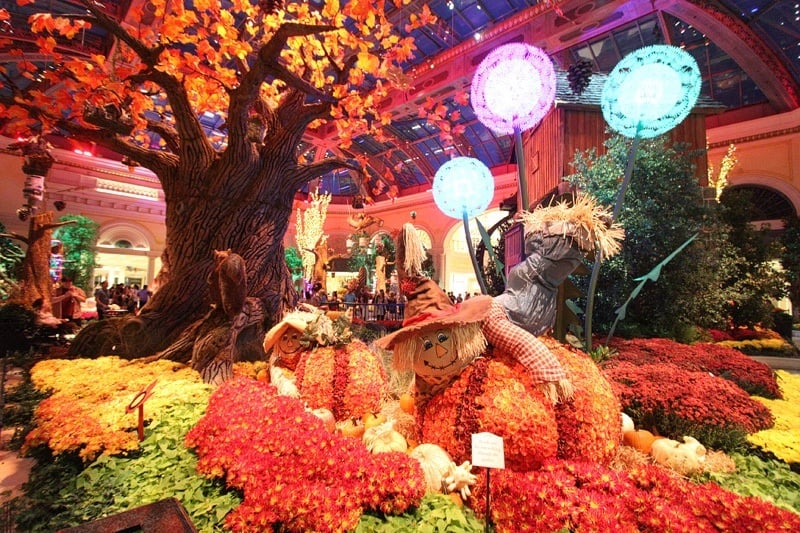 While we stopped by during the evening, it's important to remember visits during the day and at night provide two very different experiences. So, do both. And gamble while you're there. Autumnal regalia doesn't come cheap, you know.