Victoria Coren Mitchell First Repeat EPT Champion
Posted on: April 25, 2014, 05:30h.
Last updated on: April 23, 2014, 06:03h.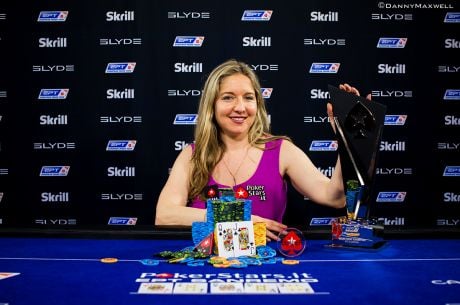 Broadcaster, author and journalist Victoria Coren Mitchell has become the only player to win two European Poker Tour Titles, following her victory in the EPT San Remo Main Event on Easter Sunday. Coren Mitchell's win, in which she outlasted 555 players to earn €476,100 ($658,125), comes seven and half years after she took down the 2006 EPT London, then becoming the first-ever female EPT winner ever.
"I WON!" she told her 236K Twitter followers afterwards. "I bloody WON!!!!!! Sorry for that language on Easter Sunday. But I WON!!!!!! That is at least partly thanks to the amazing support, God bless everyone xxxxxxx."
Tireless Champion of Poker
Team PokerStars pro Coren Mitchell has been a tireless champion of poker in the mainstream media for many years, which makes her a truly deserving winner. As host of the BBC quiz show "Only Connect", and a guest on numerous comedy panel shows, she's a well-recognized figure in the UK, and her victory has garnered much attention from the UK press – a fact that must be good for poker.
Coren Mitchell wrote a poker column in UK broadsheet The Guardian for many years, and in 2009 she published "For Richer, for Poorer – A Love Affair with Poker", a personal and very funny memoir of her life and education at the poker table. She is the daughter of the late humorist and broadcaster Alan Coren, and the sister of the restaurant critic Giles Coren. In 2012 she married the actor and comedian David Mitchell.
Coren Mitchell's victory in San Remo was made all the more heroic by the fact that she started the final table nursing a short-stack and admitted afterwards she fully expected to be out in ninth. She picked her spots well, however, and clung on for dear life, while her fellow final tablists hit the rail one by one. An eventual double-through against Jordan Westmorland, with A-K against A-Q, finally meant she had play in her chips, and suddenly the game was on. She was still a shortstack going into three-handed play, but not for long, flopping trips against Giamcomo Fundaro who paid her off with his A-K.
"HOW IS THIS HAPPENING??"
The crucial hand of the tournament came soon after, when Westmorland raised in position with Q-10 and Coren Mitchell three-bet from the big-blind with A-10. Westmorland made the call and we saw a flop of 2-10-10. Coren Mitchell went for the check-raise and Westmorland again called. Both players checked the brick on the turn, and when Westmorland shoved over Coren Mitchell's value-bet on the river, she called to cripple the former chip-leader, who was sent to the rail a few hands later.
"Heads up!! I knocked out lovely Jordan Westmorland, now it's just me and Giacomo Fundaro for the title HOW IS THIS HAPPENING??" she tweeted soon afterwards.
Heads-up was brief. The end came when Coren Mitchell flopped two pair after raising with Q-J on the button, and Fundaro, who had flat-called to trap with his aces, couldn't get away from them. All the money went in on the turn and Fundaro failed to improve.
It had taken ten years and over 100 Main Events, but someone had finally won an EPT twice. And in Victoria Coren Mitchell, it couldn't have happened to a more popular or deserving player on the circuit.