Venetian Las Vegas in for a Dry Run as Canals Temporarily Close
Posted on: September 24, 2013, 05:30h.
Last updated on: October 26, 2021, 06:09h.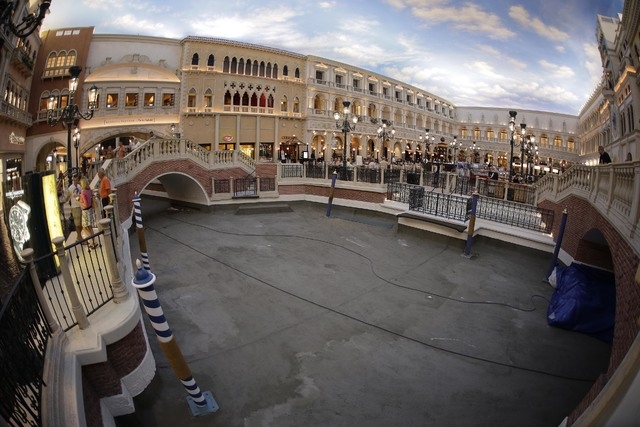 Las Vegas: the adult Disneyland, never closed, operating non-stop 24/7/365. That's the image presented by the glamorous gambling capital, anyway. But the behind-the-scenes reality of this kind of entertainment behemoth is that, at some point, maintenance and repairs need to get done. And just as the iconic Bellagio fountains must occasionally be drained and cleaned, so too must the ersatz waterways that constitute the faux canals of Venice at Las Vegas Sands Corp.'s Venetian, the ritzy Strip property owned by casino mogul Sheldon Adelson.
Recreating the Illusion
And now – for the first time since it was built in 1999, almost 15 years ago – that's exactly what's happening. Instead of singing gondoliers and charming canal rides drifting between the high-end retail shops, visitors to Las Vegas right now will find: cement. It's kind of like seeing that man behind the hologram of Oz, the Great and Terrible. The cement base of the canals needs a repainting; apparently the paint that creates an illusion of sparkles beneath the water has lost its luster.
"There's a very specific sparkling blue color that we're trying to achieve," spokesman Keith Salwoski said. "It dulls over time. This is our opportunity to start fresh and have the canal be as bright as the day it opened."
The canals won't reopen until October.
But the show must go on, as they say, so the Venetian will continue to play Italian arias to attempt to drown out the rattle of cement mixers and distract visitors from the reality that they are seeing the bowels of the Vegas machine get a scrub-down and reboot right in front of their very eyes. The usual 280,000 gallon waterflow – which would require 65 days of garden hosing to fill up – is barren.
Maintenance is Inconvenience for Some
It's kind of like the freeway: we all want it to be maintained, but not during our drive time. Same way with casino maintenance: please don't do it while we're vacationing at your property. Right now, the only place you can take a gondola ride at the Venetian is right out front, and for those not attuned to desert fall weather, it's still pretty warm and an intense sun during the days.
"It's one of the things that it's most famous for, isn't it?" said Will Husbands, a British tourist in Vegas for his honeymoon, and obviously disappointed to be missing the canals.
Don't think the Venetian itself isn't motivated to get the canals back up and running; they're quite the cash cow for the resort casino. At $18.95 for a 10-minute group ride, or a whopping $75.80 for a couple's ride replete with singing gondoliers encouraging you to kiss as you pass under bridges, multiply that times a half million tourists ponying up for tickets a year and you have a serious chunk of change.
Most of the canal overhaul work is happening in the wee hours, when the shops are closed and fewer tourists are strolling and mourning their temporary closure. During the day, workers have to camouflage their hoses and tools, or just make them disappear under huge blue tarps that are set up below the temporarily defunct kissing bridges.
And tourists aren't the only ones anxious to get the canals reopened; gondoliers, both male and female, who steer the boats on their somewhat pre-determined paths and sing opera to riders, were either laid off or had to take the toasty outdoor gig. And for anyone looking for the "wedding gondola" that normally comes replete with ceremony officiant, that too is out of order for now.
Similar Guides On This Topic