Vegas Golden Knights Overcome Improbable Odds to Reach Stanley Cup Finals
Posted on: May 21, 2018, 09:00h.
Last updated on: May 21, 2018, 08:52h.
The Vegas Golden Knights are into the Stanley Cup Finals after eliminating the Winnipeg Jets Sunday night to win the Western Conference final in five games. The most unlikely story in hockey continues.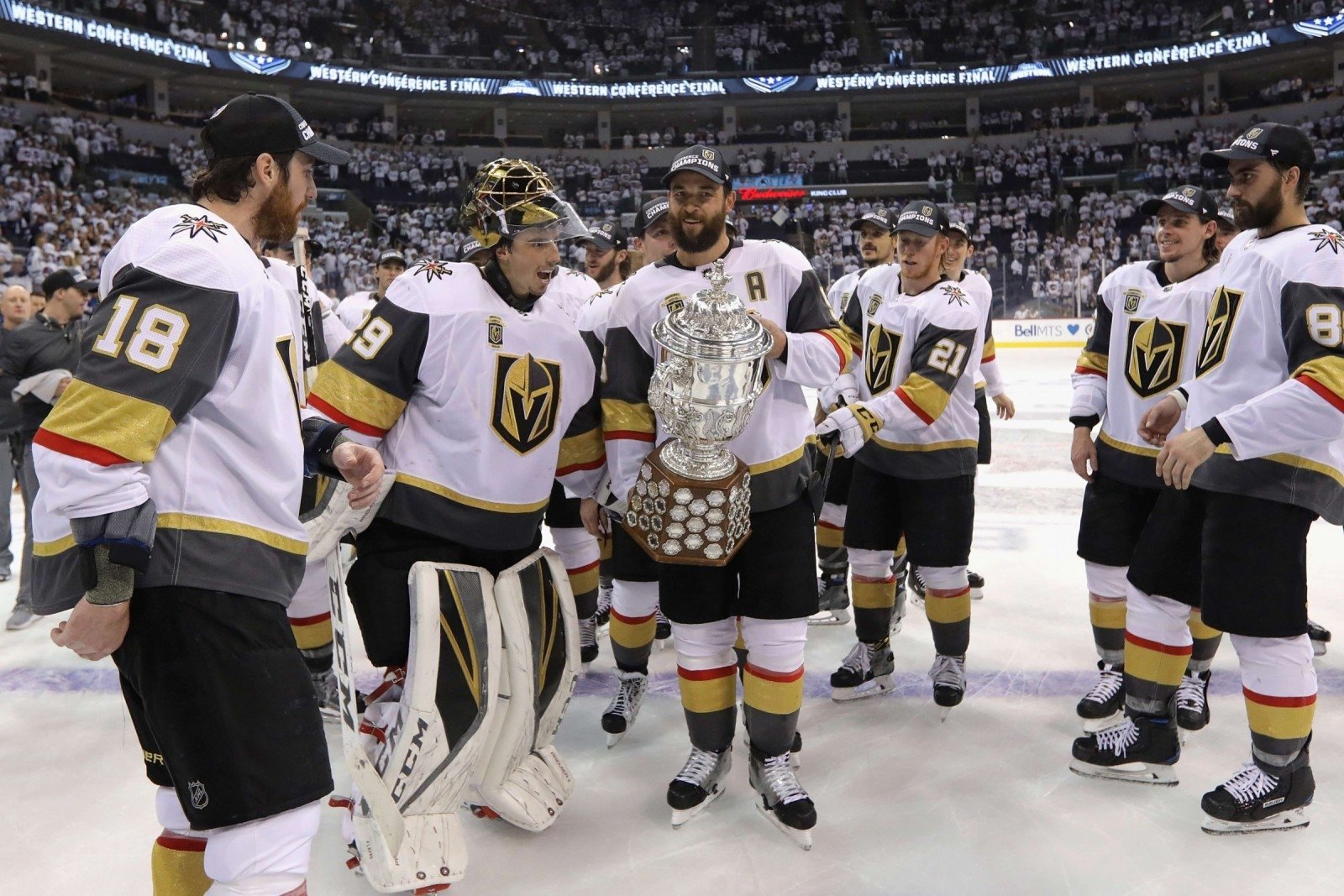 Prior to the first drop of the puck back in October, oddsmakers had Vegas' Stanley Cup odds as long as 500/1. The Westgate SuperBook revealed this week that it printed 13 tickets on those futures, with dollar amounts ranging from $10 to $60.
While that might not sound like a large liability for the casino, a $60 wager on 500/1 odds would net $30,000 to the faithful Golden Knights fan.
With little expectations, Vegas players said they were out to prove everyone wrong. They've done just that.
"Everyone on this team has something to prove," right winger Ryan Reaves, who scored the winning goal Sunday night, said after the win. "We call ourselves 'The Golden Misfits' for a reason. We're doing a good job of proving everybody wrong."
Vegas smashed a 24-year-old win record for an expansion team in its debut season by winning 51 games (the previous record was 34 wins). The Golden Knights also became the first NHL team to reach the playoffs in their inaugural campaign since the 1979-80 season.
Stanley Cup Odds
The Vegas Golden Knights will meet the winner of the Eastern Conference Finals. The Tampa Bay Lightning and Washington Capitals play game six tonight in DC, with the visitors holding a 3-2 lead in the best-of-seven series.
Regardless of which team emerges to face Vegas, winger Jonathan Marchessault predicts the Knights will once again be the underdog. "I'm sure we will not be favored," he opined.
Not true, so says SuperBook manager Jeff Sherman. "Actually, Golden Knights would be favored over the Capitals," Sherman tweeted Sunday.
The SuperBook says its opening Stanley Cup series odds on the two potential matchups would be Tampa Bay the favorite (-150) over Vegas (+130). But the Golden Knights favored (-140) over the Capitals (+120).
"It's been an awesome ride so far," Knights coach Gerard Gallant stated Sunday night. "It's great to win tonight and it's great to be the Western Conference champions, but that's not what we're here for."
Big Liabilities
The NHL is the least-bet sport of the so-called big four (NFL, MLB, NBA, NHL), but the Vegas Golden Knights paying near the Strip has greatly increased wagering on hockey, with much of the money on the home team.
Casinos across Las Vegas stand to pay out large sums on a Golden Knights title.
ESPN reports that the largest single ticket liability is at the SuperBook. A bettor wagered $400 on 300/1 odds, which would net $120,000.
CG Technology, which operates books at numerous casinos including The Venetian and Palazzo, Cosmopolitan, Palms, and Tropicana, took a $500 bet on 200/1 odds. That would net $100,000.
South Point says it printed a $400 wager on 150/1 odds ($60,000 return), and Golden Nugget and William Hill stand to lose $50,000 each on respective bets of $250 at 200/1, and $1,000 at 50/1.
Similar Guides On This Topic
Latest Casino Stocks:
Retrieving stocks data...
Retrieving stocks data...
Retrieving stocks data...
Retrieving stocks data...
Retrieving stocks data...