US AG Jeff Sessions Recuses Himself from DOJ Wire Act Reversal Discussions
Posted on: July 3, 2017, 01:00h.
Last updated on: July 3, 2017, 12:43h.
Jeff Sessions, who once said he was "shocked" at the 2011 DOJ Wire Act reversal opinion, is taking a step out of the arena that could decide online gambling's American fate.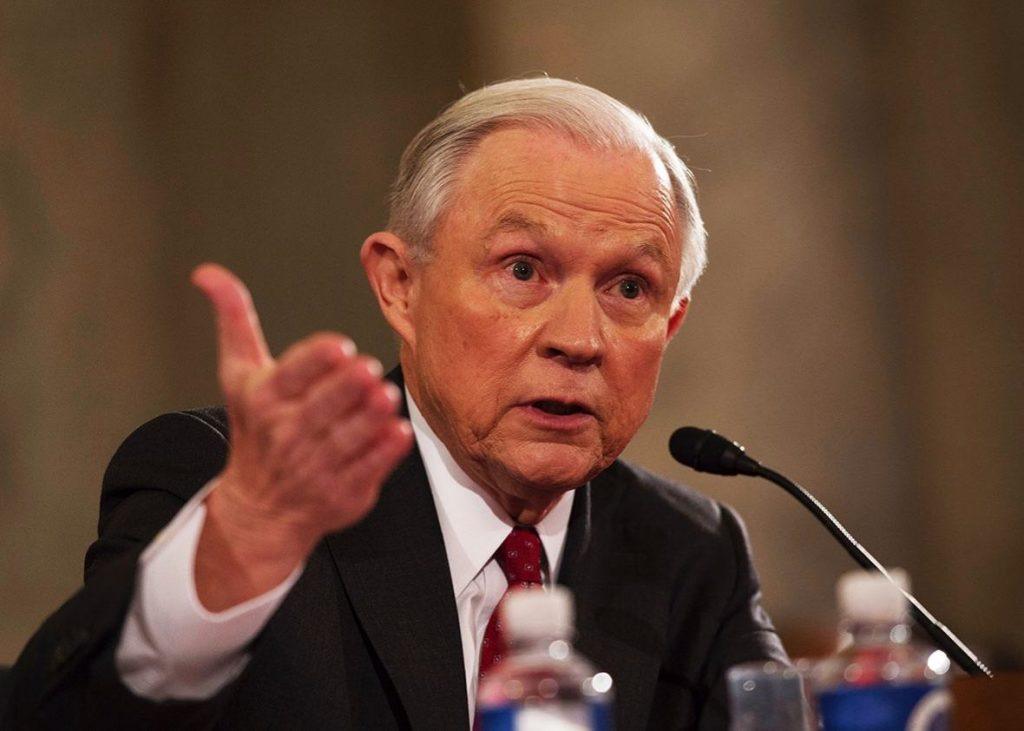 The United States Attorney General has admitted a conflict in his own hiring of friend and personal attorney Charles Cooper with being able to impartially hear opinions on whether that reversal should stay or go, and as such, says he will recuse himself from any further discussions on the matter.
Copper, a former lobbyist for Sheldon Adelson's Coalition to Stop Internet Gambling (CSIG), is the sticking point in determining Sessions' ability to be impartial in the matter, which currently allows states to decide for themselves whether or not to offer internet gaming to state residents, excepting sports betting.
Earlier this month, AG Sessions hired his longtime friend, the attorney Charles Cooper, to represent him as his lawyer throughout the investigation into alleged Russian meddling in the presidential election. Sessions has allegedly failed to disclose meetings between himself and several Russian officials that occurred during the election process, and Congress is now reviewing the matter.
Although he says it's now all done, Cooper admits he briefly worked on behalf of CSIG, which hired him in May to lobby DOJ officials for the cause. It's a move that may have backfired spectacularly for CSIG, which saw Sessions as potentially a key ally in its fight for prohibition.
Now the AG has been forced to recuse himself from all discussions surrounding the legality of online gaming, according to DOJ spokesperson Sarah Isgur Flores.
Session's Apparent Sympathies
CSIG, through the so-far-not-very-embraced Restoration of America's Wire Act (RAWA), wants the Department of Justice to overturn a 2011 opinion issued under the Obama administration, which stated the 1961 Wire Act forbade only sports betting over the internet, but not casino games or poker.
This clarification paved the way for New Jersey, Nevada, and Delaware to legalize and regulate online gaming within their borders, and for other states like California and Pennsylvania to battle out whether to join the fray or not.
During his confirmation hearings earlier this year, Session's revealed sympathy for the CSIG cause, professing himself to have been stunned by the 2011 opinion and suggesting he would review it.
"I would revisit it and I would make a decision about it based on careful study, and I haven't gone that far to give you an opinion today," he said at that time.
CSIG's Latest Gambit
RAWA is an unpopular piece of legislation in Washington, largely because of its disregard for states' rights. Having failed to gain traction in Congress, its supporters are now trying to sneak it through, reworded and slightly disguised, and attached to larger legislation.
In late June, Representative Charlie Dent (R-PA) attempted to insert RAWA-like language into the enormous, 1,000-page-plus spending bill that Congress must pass before the end of September. He and his cohort in the upper house, Senator Lindsey Graham (R-SC), tried to pull the same action last year, but were thwarted in the House.
With little appetite for RAWA in Congress, CSIG had hoped that Sessions, the man with the potential power to change the 2011 opinion, might oblige them. But as of now, if there is to be a DOJ review of the Wire Act at all, Sessions will not be partaking.