UKGC Report: Young Children Gambling on 'Skin Betting'
Posted on: December 13, 2017, 02:56h.
Last updated on: December 13, 2017, 02:56h.
While the video game community is caught up in fierce debate over whether or not loot boxes constitute gambling, the UK Gambling Commission has released a report that suggests many children are being introduced to a less ambiguous form of betting through gaming at a young age.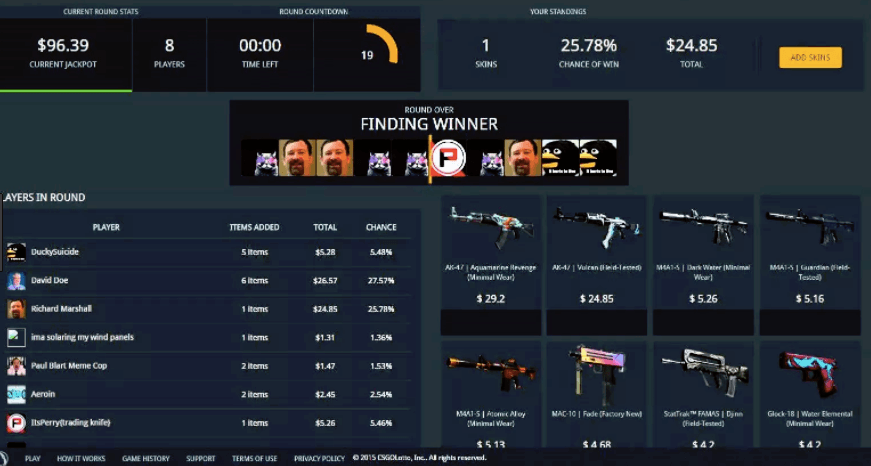 According to the UKGC's Young People and Gambling 2017 report, about 11 percent of 11-16 year-olds in the UK had participated in an activity known as "skin betting" at some point in their lives. Skin betting is a process by which players can wager rare or unique items from games like Counter-Strike: Global Offensive (CS:GO).
These items, or skins, can often be traded with other players or even purchased for real money on third-party websites that facilitate these transactions. Given the cash value of these items, some sites also allow users to bet them in various ways.
Casino-Style Games Allow Betting with Items
Players may wager an item in casino-style games, with winners cashing out in the form of more valuable items, or they can bet on esports competitions. Typically, items are cashed in for their value, which can then be gambled on the site, after which players can cash out by picking from available items worth up to the amount they have in their account balance.
This might sound a bit like an illicit activity, but it is well known in the gaming community, even among young children. The UKGC report found that 45 percent of 11-16 year-olds were aware of skin betting, with boys being more likely to know about it than girls.
"At one level they are running up bills perhaps on their parents' PayPal account or credit card," Harrison said. "But the wider effect is the introduction and normalization of this kind of gambling among children and young people."
Since the items have real cash value, the UKGC sees this activity as unregulated gambling. According to Sarah Harrison, chief executive of the Gambling Commission, the biggest issue is that this is introducing individuals to gambling at a young age.
Many UK Children Find Ways to Bet
The annual report from the commission found that a small but significant percentage of children in the UK had at least some exposure to gambling. About 12 percent of 11-16 year-olds had gambled with their own money in the past year, with the most common types of gambling in the age group being fruit machines, scratch cards, or private bets with friends.
While the report promises to shine a brighter light on the issues involved in skin betting, this isn't the first time that gambling in video games has generated controversy or government attention. Valve, the software developer that created CS:GO, began cracking down on such sites last year.
In February, two men pleaded guilty to violating the UK's 2005 Gambling Act after running a website that took bets on Premier League soccer matches using virtual currency in EA's FIFA soccer game.
According to figures discussed in court hearings, the site generated a profit of about £96,000 ($128,000) between July 2015 and February 2016. In total, the two men were made to pay £285,000 ($380,000) in fines and prosecution costs.