Ted Cruz and John Kasich Unite to Improve Odds of Contested Republican Convention
Posted on: April 25, 2016, 08:23h.
Last updated on: April 25, 2016, 08:29h.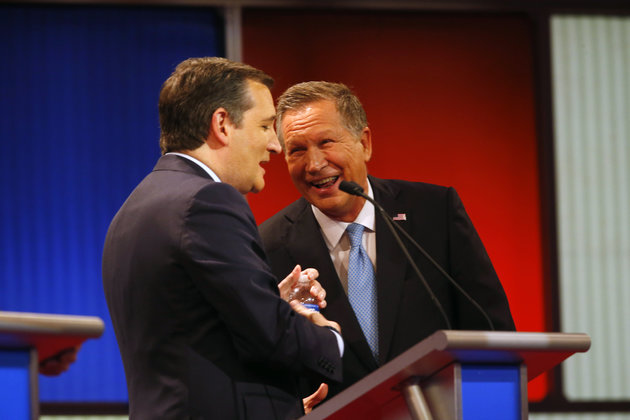 Ted Cruz and John Kasich are coming together in the eleventh hour of the 2016 Republican Primary in a desperate attempt to impede the chances that frontrunner Donald Trump acquires the necessary 1,237 delegates to win the party's nomination outright.
Late Sunday night, the Texas senator and Ohio governor issued statements detailing plans to slow Trump and take the primary to Cleveland where the GOP convention will be held this July.
"Having Donald Trump at the top of the ticket in November would be a sure disaster for Republicans," Cruz for President Campaign Manager Jeff Roe said in a press release. "To ensure that we nominate a Republican who can unify the Republican Party and win in November, our campaign will focus its time and resources in Indiana and in turn clear the path for Gov. Kasich to compete in Oregon and New Mexico."
Trump currently has 845 delegates to Cruz's 559 and Kasich's 148. With 733 still outstanding, Trump needs to win 53 percent in the final 15 states. By splitting their efforts, Cruz and Kasich hope they can perform well enough to disrupt Trump's odds of obtaining 1,237.
The "Never Trump" strategy is pinning its hopes on an open or contested convention where no candidate has the required delegate support to secure the nomination. After an initial vote, certain delegates would become unbound and could choose the candidate of their preference regardless of the voters they represent.
Trump Fires Back
As expected, Trump wasted little time in denouncing the scheme.
"Wow, just announced that Lyin' Ted and Kasich are going to collude in order to keep me from getting the Republican nomination. DESPERATION!" Trump tweeted. "Shows how weak and desperate Lyin' Ted is when he has to team up with a guy who openly can't stand him and is only 1 win and 38 losses."
"It's a crooked game . . . it's a rigged system," the pacesetter said in Maryland.
After recently toning down his aggressive social media behavior in what seemed like a calculated attempt to appear more presidential, the Cruz-Kasich coalition has thrust Trump back to the offensive.
Odds Don't Care
The political arena is in an uproar to start the week over the Ted Cruz and John Kasich revelation, but not everyone is convinced the partnership will slow Trump. In fact, it might do just the opposite.
According to PredictIt.com, a real money political and financial site that allows users to make predictions on future outcomes, Trump is trading at one cent higher on Monday to win the 2016 Republican presidential nomination. He's also trading up on the odds of winning the White House come November.
Betting on politics is illegal in the United States, but overseas in Ireland it's fair game. Paddy Power Betfair still has Trump as the heavy favorite to win the GOP ticket at 2/5.
The likely outcome of the remaining 15 states is that Trump will continue to win the majority of votes, and regardless of whether he falls 50 or 100 delegates short of 1,237, it would seem irresponsible for the Republican leadership to go against its party members.