Suffolk Downs Plans with Mohegan Sun Blasted for Environmental Issues
Posted on: January 21, 2014, 05:30h.
Last updated on: January 21, 2014, 07:40h.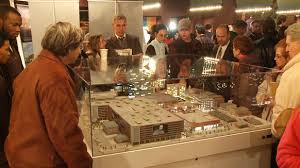 It's starting to look like opponents and supporters of the Mohegan Sun casino plan in Revere, Massachusetts will be fighting tooth and nail at every opportunity over whether the project can move forward. The strange thing is that it looks a lot like they're having the same exact fight over and over again.
Environmental Docs Come Under Fire
In the latest round of battle over whether or not to allow Suffolk Downs and Mohegan Sun to push for a casino solely in Revere, opponents of the casino plan are saying that developers failed to meet state application requirements when it comes to submitting environmental documents. The problem, they say, is that hundreds of pages of documentation came from the older version of the casino plan: the one that would have seen Suffolk Downs work with Caesars Entertainment on a casino in East Boston, bordering Revere.
This, of course, is nothing new to anyone who has been following the ongoing Suffolk Downs casino saga. Ever since the November votes that saw East Boston reject the original casino plan at the same time as Revere voters came out in favor of it, both sides have fought over just how much of that plan can be used to push forward the alternative vision being proposed now.
For opponents, this is a clear violation of the laws governing casino proposals in the state.
"This raises yet another instance where Mohegan Sun and Suffolk Downs are attempting to undermine the spirit and the letter of the gaming law," said Mayor Carlo DeMaria of Everett (a city with its own casino proposal from Wynn Resorts). "By submitting another project's development documents in their application, Mohegan Sun has clearly shown that their project does not conform to the Gaming Commission's requirements and lacks merit."
Whose Casino Is it, Anyway?
The controversy comes down to rules requiring casino developers to file a copy of their "environmental notification form," which is part of the environmental review process required by the Massachusetts Environmental Policy Act. As part of their application, Mohegan Sun submitted a form titled "Caesars Resort at Suffolk Downs," which features a very detailed environmental study of the East Boston casino proposal, as opposed to the new plan.
According to Mohegan Sun, the filed document "speaks directly to regional impacts that must be addressed under the Massachusetts Environmental Policy Act," and that they would file a notice explaining changes to that document by the end of the month.
"The Massachusetts Gaming Commission is aware that we will be filing a notice of project change by Jan. 31, and they have indicated to us that is completely acceptable," the company said in an issued statement.
Boston Mayor Martin J. Walsh has also alerted the Gaming Commission to concerns over the documentation, though for a slightly different reason. He says that the city needs more accurate information from Mohegan Sun to determine whether or not they can claim to be a host city,  rather than simply a surrounding community.
Revere voters will ultimately have their opportunity to vote on the casino plan in a February 25th referendum. Should the plan be approved by voters, it could then potentially compete against the Wynn Resorts proposal in Everett for the one regional casino license available.
This is becoming more intense than a UFC match; count on more drama yet to come.