Skill-Gaming Millennial UNLV Students Create a Slot for Their Own Casino Generation
Posted on: October 9, 2016, 10:00h.
Last updated on: October 7, 2016, 12:12h.
As skill gaming prepares to unleash itself on the casino floors of America, two enterprising young University of Nevada, Las Vegas (UNLV) undergraduates believe they may have come up with the perfect puzzle-game-slot hybrid.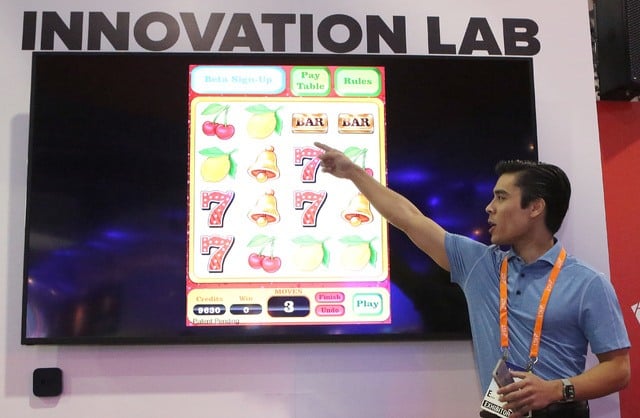 At just 20 years old, Troy Pettie and Evan Thomas have co-founded software development company Guru Games, and they hit the floor at G2E last week to showcase their new game, "Line 'em Up."
"It's inspired by Bejeweled and Candy Crush," Thomas told the Las Vegas Review-Journal.
"We took what we loved about those gaming mechanics, what made those games popular, and then we took what we know about gambling games and traditional slot machines and we melded the two to make something that's seamless, unique and something that could actually work in a gambling space in a casino."
Beta Testing
New skill-based slot hybrids, or video gaming machines (VGMs), could debut in the casinos of Las Vegas and Atlantic City within weeks, with Caesars properties likely to be first to test them out on their customers. The idea is to tempt millennials onto the casino floor, a demographic that has little interest in traditional slot machines.
The new breed of games will involve more strategy, skill, and social interaction than their one-dimensional predecessors. And they offer versions of games that millennials are used to playing, such as racing and puzzle games, that are like Line 'em Up.
For the first time, they will offer variable payouts, awarding slightly higher odds of winning to those who have mastered a certain game.
The difficulty is finding a game that's challenging and fun enough to keep the player playing, but hard enough to prevent them from winning too much. Plus, the math needs to be balanced correctly, so that the house still makes a profit in the long-run, but pays out enough to reward skilled players.
The House (Still) Always Wins
But with Line 'em Up, the boys think they've cracked it.
"The great thing about our math is it meets all the Nevada gaming regulations," said Pettie. The mathematics dictates that the house always will have an edge of 3.5 percent for those playing optimal strategy. For the rest of us, about 6 percent.
Pettie and Thomas, who developed the game under the guidance of Mark Yoseloff, executive director of UNLV's Center for Gaming Innovation, say they are currently in talks to develop the game for a land-based casino. In the meantime, it is available for download as a free-to-play social casino app.
Most Read