Pro Sports Better Adam Meyer's Lawyer Claims Former Client is Government Informant
Posted on: December 6, 2015, 12:14h.
Last updated on: December 7, 2015, 08:16h.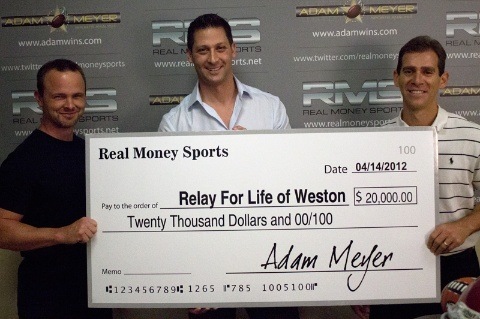 Adam Meyer proclaimed for years he was "the sports consultant to the stars," the Florida-based sports handicapper routinely appearing on television to flaunt his insider knowledge and unrivaled results.
His Real Money Sports website described Meyer as "the biggest star in Vegas" whose "client list reads like the front page of Variety."
"If there's an outcome, Adam will show you how to turn it into an income," his bio read.
Unfortunately for those who took Meyer up on his services, the outcome turned into an income for only Meyer himself.
In December of 2014, a Wisconsin grand jury indicted Meyer on six charges including wire fraud, racketeering, and extortion relating to a wealthy Fond du Lac, Wisconsin, man who claimed to have been taken for $25 million.
Meyer's Tainted Past
At the height of Meyer's operation, he was reportedly charging upwards of $250,000 for a package of betting tips and suggestions of games where the fix was in. Meyer's products would advise customers on how to wager and which teams to pick.
He claimed to employ a research staff 130 strong and asserted his guidelines came with a 60 percent win percentage.
"Meyer promoted his tout service through his website, by advertising, by appearing on television and radio programs, and by cold-calling potential customers from client lists he obtained from other tout services," the US Eastern District of Wisconsin Court stated in its indictment.
Gary Sadoff, owner of Badger Liquor in Wisconsin, the state's largest wholesaler of alcoholic beverages, said Meyer began threatening him when he reduced his sports betting.
Meyer allegedly created an alter ego named Kent Wong who was a bookie after Meyer and Sadoff.
When Sadoff finally cut off all ties, Meyer and an associate showed up in Wisconsin and furnished a firearm, Sadoff shelling out $9.8 million to keep Meyer away.
Sports Betting's Donnie Brasco?
After the state of Wisconsin indicted Meyer, his lawyer at the time claimed he was working as an undercover informant for government authorities. Using the "public authority defense" in which a defendant claims his criminal actions were the result of police direction, Meyer's former attorney Joel Hirschhorn said his client's cooperation with legal investigators began back in 2001.
"Faced with a possible indictment … Meyer began a 13-year odyssey as a documented and valuable informant for federal and state law enforcement," Hirschhorn said in March.
Hirschhorn also claims in the documents released this week that Meyer's work helped seize $750 million from offshore books and led to the arrest of 30 individuals.
Meyer's $1 million bail was revoked in April following repeated drug test failures in a rehabilitation facility in his hometown in Florida. Because bail was revoked, Meyer was extradited to Wisconsin where he's currently being held in the Dodge County Detention Facility.
For reasons unspecified, Hirschhorn is no longer working for Meyer. The case is slated to begin in February, and it remains to be seen whether Meyer will continue with his claims that his undercover work was so secretive federal prosecutors didn't have access to such knowledge, or he'll enter another plea.