Poker Players Alliance Will Not Support California Poker Bill, Says Pappas
Posted on: December 5, 2014, 05:51h.
Last updated on: December 5, 2014, 05:54h.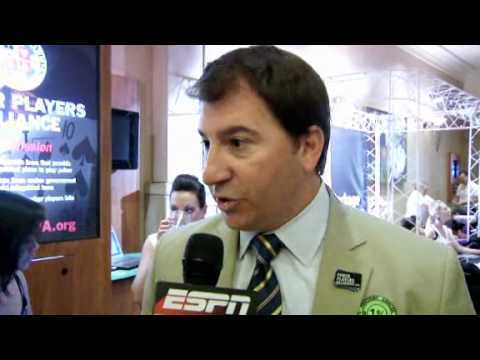 Poker Players Alliance (PPA) Executive Director John Pappas has distanced his organization from the new Mike Gatto California poker bill, which he described as flawed. In an interview this week with PoketFives, Pappas criticized Bill AB 9, known as the Internet Poker Consumer Protection Act, for its insistence on sign-ups at land-based casinos, its criminalization of players who play on unregulated sites, and its prominent "bad actor" clause.
The bill, introduced last week by Assemblyman Mike Gatto (D-Glendale), aims to create a framework to legalize online poker in California in 2015 using language that all the stakeholders, such as the tribal operators and land-based card rooms, can agree on. However, the language of AB 9 is already causing friction, not least with Pappas who asserts that the bill essentially misses the point of online poker.
The bill states that players will be required to create their accounts in person at a site's affiliated land-based cardroom. This is presumably designed to restrict underage play by establishing face-to-face contact between operator and player, and also to increase the foot traffic inside brick-and-mortar casinos, but, according to Pappas, it's a dynamic that is likely to restrict the growth of the market.
Bill is Too Exclusive
"It defeats the purpose of online poker, to be able to deposit from your computer," he said. "I think it's someone's misguided understanding on how to establish synergies between brick-and-mortar casinos and online players. There are other ways to bring people to your properties.
"I don't know if this is a good solution for smaller Indian Tribes either," he added. "The smaller tribes are typically remote, so requiring people to go to those casinos to sign up is defeating yourself before you get off the ground. What you want to do is get people playing online and then get them to the casino. Certainly the most diehard enthusiasts will sign up in person, but there are hundreds of thousands that wouldn't bother to."
He was also critical of the bill's complete exclusion of California's racetracks, as well as the bad actor clause, which specifically appears to target Amaya and PokerStars, emphasizing that a freer market would have a greater chance of success.
"We've always felt they should open it up to all possible participants and it shouldn't be limited to just card rooms and tribes. The more applicants, the greater the potential for a better product. The bill also specifically excludes Amaya and we think that's unwise and unfair."
Statement from Pro-PokerStars Coalition
In fact, the bill is unclear on the PokerStars question. While it contains a clause that clearly states all "bad actors" would be frozen out of the regulated market, it goes on to say that the regulator would have the right to waive that clause if the operator in question did not "adversely affect the integrity of, or undermine public confidence in, intrastate Internet poker or otherwise pose a threat to the public interest or to the effective regulation and control of intrastate Internet poker."
Regardless, the pro-PokerStars coalition, which is formed of the Morongo Band of Mission Indians, the San Manuel Band and the state's three biggest land-based cardrooms, was quick to denounce the language of the bill.
"As a coalition, we are committed to working with legislators and our other partners in the gaming community to pass internet poker legislation in 2015," it said in an official statement. "We are convinced that the various interests must work together if we are to be successful in establishing a well-regulated environment and the best-in-class internet poker industry for California. Any bill that seeks to establish artificial competitive advantages for some, while denying Californians the best online poker experiences, will only serve to divide the community and will be opposed by our coalition."