'Lovers & Friends' Return Heralds Festivals as Permanent Las Vegas Feature
Posted on: January 17, 2023, 02:13h.
Last updated on: January 18, 2023, 01:01h.
On Tuesday, the "Lovers & Friends" festival announced its return to the Las Vegas Festival Grounds on May 6 with a stellar lineup of old-school rap and R&B artists. The lineup includes Usher, Mariah Carey, Missy Elliott, 50 Cent, Christina Aguilera, Nelly, and Pitbull.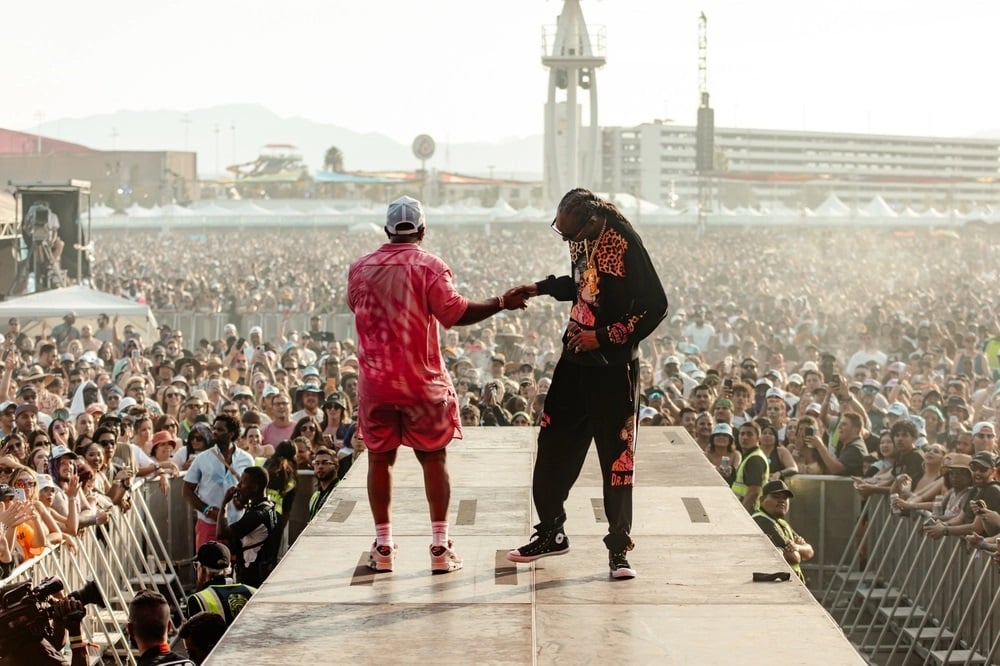 More than 45 artists will perform during the second annual Las Vegas event. Presale tickets go on sale 10 a.m. PT Friday, January 20 through loversandfriendsfest.com.
'Lovers & Friends' was initially scheduled to happen in May 2020 in Los Angeles but ran into problems. After its initial announcement, both Lil' Kim and Mase stated that, despite being billed, they were never committed.
"This is so fake!" Kim posted via Instagram. "I'm not a part of this."
Ultimately, the festival was postponed for two years by the COVID-19 pandemic and relocated to Las Vegas, where it debuted on May 14, 2022. But all did not go smoothly even then.
Former Melee
Three people were injured during that performance when, according to the Hollywood Reporter, a large group of attendees stampeded out of the venue after gunfire was reportedly heard at about 10 p.m.
The Las Vegas Metropolitan Police Department later released a statement calling the rumor a "false alarm."
Still, the festival was halted before resuming at 11:50 p.m. with headlining sets from Usher, Lil Jon, and Ludacris that many audience members missed because of the stressful incident.
More Festivals Eye Vegas
'Lovers & Friends' is now the third yearly music festival taking place at the Las Vegas Festival Grounds, which has also booked the inaugural Sick New World metal festival (to be headlined by System of a Down and Korn) on May 13, and the second When We Were Young punk/emo festival (to be headlined by the reunited Blink-182) on October 21.
Look for even more music festivals to become permanent fixtures at the 85K-capacity outdoor venue now that its 40 acres are reportedly no longer in consideration for a potential baseball stadium for the relocated Oakland Athletics.
Talks have reportedly gone quiet between the A's and casino magnate Phil Ruffin, owner of the Festival Grounds and the adjacent Circus Circus and Treasure Island casino resorts. Ruffin had been offering to sell the Festival Grounds to the MLB team. However, his executive assistant recently told the Las Vegas Review-Journal that there had been no recent contact.
Should the A's decide to leave Oakland, only the Tropicana Las Vegas is apparently in the running as a new stadium site.
City of Rock
The Las Vegas Festival Grounds was developed in 2015 by MGM Resorts, which owned the formerly vacant site of El Rancho Vegas. Developed in collaboration with Cirque du Soleil and Ron Burkle's Yucaipa Companies, the project was primarily designed to host the first 'Rock in Rio USA,' starring No Doubt, that May.
The venue's name was originally the City of Rock, after the site of the original 'Rock in Rio' in Brazil, but was changed to the MGM Resorts Festival Grounds.
In 2019, MGM sold the property, along with Circus Circus, to Ruffin.
Latest Casino Stocks:
Retrieving stocks data...
Retrieving stocks data...
Retrieving stocks data...
Retrieving stocks data...
Retrieving stocks data...