Masters Odds: Rory McIlroy, Scottie Scheffler Betting Favorites for 2023 Green Jacket
Posted on: April 3, 2023, 01:19h.
Last updated on: April 4, 2023, 02:56h.
It's officially Masters week, the favorite tournament of the year for many golf fans. And with the ongoing PGA Tour versus LIV Golf controversy, plus Tiger's highly anticipated return to Augusta National, the 2023 edition of the Masters has an abundance of storylines.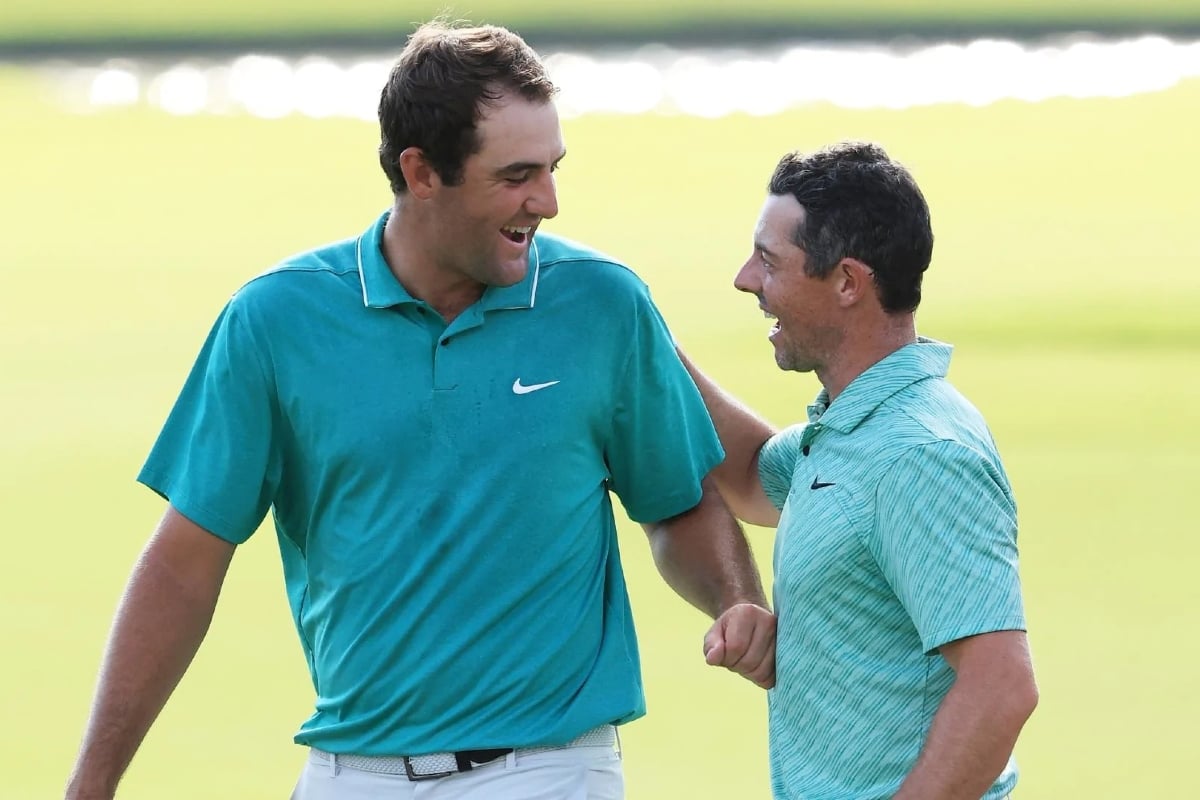 For bettors, defending champion Scottie Scheffler and Rory McIlroy, the latter who would complete the career grand slam with a green jacket on Sunday, are the odds-on favorites. Bettors have placed much money on the two front-runners, causing their 2023 Masters odds to slash from their respective openings of 12/1 and 10/1. The duo currently both have the shortest odds at 7/1.
Scheffler, fresh off his breakout 2022 year that vaulted him to the world's top ranking, has commanded the most Masters money. BetMGM says the 26-year-old Texan is responsible for more than 14% of its handle as Masters week begins. Scheffler is also on 9% of the BetMGM Masters tickets.
McIlroy is also generating much buzz among bettors. The 33-year-old Northern Irishman with four major championships to his resume, but zero wins at Augusta, is responsible for almost 12% of the BetMGM Masters money and 8% of the tickets.
At 7/1, a $100 winning bet would net $700 — not exactly a great proposition, considering there are 88 players in the 2023 Masters field.
Jon Rahm, the world's third-ranked player, is next at 9/1. The Spaniard is the only other player with odds shorter than 10/1.
LIV Players Unattractive
The Masters is the first of golf's four majors. The 2023 tournament also appears to be the unofficial start of the PGA Tour versus LIV Golf, as the two tours battle for supremacy.
The odds are stacked in the Tour's favor, as most current top players remain on the US-based circuit. But the Saudi-funded LIV tour has a few names which are certainly front-runners for the green jacket come Sunday.
Few of the LIV elite garner the same backing from bettors as Tour members. For instance, Cameron Smith, the 2022 Open and 2022 Players champion, who also won a LIV Golf event in September, is ranked sixth globally. Smith also tied for third at last year's Masters and tied for second in the 2020 tournament.
After opening at just 14/1, lackluster betting on Smith has caused BetMGM oddsmakers to lengthen his line to 20/1.
Similar betting lines have been incurred for other LIV players. Brooks Koepka's Masters' odds have swollen from 18/1 to 33/1, Dustin Johnson's from 14/1 to 25/1, and Bryson DeChambeau's from 28/1 to 100/1.
Phil Mickelson, the face of LIV Golf, is at 200/1.
Tiger Continues to Attract
Tiger Woods hasn't won a PGA Tour event since the 2019 ZOZO Championship. But the five-time Masters champ, whose last win at Augusta came in 2019, continues to garner much attention from bettors.
BetMGM and other sportsbooks want all the action they can get on the 47-year-old, as most oddsmakers don't believe he has anywhere near the chance the odds imply.
Despite Woods being BetMGM's third-largest liability after accounting for about 4% of the betting tickets and 4% of the overall money wagered, the sportsbook has only continued to lengthen Woods' Masters odds.
Tiger has gone from 40/1 to 66/1. Woods, in 2018, infamously said that a lot of "gamble-oholics" like to regularly bet on him when he tees it up in majors.