Las Vegas Conference Tackles Gaming Anti-Money Laundering Measures, While Major Heroin Bust in Delaware Ends up Laundered in State Casinos
Posted on: May 19, 2016, 06:31h.
Last updated on: May 19, 2016, 07:49h.
The Bank Secrecy Act Conference at the South Point in Las Vegas this week drew legal representatives from across the casino industry to discuss the issue of anti-money-laundering compliance.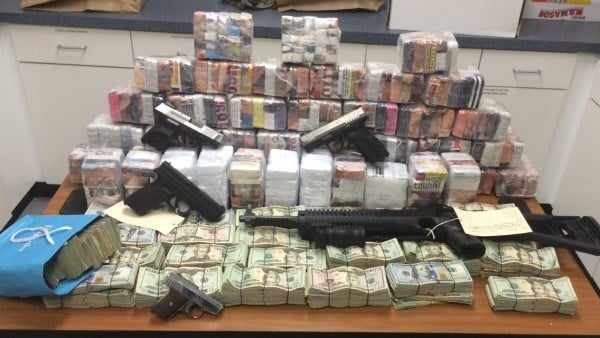 In the news frequently of late, perhaps most notably following the massive cyber bank heist of the New York Fed back in February, where money allegedly ended up laundered through Filipino casinos, it's an issue that has plagued the global and US gaming industry repeatedly in the past decade.
The conference takes its name from the anti-money laundering legislation that essentially eliminated the right to financial privacy in the US by requiring that financial institutions report suspicious financial transactions to authorities. And among those "financial institutions," casinos are included and must answer to the same questions as any actual bank.
Title 31 of the Act states that all transactions over $10,000 require the completion of a Currency Transaction Report by financial institutions, which must contain sufficient personal information to accurately identify the individual involved. And it's illegal for an employee of a financial institution to assist a customer in avoiding the Currency Transaction Report.
For casinos, this has always been problematic, due to the industry's reliance on its high-roller customers and the essentially discreet nature of that relationship.
But in recent years, FinCEN, the Treasury Department's Financial Crimes Enforcement Network, has moved to crack down on the casino industry to bring it in line with banks and other financial institutions.
Big Brother is Watching
Casinos are facing increased regulatory scrutiny overall, of course, a state of affairs that they have grudgingly come to accept, and compliance was the key message at the conference this week.
"You're doing all the right things and you're appreciating the importance of these issues," said Juan Zarate, a former government official and author of Treasury's War: The Unleashing of a New Era of Financial Warfare. "But my message to you is that these issues aren't going to go away."
The casino industry is now viewed by the government as a "central, important part of the international financial system," he said.
Of course, the penalty for non-compliance is severe. In 2014, Las Vegas Sands Corp. (LVS) was fined a record $47.4 million for record-high anti-money-laundering violations. More recently, Caesars Entertainment received a $9.5 million fine for similar charges.
In February, former manager of the Sparks Nugget, Michonne Ascuaga, resigned from her position on the Nevada Gaming Control Board, after a FinCEN investigation found "systematic" and "egregious" violations at the casino while she had been in charge of the Northern Nevada property. It has since been sold.
Regulations Apply to All
These two most recent cases illustrate that money laundering is an issue for huge casino resorts and smaller gaming establishments alike, no matter if you're Caesars, the Sparks Nugget, or a California card club, said Jeffrey Settner, a lawyer specializing in white-collar crime.
"Whether you're in Las Vegas, Nevada. . . Emeryville, California . . . Sparks, Pahrump, wherever. . . crimes do occur, and sometimes people will spend illegal gains at your casino," Setness said. "You don't have to be a huge casino [to be held accountable] . . . you still have the same type of requirements."
Heroin Bust in Delaware Underscores the Issues
But while at the conference, the industry declared its eagerness for compliance, across the country in Delaware, authorities were announcing the arrest of eleven suspects in relation to one of the largest seizures of heroin in the state's history,
An investigation comprising numerous law enforcement agencies had uncovered 116,675 bags of the drug with a street value of $1,166,750. Police said the suspects had used casinos to launder proceeds of the illegal operation. No doubt this kind of massive crime case will only make FinCEN more on its toes, ever watching, like a kind of federal eye-in-the-sky, giving casinos a taste of their own surveillance medicine.