LeBron's Odds to Win Championship as High as +5000 in New York
Posted on: February 23, 2023, 10:01h.
Last updated on: February 23, 2023, 12:12h.
You can bet against him if you want. Heck, with Kevin Durant now on the Phoenix Suns — and with the Denver Nuggets getting a third straight MVP season from Nikola Jokic — you are hereby excused if you pick someone else to come out of the West and compete for the NBA championship.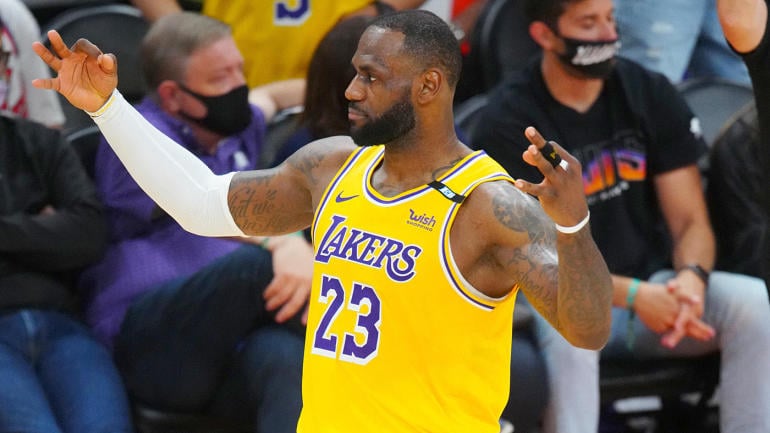 But LeBron James is LeBron James. He does things no other player has ever done. He has four titles. And if you think his revamped Los Angeles Lakers team is wager-worthy when it comes to the possibility of winning a championship, the odds are in your favor with the Lakers currently sitting 13th in the West with 23 games remaining.
Here are the Lakers' championship odds at the nine licensed New York sportsbooks:
DraftKings: +4000
FanDuel: Off the board
PointsBet: +5000
BetRivers: +3500
WynnBet: +3000
Resorts World Bet: +5000
BetMGM: +4000
Caesars: +3000
BallyBet: Unavailable
When James was asked over All-Star Weekend whether his Lakers can be dangerous if they reach the postseason, he didn't hesitate.
I've always been confident in any club that I've been on, once we got into the playoffs, that we can compete with anyone, and I feel no different now," James told reporters. "With the roster, the way we're shaped up right now, if we can finish off this regular season on the right foot, then we can compete versus anyone in the Western Conference, if not the whole league."
Wager against him at your own peril, folks. He's 38 years old and is still averaging 30.0 points per game. The Lakers never trailed as they bested the Pelicans at home in their last game before the All-Star break, 120-102, marking their fourth wire-to-wire victory of the season.
Los Angeles shot 53% from the field (44-83 FG), improving to 16-5 this season when shooting over 50%. James has won two Player of the Week awards this season, and he's lining up Thursday night alongside DeAngelo Russell, Malik Beasley, and Jarred Vanderbilt, none of whom were members of the Lakers when this month began.
Despite all of the recent individual records and accomplishments, Pat Riley believes LeBron James is still in the business of competing for championships.https://t.co/pUw2iyZRbC pic.twitter.com/X8hM9WCNU9

— Lakers Nation (@LakersNation) February 22, 2023
They are 5 1/2-point favorites over a Golden State Warriors team that will be without Steph Curry, and they are just 3 1/2 games behind sixth-place Dallas, with 18 of their remaining 23 games to be played against teams from the West. All they need to do is finish in the top 10 to make the Play-in Tournament, and they are +155 at DraftKings to make the final eight.
What Other Lakers Wagers Make Some Sense?
We have to start by saying that each of the sportsbooks with championship lines posted has Durant's new team with the lowest odds to win the West, ranging from +400 to +450. Denver is the consensus second choice at +600 to +800, and the Clippers third at +900 to +1100 after they added the bought-out Russell Westbrook.
I think this playoffs is going to be the craziest playoff in a long time," Nuggets coach Michael Malone said. "I think there's going to be upsets. I think there's going to be literally a lot of teams that you could say make a strong case that they could win the NBA championship this year."
"I feel very strongly about our ambitions to winning a championship," Kyrie Irving of the Dallas Mavericks said during All-Star Weekend. "I'm grateful that I'm in the Western Conference now because they said it's the best conference. It's loaded with guys, loaded with talent … Of course, the Eastern Conference is competitive — I would have loved to stay there, too — but being in the Western Conference is the challenge I needed."
The Mavs are priced from +1600 to +1700 to win the title. They get LeBron on national television Sunday at 3:30 p.m. on ABC, one of 12 nationally televised games the Lakers have remaining. One would think they have nobody with any shot of winning any individual awards, but for what it's worth, James is on the board at +10000 at PointsBet.com.
If LA reels off four straight wins coming out of the break against the Warriors, Mavs, Grizzlies, and Thunder, that number will drop. Remember, no player since Larry Bird in 1984, 1985, and 1986 has won three straight MVPs, and while Jokic is a legit leader, the season ain't over yet.
#LeBronJames breaks NBA's all time scoring record
-He is now THE all-time leading scorer, surpassing the record that six-time NBA MVP Kareem Abdul-Jabbar had held for 39 years
-He has scored 38,390 shots in his career as of Feb 7, 2023https://t.co/wbKwTSdobX pic.twitter.com/tSwPKnNJRD

— Kramer & Pollack, LLP (@Kramer_Pollack) February 20, 2023
At FanDuel, although the NBA championship market is down today, exact NBA Finals matchups are available. If you're buying the premise that LeBron can compete for a title, you can get Lakers to defeat Bucks at +29000 and Lakers to defeat Celtics at +23000, which can be hedged with Celtics to defeat Lakers at +10000, and Bucks to defeat Lakers at +10000.
At PointsBet, there are 225 possible NBA Finals matchups … and you don't have to predict the winner, just the two finalists. Phoenix vs. Boston is the +600 favorite, and Lakers possibilities include Celtics (+5000), Bucks (+7000), Sixers (+200000), and Cavs (+300000).
BetMGM has a similar "Name the Finalists" wager menu that includes Lakers-Celtics (+4000), Bucks-Lakers (+6600), and Heat-Lakers (+50000).
All of those bets are hugely speculative. But some folks like betting futures, and a lot of folks like betting LeBron. For those enamored of the Knicks, you can get +150000 at BetMGM.com or +100000 at PointsBet for a rematch of the 1970 and 1972 finals. Phil Jackson might be the only guy who likes that bet.