Las Vegas Culinary Union Sues Strip Casinos, Allege Numerous Shortcomings in Protecting Workers
Posted on: June 29, 2020, 01:03h.
Last updated on: June 29, 2020, 02:21h.
The powerful Culinary Union — which represents 60,000 gaming industry workers in Las Vegas and Reno — has brought a lawsuit against three Strip casino operators on allegations that they aren't adequately protecting employees from COVID-19.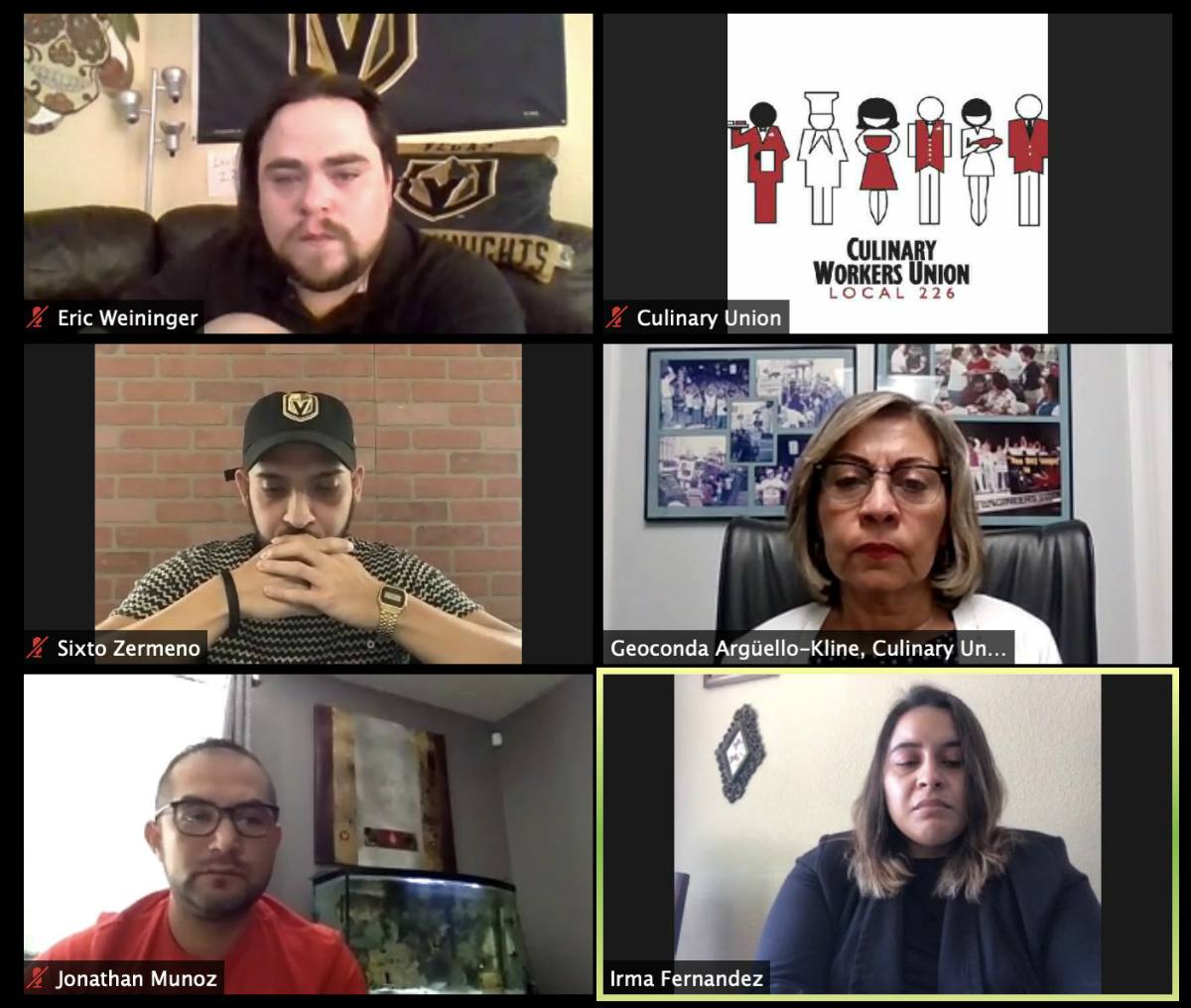 During a remote meeting held Monday, Culinary Union Secretary-Treasurer Geoconda Arguello-Kline revealed the union has filed a lawsuit with three defendants named — Harrah's Las Vegas LLC, The Signature Condominiums LLC, and Bellagio LLC.
Caesars Entertainment is the parent company of Harrah's, while MGM Resorts is the parent organization to The Signature and Bellagio.
We are very concerned for our workers and their families," Arguello-Kline stated. She said 19 Culinary members and/or family members of union workers have died because of COVID-19.
The Culinary Union is suing the three companies for injunctive relief under the Labor-Management Relations Act and its statutes regarding hazardous working conditions. The labor group alleges unsafe working conditions at the aforementioned properties.
Arguello-Kline says this lawsuit "is just the beginning" of the union's legal efforts to make sure workers are "fully protected."
Worker Complaints
Union members told the media today why they were willing to be named in the complaint. Sixto Zermeno, a bellman at The Signature at MGM Grand, said upon returning to work earlier this month, little to no safeguards were in place to protect himself and other team members from contracting the coronavirus.
Zermeno revealed he was not tested prior to his return, guests didn't wear masks, and social distancing was not being observed. Zermeno says that after abiding by state stay-at-home orders and being away from his job for nearly 80 days, he tested positive for COVID-19 within three days of being back at work.
Zermeno says he hasn't seen his child for three weeks because of self-quarantining, and to the best of his knowledge, the coworkers he interacted with have continued to perform their shifts.
Eric Weininger, a cook at Guy Fieri's at Harrah's, said cooks and food runners attended a "huddle" meeting earlier this month. One of the individuals in that meeting was a food runner who later tested positive for the coronavirus.
Several days later, Weininger and four other coworkers told officials at the restaurant's health security checkpoint that they had been in contact with a person positive. Weininger alleges that he and the four others were later told by a person who identified himself as the assistant head of security and an employee from human resources that they "all looked ready to work."
"The Assistant Head of Security sought to pressure the Guy Fieri workers into going to work," the lawsuit claims.
"The Culinary Union will continue to collect worker statements and evidence regarding unsafe working conditions throughout the Las Vegas Strip and in Downtown Las Vegas, and we will support the courageous workers who have come forward to share their experiences," a Culinary Union release added.
What the Union Wants
The Culinary Union points to five key shortcomings against the defendants:
Adopted unreasonable rules and procedures for addressing the spread of COVID-19.
Have not immediately shut down work areas upon learning of positive COVID-19 cases.
Have failed to conduct adequate contact tracing to identify those who have worked with a coworker who has tested positive for COVID-19.
Have failed to immediately inform their employees of positive tests among their co-workers.
Have provided workers with false information about how COVID-19 spreads and what its symptoms are, in an effort to keep workers on the job.
The union wants mandatory testing for all employees before they return to work, and regular testing thereafter. The group is additionally calling on casinos to provide personal protective equipment (PPE) for staff, better enforce social distancing, and require guests to wear face masks in all public areas.
Similar Guides On This Topic