Jason Harris to Run for Catawba Chief, Provides Update on Two Kings Casino
Posted on: April 3, 2023, 09:54h.
Last updated on: May 25, 2023, 06:08h.
UPDATE (4/7, 8:45 am ET) – The story has been updated to include the other Catawba members who have announced their candidacy.
The current assistant chief of the Catawba Nation is seeking higher office.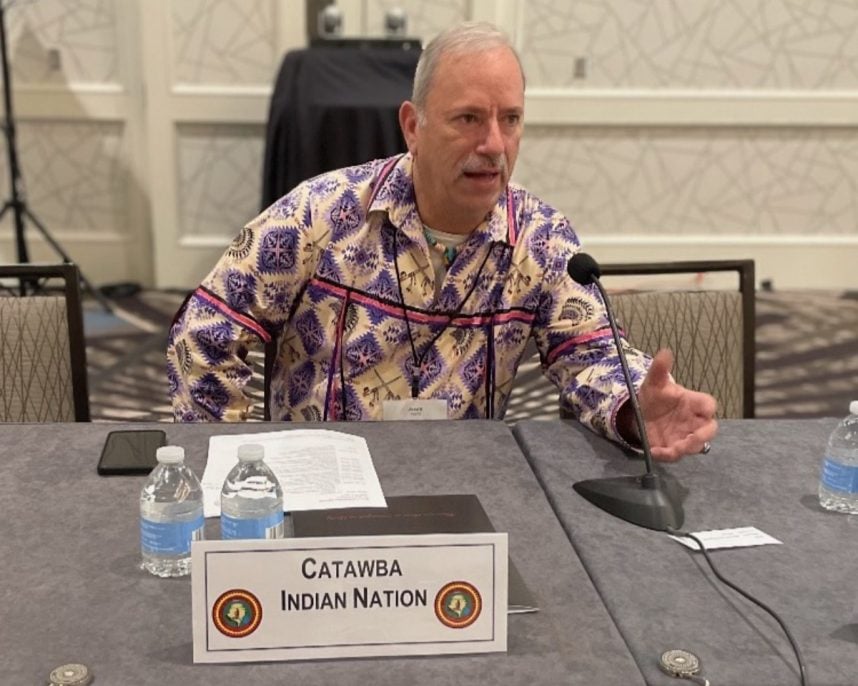 On Monday, Jason Harris announced his candidacy to be the chief of the Carolinas-based tribal nation. If elected, he would replace Chief Bill Harris, a distant cousin who isn't seeking re-election, according to a candidate's spokesperson.
Jason Harris touted his service on his campaign website in two terms as assistant chief. In that position, he said he worked with other Catawba members to help the nation secure gaming rights.
Catawba's Two Kings Casino is located in Kings Mountain, NC, roughly 30 miles west of Charlotte. It survived a legal challenge from the Eastern Band of Cherokee Indians, who protested the federal government's decision to take North Carolina land into trust for the nation whose reservation previously was exclusively in South Carolina.
South Carolina has denied the tribe the ability to operate a casino there.
Two Kings currently operates out of a temporary venue on the 17-acre site until its permanent, $273 million resort opens.
"I'm running for this office because I believe that our tribe deserves a Chief who is committed to making tangible improvements in the lives of our citizens," Harris said in a statement. "That's why my platform includes key items like finishing the casino project, providing per capita payments to our citizens, and offering a death benefit to ensure financial security for families in their time of need."
Concerns Raised
Construction on the permanent venue has been delayed by a federal investigation into arrangements the Catawba Nation leaders made with Kings Mountain Sky Boat Partners. In December, the National Indian Gaming Commission (NIGC) said in a 30-page letter that the decision to let Sky Boat "manage in part" an expansion of the temporary casino took place without the federal agency's permission.
NIGC officials also raised concerns that the tribe isn't the primary beneficiary of the casino, which is a requirement under the Indian Gaming Regulatory Act (IGRA).
The commission's letter said the parties face fines of up to $57,527 per day for each violation, and the commission may order the casino to shut down temporarily, too.
'Significant Progress' Made on Two Kings
In a statement to Casino.org on Monday, Harris said the tribe is "working diligently to resolve some language issues" with the commission through its lawyers.
We remain committed to protecting and growing our rights under IGRA in our aboriginal territories in North Carolina," Harris told Casino.org. "Once we have resolved these issues and all parties are comfortable, we will proceed with scheduling construction."
Still, he added that the Catawba Nation has "made significant progress" in completing the permanent resort.
"We have been working closely with several reputable banks eager to provide financing for this project, given our successful track record and revenue generated from our current casino operations," he said.
About the Catawba Election
The chief's position is part of the five-member Catawba Nation Executive Committee, including the assistant chief, a secretary-treasurer, and two qualified members of the tribe's community. All seats will be up for election on July 29.
Two other individuals, Jackie Bagley and Brian A. Harris, have also filed to run for chief.