GameStop Trading Frenzy Becoming Movie Starting Seth Rogan, Pete Davidson
Posted on: April 28, 2023, 02:27h.
Last updated on: May 1, 2023, 12:31h.
The GameStop short squeeze of 2021 is the subject of an upcoming Hollywood movie, Dumb Money,  starring Seth Rogen, Nick Offerman, and Pete Davidson. It's set for release by Sony Pictures on Oct. 20, 2023.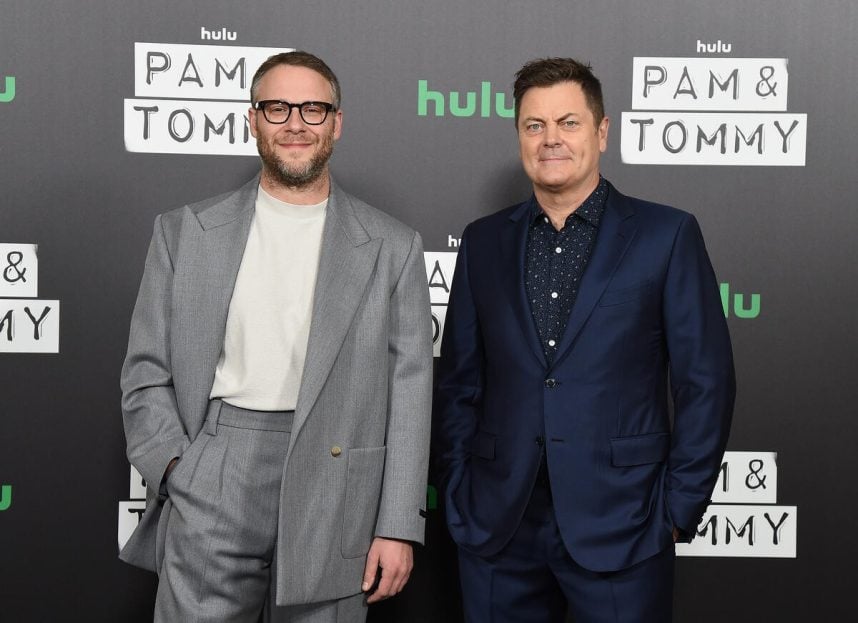 The GameStop trading frenzy was celebrated as an underdog story for small investors who felt powerless and fantasized about sticking it to Wall Street.
A ragtag group of amateur investors, gamers, and internet trolls bring Wall Street to its knees by reviving the challenged brick-and-mortar video game retailer GameStop, making it the first so-called meme stock," the movie's tagline states.
The movie is based on Ben Mezrich's 2021 book, The Antisocial Network. Mezrich also wrote The Accidental Billionaires, on which screenwriter Aaron Sorkin based The Social Network. 
The same subject also informed the 2022 Netflix documentary, Eat the Rich: The GameStop Saga. 
See the sneak peek below:
Star Line-up
Rogen will play hedge fund manager Gabe Plotkin, whose Melvin Capital lost billions in wrong-way bets on GameStop when retail investors conspired — through online forums on Reddit  — to buy up as many outstanding shares as they could. This buoyed the stock's price by 2,000% and torpedoed hedge-fund managers, who bet on the price continuing to decline amid the COVID-19 pandemic.
Offerman will star as Ken Griffin, founder of Citadel Securities, who invested $2 billion in Melvin Capital and was accused of instructing the Robinhood electronic brokerage to halt the trading of GameStop, and certain other meme stocks, on its platforms.
Rogen and Offerman, who previously teamed up in 2014's 22 Jump Street and 2022's limited Hulu series, Pam & Tommy, are playing against type here. Judging from his persona on and off screen, Rogen seems more like a patron of GameStop than an investor in it, while Griffin seems too buttoned-up and less eccentric to benefit from Offerman's unique skillset.
One actor definitely not stretching his range is Pete Davidson, who will play a pot-smoking retail trader who benefits from the short squeeze. The movie will also star Paul Dano (There Will Be Blood ) as Keith Gill. Known in internet circles as Roaring Kitty, Gill used Reddit to rally swarms of investors to artificially inflate GameStop stock. Sebastian Stan will play Vlad Tenev, website Robinhood's cofounder.
Game Stop Saga
In January 2021, Reddit users on the r/wallstreetbets subreddit built the foundations for a short sell on GameStop. A short sell is a risky and somewhat controversial practice where a trader borrows and sells shares of a stock.
The group worked collectively to significantly increase the stock price after a Citron Research comment predicting the stock value would decrease.
GameStop's stock ran from 65 cents in April 2020 to more than $120 by January 2021. Similar tactics also drove stocks like AMC movie theaters. AMC stock rose 15 times higher during the same period.
The phrase "meme stock" was born from r/wallstreetbets subgroup.