FanDuel Adopts Complete Branding Overhaul
Posted on: August 2, 2016, 03:01h.
Last updated on: August 2, 2016, 05:02h.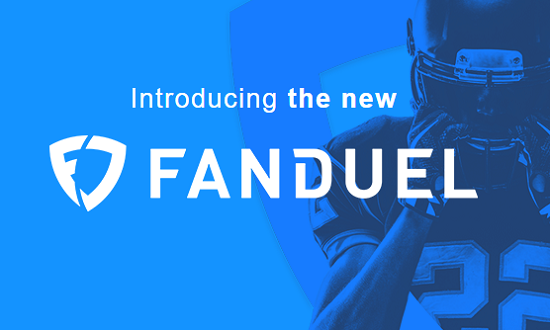 FanDuel surprised its customers with a major rebrand this week. The daily fantasy sports giant has kicked the sloping white-on-black cursive into touch.
In its place is a modern, clean, all-caps logo, and a new company color scheme; blues and whites, completely unrecognizable from its predecessor.
The brand now employs a new motif, too, a shield, which represents "an age-old athletic emblem, to pay homage to history's strongest leagues, teams, and competitors," explained the company this week.
"As we move into this next era of fantasy sports, the FanDuel Shield will lead the way," FanDuel assured us at the unveiling of its new-look website Monday.
UK Launch
Rebranding is always risky, especially an utterly comprehensive revamp like this one, but the timing makes sense. The new NFL season is not far away. The English Premier League season is about to start.
Meanwhile, FanDuel is due to launch in the UK this month and will no doubt be looking to form some strategic partnerships and sponsorship deals.
Better, then, to get the branding sorted now before the players of the eventual soccer team of choice go running out with the old logo plastered across their jerseys.
Meanwhile, in the US daily fantasy sports stands at a crossroads, with a handful of states already opting to license and regulate the industry, while hugely valuable key markets like California and New York mulling a similar move, New York in particular. What better way to represent the bright, new era of regulated, licensed and consumer-protected DFS than with a bright, new identity?
FanDuel Bill of Rights
In this spirit, the company has also unveiled "the FanDuel Bill of Rights," a commitment to consumer protection clearly designed to restore faith in the industry after the damage caused by DraftKings' so-called "insider trading" scandal of late last year.
In late September DraftKings employee Ethan Haskell inadvertently posted player data online before the start of the week's NFL games, information that the average player has access to only after the weekly line-ups are locked in. In the same week, Haskell had won $350,000 playing on
FanDuel, and suddenly alarm bells were ringing.
DraftKings and Haskell were eventually exonerated by a third-party investigation, but the debacle prompted increasingly strident calls for more transparency within the industry, particularly with regard to the workings of the two sites' business models and just who has access to privileged information, and when.
The FanDuel Bill of Rights includes the separation of player funds from operating costs, a ban on third-party scripting tools in order to prevent sharks from feeding off new players in heads-up contests, as well as the prohibition of FanDuel staff from participating in DFS contests.