European Bookmakers Lose Millions on Horses Linked to Barney Curley
Posted on: January 24, 2014, 05:30h.
Last updated on: January 24, 2014, 03:11h.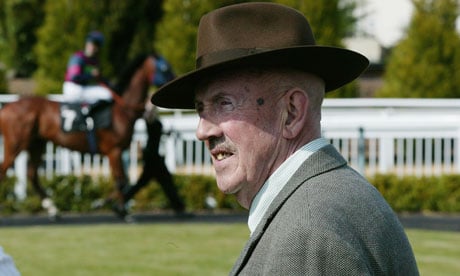 There's nothing quite like the feeling of hitting a daily double, pick six or other big accumulator at the race track, especially when that final horse comes in to complete your once-in-a-lifetime payday. But while there have been some epic wins over the course of horse racing history, few compare to the story that played out this week in the UK as four horses linked to legendary gambler Barney Curley pulled off shocking victories that may have cost bookmakers millions.
Long Odds on Four Horses
The story began on Tuesday evening, as odds began showing up for some of Wednesday's races. There were four horses in all, each coming off a long layoff to race at fairly long odds. Horses Eye of the Tiger and Indus Valley were both 20-1 longshots, while Seven Summits and Low Key were more reasonably priced at 7-1. In any case, a $1 accumulator bet on all four horses to win would have earned a bettor around $13,000 at Bet365, if the bets came in at just the right time when all four races were on the board and the odds were as favorable as possible.
Estimates of just how much money was lost by bookmakers from the four unlikely winners varied greatly. One spokesman for Paddy Power said that the industry-wide hit could have been as great as £15 million ($24.9 million), though others said a more likely figure was in the range of £2 million ($3.3 million).
Some bookmakers, such as Ladbrokes, avoided the largest losses by only posting odds later in the day, though many bettors picked up on the connected horses even as the odds started to fall.
"We dodged most of the early morning frenzy, but you can't stop moving trains and we got caught up in some of it as the day panned out," said Ladbrokes head of consumer PR David Williams. "Our decision not to price the Kempton races up until as late as possible helped protect us from the worst of it and we certainly weren't exposed to any of the overnight business where most of the fancy prices were snapped up."
Unlikely Winner
Bookmakers began to become suspicious as the odds on all four horses fell in morning betting. By the time Eye of the Tiger ran at Lingfield, the horse had been bet all the way down to an even money favorite – despite the fact that he had not run for 481 days, and had failed to win in any of his previous four races.
Sure enough, Eye of the Tiger won his race. When stewards at the track launched an inquiry into the winner, they were told that the horse was now being trained by Dan Donovan, and had previously been trained by Curley himself. The horse had apparently been injured several times, but came into the race healthy, with Donovan calling him "a genuine horse."
Soon thereafter, Seven Summits would win his race at Catterick by a length and a half. At race time, he had been bet down to a 9-4 favorite, though that was partially because another favorite had been scratched from the race. Seven Summits was also formerly trained by Curley.
The third horse, Indus Valley, was another Donovan-trained runner who was racing for the first time in nearly two years. A 4-6 favorite by the time of the race, Indus Valley pulled off a tough win.
"He has always shown ability but we were lucky the second just turned it in," Donovan said.
Finally, Low Key was set to race at Kempton, and had moved from a 7-1 shot to a 7-4 favorite. Although his last race saw him finish 7th of seven horses, Low Key pulled off a win, with trainer John Butler attributing it to the horse being gelded and a significant drop in class when compared to previous races.
Barney Curley has been a legendary trainer and gambler for decades, though he has largely stayed out of the public eye. Curley – who says that he gets more of a thrill out of beating the bookmakers than from the money he wins –  has been finding ways to beat bookies since at least the 1970s. A similar four-horse success in 2010 netted Curley more than £1 million ($1.66 million).