Donald Trump is Presumptive GOP Presidential Nominee After Knockout Win in Indiana
Posted on: May 4, 2016, 01:49h.
Last updated on: May 4, 2016, 02:13h.
Donald Trump will represent the Republican Party for the next seven months leading up to the 2016 presidential election. It's a statement few political analysts, if any, could have possibly predicted or even theorized last June, when Trump first announced his candidacy from Trump Tower in New York City amidst a furor of mostly media derision.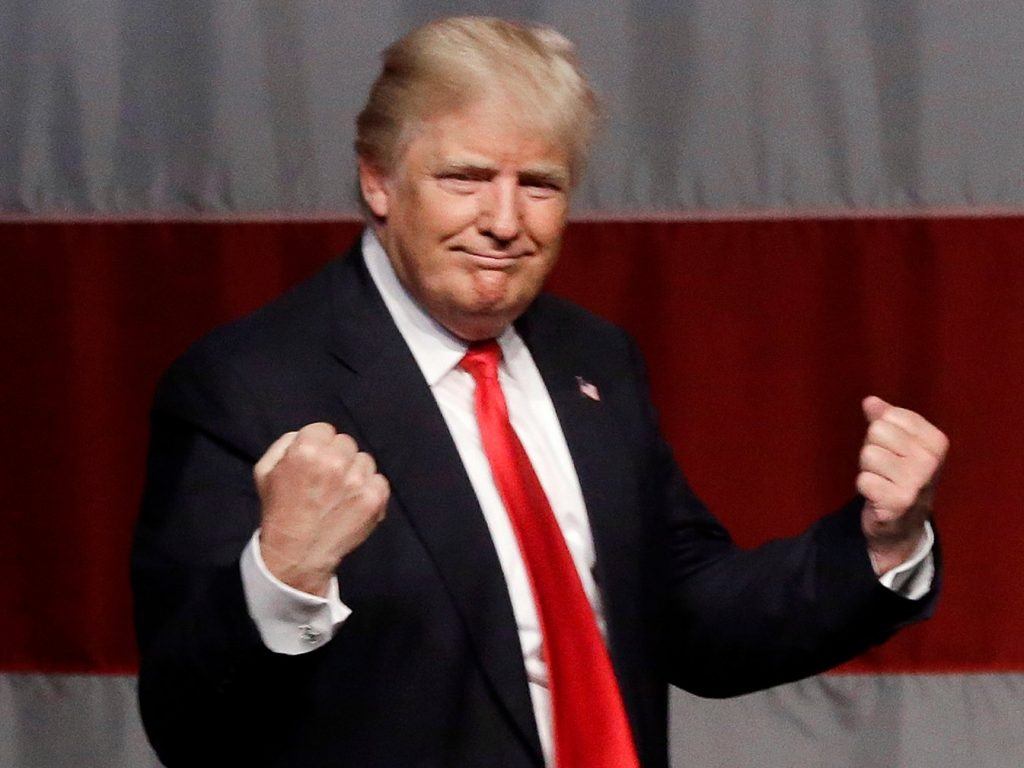 Ten and a half months and 16 challengers later, the real estate and former casino tycoon is the last candidate standing. No longer an apprentice, Trump is the real deal.
Texas Senator Ted Cruz bowed out last night and effectively crowned Donald the GOP champ. Ohio Governor John Kasich followed suit this morning.
"All my life I have been in competitions, different competitions, whether it is sports, or business, or now politics," Trump told his supporters on Tuesday night in his Indiana victory speech. "I have met some of the most incredible competitors . . . Ted Cruz, I don't know if he likes me or does not, [but] he is one hell of a competitor."
Trump now has 1,047 delegates, with 520 still remaining in the final nine states. With no challenger, the businessman will likely easily achieve the 1,237 required delegates to win the nomination.  The much-touted contested convention for Cleveland in July quickly has gone from probable to nearly impossible.
Cruz's Unexpected Concession
The Republican Party remains divided on Trump, with the conservative right largely favoring Cruz, while a disgruntled workforce and an electorate fed up with traditional politicians are mostly on board the Trump train.
Cruz had pledged to take his campaign to Cleveland in July, but surprised many of his faithful flock by folding after suffering his seventh straight primary loss.
Cruz suspending his efforts ends what was beginning to feel like a showdown between Trump as Mike Matusow and Cruz as Phil Hellmuth. Two big league heavyweights, free of any filters and each with their own style of scathing verbiage, dueling for the winner-take-all pot.
Because just like in the game of poker, in politics, only one candidate can come out on top.
Trump Readies for Clinton Battle
Trump will now focus his attention to the presumptive Democratic candidate, Hillary Clinton. Though she lost Indiana last night to Vermont Senator Bernie Sanders, Clinton received only six fewer delegates, with his 43 to her 37, since the state is distributed proportionally.
The former first lady and secretary of state remains 321 delegates ahead of the Vermont politician, and has the all-important 481 superdelegates as well. Superdelegates are unbound to the voters they serve, and make pledges based on their own personal preferences.
It's quite ironic that out of the more than 20 candidates that tossed their hats in the ring this primary season, the two that will represent the Republican and Democratic parties are the two that also have the highest unfavorability ratings, according to come polls, at least.
Trump presented a calmer demeanor last night during his victory speech, and most political pundits expect the GOP nominee to soften his rhetorical attacks in an effort to unify the party and appear more "presidential."
Clinton will undoubtedly do her all to test Trump's nerves.
"I'm going to stand up for the people of this country, women and men, but as he goes after women, as he goes after literally every group, I'm going to be their voice," Clinton recently told MSNBC's Andrea Mitchell.
Will Trump be able to retain a more civil attitude now that it's essentially him versus her?
Don't bet on it.