Donald Trump Confirmed as 45th US President in America's Brexit Vote
Posted on: November 9, 2016, 12:13h.
Last updated on: November 9, 2016, 12:46h.
Not even Donald Trump could have imagined how the vote countdown would play out on Tuesday night. At 2:40 am ET Wednesday morning, the state of Pennsylvania officially went to the billionaire businessman who had withstood jeers, scandals, and derision throughout the year that led up to his win.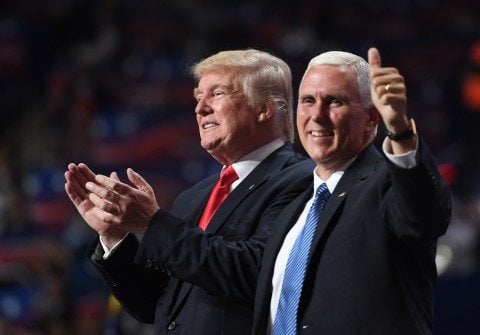 The Republican candidate was officially confirmed as the 45th president of the United States, with Fox News calling it the greatest political upset of our time. Democratic opponent Hillary Clinton called in to Trump to concede, but made no public appearance or statement.
"This is a historic night," said Vice President-elect Mike Pence, who stood steadfastly by Trump through several damaging scandals towards the end of the campaign. "The American people have spoken,  and elected their new champion," Pence said to a cheering crowd in New York City.
He then introduced Trump as the President-elect of the United States, with his wife Melania and youngest son Barron coming out along with him.
"I just received a call from Secretary Clinton, she congratulated us on our victory, and I congratulated her on her campaign," said Trump in a concilliatory tone not heard during the vitriolic race.
Will of the People
Many pundits had hinted that more people supported the controversial TV personality than would confess to it publicly, and as state after state was announced as going to Trump, it quickly became clear that his victory was imminent.
With most major media sources assuming that Clinton would clinch the presidency, book makers abroad had him as the underdog in the race.
Long Odds Pay Off to Brave Bettors
Gamblers in the UK and EU who placed bets on Trump will be rewarded handsomely this morning.
The final lines at overseas casinos and offshore betting shops put Democratic candidate Hillary Clinton as the heavy favorite at around -550 to Trump at +350. That means a bettor who placed a $1,000 wager on a Trump victory is now $3,500 wealthier.
For the unidentified bettor in the UK who placed a £200,000 ($247,650) wager on a Trump victory on Spreadex, a British-based sportsbook, he or she is now $619,000 richer. But on the flipside, the William Hill gambler who staked $185,000 on Clinton has busted. 
Campaign Controversies
Few could have predicted a Trump victory on November 8.
One person who did, however, was Stony Brook University Professor Helmut Norpoth. Writing on his website PrimaryModel.com, Norporth predicted he was 87-99 percent sure Trump would win.
Norporth said he incorporates a candidate's strength in his or her respective primary, along with the "swing of pendulum" belief, which assumes the Electoral College would switch after eight years of President Obama, to reach his conclusion. Combined, he felt confident Trump would emerge the victor.
"The candidate who does better in his party's primary beats the other guy who does less well," Norpoth told 'Fox & Friends' last month.
Though Trump's opponent was certainly flawed and surrounded by controversy and turmoil, primarily stemming from her use of a private email server during her time as secretary of state, Trump remained the underdog.
But through it all, Trump's campaign continued to gain traction. That was until October 8, when The Washington Post released a 2005 video of Trump appearing on Access Hollywood making derogatory comments about women on a hot mic. The video swerved the Trump bus off the road to the White House, and Clinton quickly regained momentum.
FBI Director James Comey's announcement that the agency was reopening its investigation of Clinton's email server provided hope for Trump in the last weeks. Eight days later, however, Comey said he stood by his July decision that no criminal charges be brought against Clinton, and it was assumed it was all over but the shouting for a Clinton victory.
 Year of the Underdog
First there was Brexit, the United Kingdom's decision to leave the European Union (EU). Pre-vote polling showed voters would opt to stay in the EU, but the final tally was 52 percent to 48 percent in favor of leaving.
Also in Europe, Leicester City's shocking Premiere League championship was one of the biggest underdog stories in sports. Listed at 5,000-1 odds before the soccer (football) season got underway, ESPN called the accomplishment "the most unlikely feat in the history of sports."
Then there was the Cleveland Cavaliers and LeBron James, who delivered the city its first major sports title in 52 years. Cleveland was one-upped by the Chicago Cubs this month after winning the World Series for the first time since 1908.
While the odds might have been longer for some betting lines, Trump's victory over Clinton will certainly be the biggest 2016 upset. However, unlike sports, there will be no victory parade, as there is much work ahead for Trump, now officially to become the 45th president of the United States. And with many in the Republican party having balked at his nomination, it will be interesting to see how reparations will be made now.