Dinner in the Sky is the Next Big Vegas Attraction
Posted on: May 30, 2013, 05:30h.
Last updated on: June 6, 2013, 01:00h.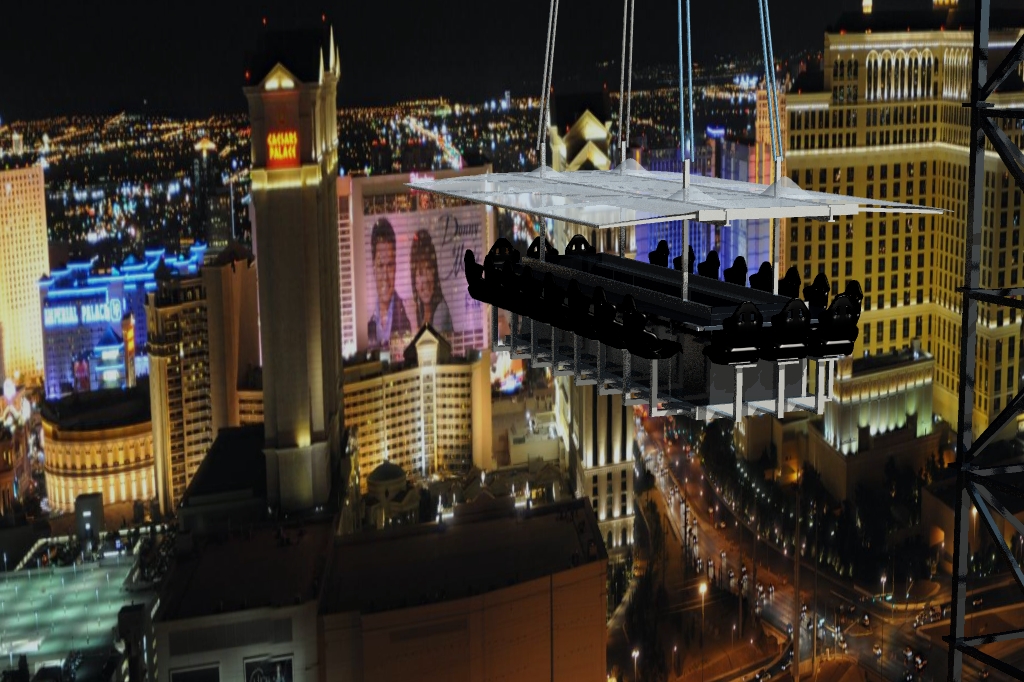 What can Vegas possibly do for an encore after a few decades of volcanic eruptions, Bulgarian acrobats and ersatz odes to New York and the Pharaohs? How about Dinner in the Sky? No, we're not being metaphoric, and no, it's not in a helicopter or a plane. As of summer 2013, according to their press materials, you will actually be able to eat suspended 180 feet off the ground, with nothing around or over you but air. Just buckle up.
Eating in the Clouds
This crazy new attraction will actually cantilever up to 22 guests and 3-4 chefs and waitstaff at a time to hover above the Las Vegas Strip, somewhere slightly west of the Tropicana hotel-casino.  Much like an actual amusement park attraction, no kids under 10 will be allowed, and don't make reservations if you're uber hefty: weight restrictions apply (we're wondering if you have to jump on a scale before take off).
The food and libations, we are told, will be gourmet, but don't overindulge: there's nowhere to relieve yourself at this restaurant. In case someone is suddenly overcome with air sickness or terror, the company behind this 7- ton-when-fully-loaded contraption claims it can be back on terra firma in "about 60 seconds." So, sort of like those "Devil's Drop" rides, but on a full stomach; nice.
Construction Delays
Originally scheduled to be open by Spring 2013, construction delays have moved the project into summer. Meaning the first guests up will be moving into 100+ F degree heat, even after sunset, in August. Have fun, kids! Cause guess what? There won't be any icy casino air-conditioning up there either. Hope they keep smelling salts in the bar.
This contraption appears to work basically like an enormous crane, from what we can tell. So if eating while dangling unencumbered from a crane appeals to you, by all means, make some reservations.  We're not quite sure how they're going to handle things like weather issues, wind, or coronaries on board, but hey, that's why we're not inventive entrepreneurs. No word on the per person cost, but knowing they have to wrap their liability insurance into the whole megillah, we'll suggest it's a tad more than dinner for four at Mickey D's. Bon appetit!
By the way, if Dinner in the Sky doesn't give you a big enough rush, the Rio will be opening the VooDoo Skyline zip line this summer. You'll be able to fly 192 feet off the ground, 800 feet across each way, with a one-minute 10-second fly time going either direction.