DFS Congressional Hearing Hijacked by New Jersey Sports Betting Push
Posted on: May 12, 2016, 04:08h.
Last updated on: May 12, 2016, 04:18h.
A Congressional hearing to examine the legality of daily fantasy sports (DFS) was snubbed by industry leaders DraftKings and FanDuel yesterday. Both companies are understood to have declined an invitation to attend the meeting of the Subcommittee of Commerce, Manufacturing, and Trade, which was called at the behest of New Jersey Assemblyman Frank Pallone.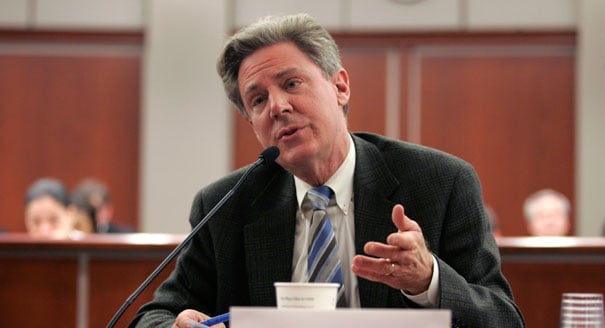 Instead, representing that group yesterday were Peter Schoenke, president of Rotowire.com and chairman of the Fantasy Sports Trade Association, along with Steve Brubaker, head of the Small Business Fantasy Sports Trade Association. Rotowire primarily offers DFS-oriented news to its audiences.
Also offering testimonies were key figures in the fields of law, sports management, and sports integrity.
If DraftKings and FanDuel stayed away because they suspected the hearing would be little more than a platform for Pallone to push New Jersey's case for legal sports betting, they had been well-informed.
Real Reason for the Hearing
"The biggest thing for me is that I would like us to legalize sports betting," confessed Pallone, right off the bat. "I am hoping this panel and the statements that were made about why it doesn't make sense to allow (sports betting) to go underground and run by organized crime would lead us to some kind of legislation.
"The point is allowing sports betting to be legal in states like New Jersey who want it. That's what I was hoping this would contribute to, primarily."
New Jersey's attempts to legalize sports betting in the past at its racetracks and casinos have been persistently blocked by the major sports leagues, and yet many of those leagues benefit either directly or indirectly from the DFS industry, which they claim isn't gambling, but rather skill.
Speaking Frankly
Pallone's moment of glory arrived when, with Rotowire head Schoenke on the stand, the assemblyman demanded to know why DraftKings had applied for and received a gambling license in the UK if the contests were not gambling.
Schoenke replied that gambling laws in the UK were different and "more restrictive."
To be clear, he's talking about the same United Kingdom that has a betting shop on every street corner in which it's possible to wager up to £100 ever 20 seconds on fixed-odds video games like roulette. Yep, that UK, where "restrictive" doesn't seem to be a very apt adjective for its public gambling consumption.
"It sounds like the difference is that in one country they have a lot of smart lawyers or lobbyists that are defining things in one way and in the other they're not," Pallone shot back.
While there was some discussion of the need for consumer protections and prevention of underage gambling, the hearing didn't break much new ground and there was no suggestion that any kind of legislation or regulation was likely to come out of it.
Some committee members also appeared to be ill-informed about the nature of the contests and the finer points of the issues being debated.
It's safe to say, for now at least, that the federal government appears content to keep its nose out of daily fantasy sports for the next stretch.