DFS Federal Hearing Scheduled for May 11
Posted on: April 15, 2016, 03:57h.
Last updated on: July 11, 2018, 02:57h.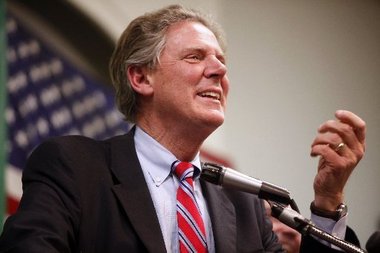 DFS is to get its day in Congress, although whether this will be a good or bad thing for the embattled industry is anyone's guess.
On May 11 the Subcommittee on Commerce, Manufacturing, and Trade will debate the legality of DFS contests and sports betting, according to a source from within the subcommittee who spoke to ESPN.
The hearing has been called at the request of New Jersey Assemblyman Frank Pallone (D), whose state has seen its efforts to legalize sports betting at its racetracks and casinos quashed by repeated legal challenges from the major sports leagues.
Some of the leagues have equity in DraftKings and FanDuel, as well as sponsorship and marketing deals, and are content to toe the line that DFS is not gambling while coming down hard on New Jersey's sports betting ambitions.
Pallone's Complaint
"Professional sports' involvement with daily fantasy sports leaves many questioning whether fantasy sports are distinguishable from sports betting and other forms of gambling," said Pallone in his letter to the committee, on which he serves, last September.
"Fans are currently allowed to risk money on the performance of an individual player," he complained. "How is that different than wagering money on the outcome of a game?"
He also demanded the hearing examine the financial relationship between "fantasy sports and gambling and … between the professional sports leagues, teams and players, and fantasy sports operators."
Of course, the DFS landscape has shifted dramatically since Pallone put in his request, and the committee will have plenty to discuss. Pallone's letter came just weeks before the DraftKings data leak became national news, prompting New York State Attorney General Eric Schneiderman to launch an investigation into DraftKings' and FanDuel's business models.
Legal Patchwork
Schneiderman concluded that the sites were offering illegal gambling, labeled them "fraudulent," and ordered them to cease operations. Following several legal skirmishes, the sites have agreed to stop offering games to residents of the state, their second biggest market, until the matter is decided in court.
In return, Schneiderman will hold off on litigation that would make the sites liable to pay billions of dollars in fines and player restitution fees.
Despite fierce litigation from the AG, a legislative push is underway in New York to regulate DFS, and many believe it has a strong chance of succeeding. Similar initiatives are being debated in the legislatures of over 20 more states while Virginia and Indiana recently became the first to agree to license and tax DFS operators. Other states, meanwhile, have declared the games illegal and ordered the sites to cease and desist, most recently Alabama and Tennessee.
According to ESPN's source, the committee will look at the legal steps taken by states across the US and decide whether federal guidance is necessary.
Latest Casino Stocks:
Retrieving stocks data...
Retrieving stocks data...
Retrieving stocks data...
Retrieving stocks data...
Retrieving stocks data...