Detroit Casino Closures Cost State, City More Than $87M in Lost Gaming Taxes
Posted on: July 20, 2020, 10:58h.
Last updated on: July 20, 2020, 01:59h.
Detroit casinos have been closed since March 16, and their shutdowns have resulted in a substantial hit to state and city coffers.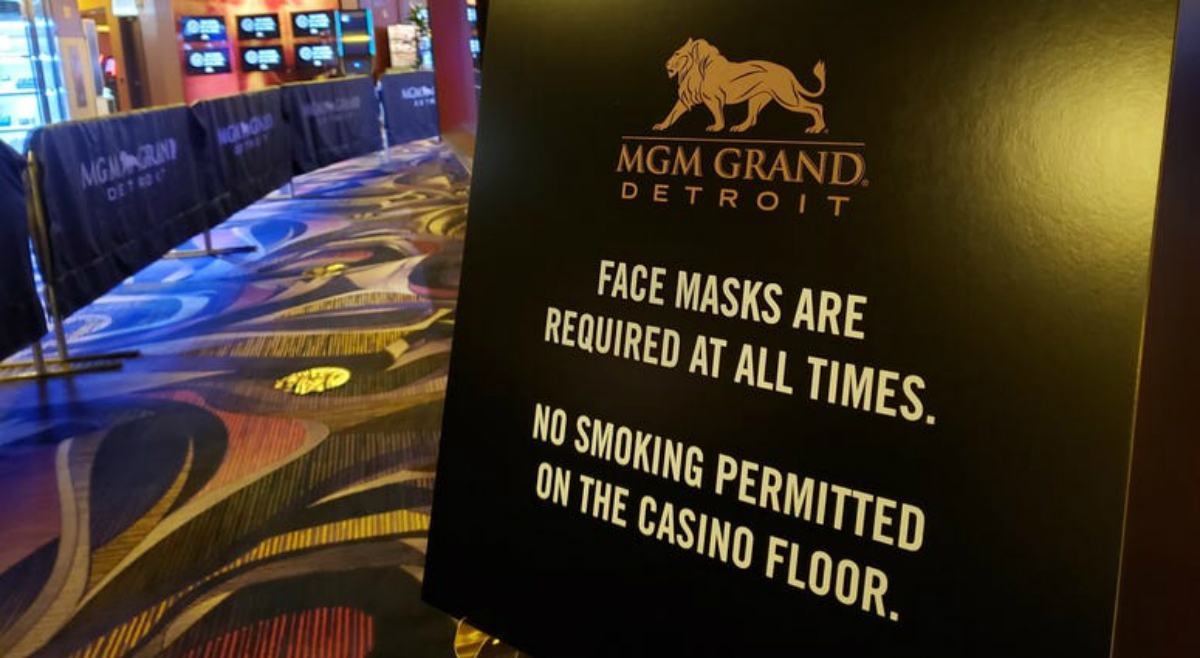 The Michigan Gaming Control Board (MGCB) says gross gaming revenue (GGR) generated by the three commercial Detroit casinos totals $299.2 million through the first six months of the year. That's down $436.2 million compared with the same six-month period in 2019 — or 59.3 percent.
MGM Grand Detroit won $126.5 million — down 59.8 percent. MotorCity Casino won $102.6 million — down 59 percent. Greektown Casino won $70.1 million — down 58.7 percent.
As a result of the massive revenue losses, the state has collected $35.3 million fewer dollars from the three casinos in the first half of the year. The City of Detroit has collected $51.9 million fewer gaming dollars, for a combined tax loss of $87.2 million.
The state collects 8.1 percent of all GGR generated by the Detroit casinos. The city's share is 10.9 percent. In 2020, the city has received $35.6 million from the casinos, while the state has collected $24.2 million.
Some Casinos Essential
Michigan Gov. Gretchen Whitmer (D) has not given a definitive date as to when the three Detroit casinos will be allowed to resume operations. The MGCB statistics reveal that for each day the commercial venues remain shuttered, the city and state lose out on around $822,000 in gaming taxes.
Michigan is home to 23 casinos owned by Native American tribes, and all but one small tribal gaming parlor has reopened. The tribes say their operations are essential to their economy.
They deemed us an essential business for the survival of the tribe," said FireKeepers Casino Hotel CEO Kathy George. "We're following the CDC guidelines, obviously."
FireKeepers is owned by the Nottawaseppi Huron Band of the Potawatomi tribe.
In an effort to reap some sort of revenue, MGM Grand Detroit is accepting hotel reservations for stays beginning August 1. "MGM Grand Detroit is ready to welcome you back safely, as soon as we are permitted to do so," the casino resort says on its website.
MotorCity is also taking reservations for August 1. Greektown is waiting for guidance from Whitmer's office.
MGM says its Detroit casino — once allowed — will reopen with strict protocols, including physical distancing and enhanced cleaning and sanitation procedures. Smoking will not be permitted on the casino floor, and capacity will be limited to 15 percent.
MI Case Count
Michigan has 73,663 confirmed COVID-19 cases and 6,119 deaths. Wayne County, home to Detroit, has the most cases at 23,827 — and most deaths at 2,659.
Earlier this month, Whitmer signed an executive order that requires people to wear masks in all indoor spaces.
The heroes on the front lines of this crisis have gone hours without taking their masks off every day — doctors, nurses, child care workers, grocery store workers. We owe it to them to wear our masks when we're on a trip to the grocery store or pharmacy," the governor declared.
Those who violate her order are subjected to a $500 misdemeanor criminal penalty.
Most Read