Kentucky Derby Winner Medina Spirit Fails Drug Test, Churchill Downs Suspends Baffert
Posted on: May 9, 2021, 09:27h.
Last updated on: June 23, 2021, 01:58h.
Medina Spirit, the longshot who gave trainer Bob Baffert his record-setting seventh Kentucky Derby win, tested positive after the race for an excessive amount of betamethasone, an anti-inflammatory steroid. Baffert made the announcement Sunday morning and denied the allegations.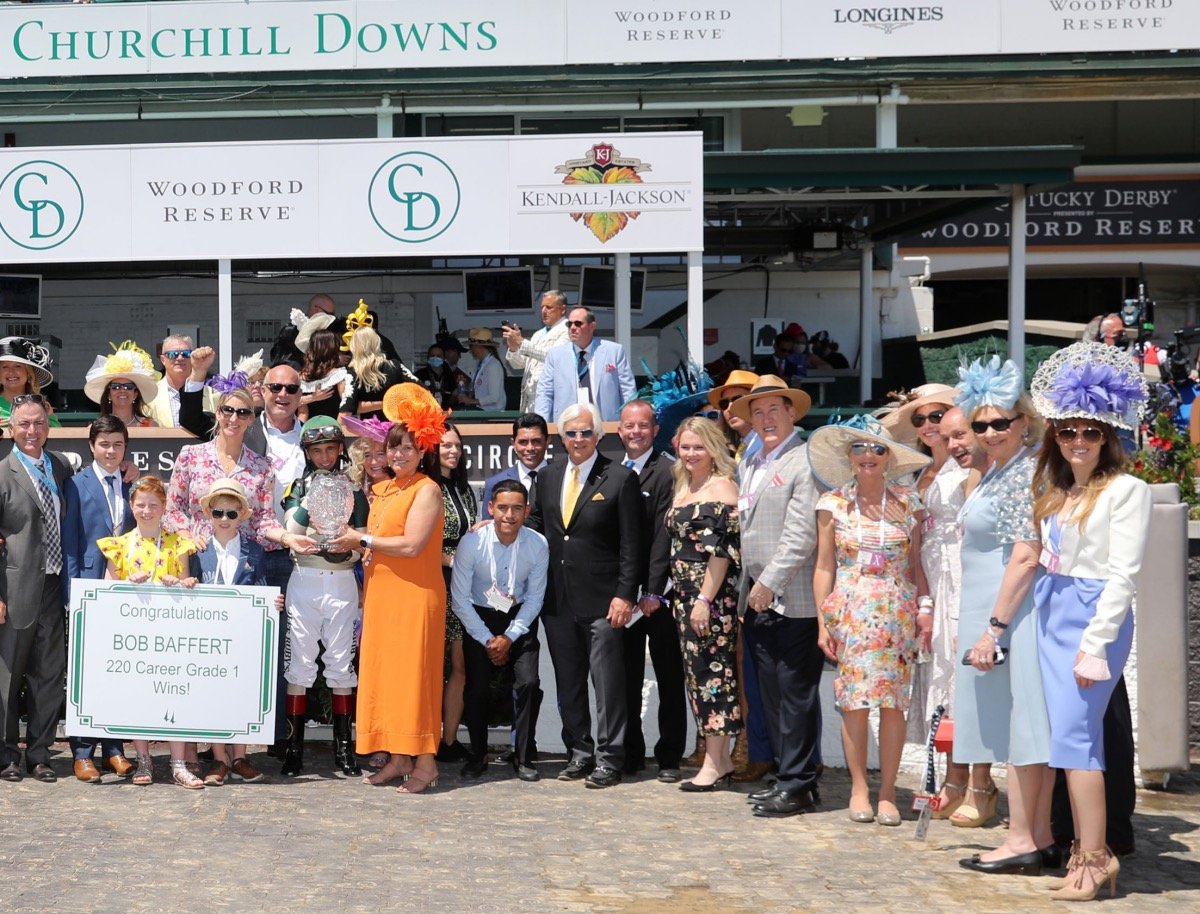 Two hours after Baffert's press conference, Churchill Downs issued a statement saying it suspended the Hall of Fame trainer from entering horses for races at the Louisville track for the time being.
"Failure to comply with the rules and medication protocols jeopardizes the safety of the horses and jockeys, the integrity of our sport and the reputation of the Kentucky Derby and all who participate. Churchill Downs will not tolerate it… We will await the conclusion of the Kentucky Horse Racing Commissions' investigation before taking further steps," the track said.
The KHRC conducted the test on Medina Spirit on Derby Day, according to a statement early Sunday afternoon. Those results came back on Friday. Baffert told reporters one of his assistants was notified of the results on Saturday.
Baffert will appeal the results. The specimen taken on Derby Day was split into two samples. A lab will now test the remaining sample as part of the appeal.
"During the investigation, both the trainer and owner of the horse will be afforded due process, and opportunity to appeal," said Marc Guilfoil, the commission's executive director. "Therefore, the KHRC will not provide further comment at this time."
If the split sample confirms the first test, then Medina Spirit faces disqualification. That would mean Mandaloun, another longshot who finished just a half-length back, becomes the official winner.
Outcome Would Not Affect Betting Payouts
Should that occur, it would be the second overturned result in the last three runnings. In 2019, stewards disqualified Maximum Security after a lengthy post-race review for interference.
In 1968, Dancer's Image won the Kentucky Derby and received the garland of roses after the race. The day after, though, officials reported that he failed a drug test. That set off a years-long court battle, ultimately leading to officials naming second-place Forward Pass as the Derby winner.
Unlike the 2019 Derby, when stewards disqualified Maximum Security prior to making the race official, any disqualification of Medina Spirit would not change pari-mutuel payouts. Medina Spirit paid $26.20 to win, $12 to place and $7.60 to show. Mandaloun paid $23 and $13.40. A $2 exacta paid $503.60.
Baffert in Disbelief
Baffert met with reporters outside his barn Sunday morning and strenuously defended his stable and his newest Kentucky Derby winner.
Medina Spirit has never been treated with betamethasone," he told reporters outside his barn at Churchill Downs. "I cannot believe that I'm here before you guys. I'd never thought I'd be here."
While often considered one of the best trainers ever, this is not the first time Baffert has faced allegations and positive tests. He has had several positive test results overturned, including just last month, when the Arkansas Racing Commission reversed disqualifications against Baffert horses Charlatan and Gamine from wins they had at Oaklawn Park last year. In this case, the trainer also avoided a 15-day suspension, but the Commission still fined him $10,000.
And earlier this year, the Kentucky Horse Racing Commission officially disqualified Gamine from her third-place finish in last year's Kentucky Oaks – also held at Churchill Downs – after a post-race test also found excessive amounts of betamethasone.
Baffert avoided a suspension, but the commission did fine him $1,500.
On the same day that Medina Spirit won the Derby, Gamine came back to Churchill Downs and won the Derby City Distaff. With that win, Baffert also earned his 220th Grade 1 stakes win, setting a new record for trainers.
There's also the case of another Kentucky Derby winner, Justify. More than a year after he won the Triple Crown, reports surfaced that he and other horses tested positive for scopolamine after winning the Santa Anita Derby. Justify needed that victory in order to qualify for the Kentucky Derby.
Earlier this year, the California Horse Racing Board decided to uphold the decision not to disqualify Justify after it was determined he and the other horses were inadvertently exposed to jimson weed, which caused the contamination.
Medina Spirit Still Preakness Bound
Baffert in his comments to reporters said he feels like he and his horse are victims, and it would be "an injustice" to Medina Spirit if he ends being disqualified.
I don't know what's going on in racing right now, but there's something not right," he said. "And I don't feel embarrassed. I feel like I was wronged."
The test, according to Baffert, showed 21 picograms of betamethasone in Medina Spirit's system. Under KHRC rules, nine milligrams of the anti-inflammatory can be administered in a single artery up to seven days before the scheduled post time of the race. The commission's guidelines recommend a longer period for muscular injections.
In appealing the positive test, Baffert also said his barn would conduct its own review. He pledged to "be transparent" with the KHRC.
He, like the animal welfare advocates, also called on the sport to clean up its game.
"Our industry needs to step up and we need to do a better job in racing," Baffert said. "There's something wrong right now. I've been talking about it. Nothing seems to be going done about it, but these contamination levels… and I'm not a conspiracy therapist. I know everybody's not out to get me, but there's definitely something wrong. Why does it happen to me? You know, there's problems in racing, but it's not Bob Baffert."
Still, he understands because of the track record mentioned above, the scrutiny he faces. But he added that should the split test come back negative, then he hopes reporters cover that as vociferously as Sunday's news.
Baffert now faces a week of even more scrutiny, as he will still take his Derby winner to Baltimore for Saturday's Preakness Stakes, the second jewel in the Triple Crown.