Dale Earnhardt Jr. Finishes Career with 25th-Place Finish
Posted on: November 20, 2017, 09:06h.
Last updated on: November 20, 2017, 11:58h.
Iconic NASCAR driver Dale Earnhardt Jr. completed an 18-year career on Sunday, finishing 25th at the Ford EcoBoost 400 in Miami. The 43-year old announced his retirement from competitive racing on April 26.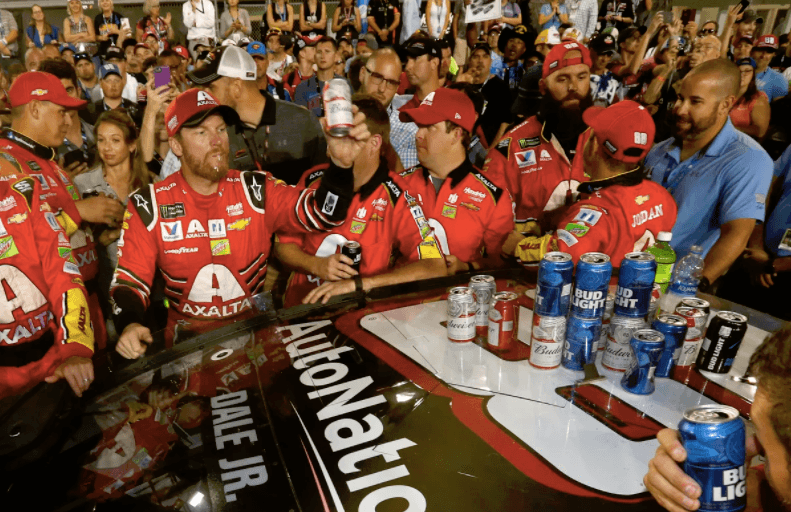 The season was a disappointment for the son of one of the most famous drivers ever. He didn't win a race the entire season and failed to capture the season series, a prize that eluded him throughout his nearly two decades in the sport.
But he didn't dwell on his shortcomings, instead he looked back fondly on his time on the track. He was victorious 26 times, including two Daytona 500 titles.
"When I was little, I didn't think I'd win the Daytona 500," he said. "I didn't think I would have the fortune to be around the people that I've been around. And to have done what I've done, inside the car or outside the car, never would have dreamed it. Never."
Easy Decision to Retire
Walking away from NASCAR was an easy conclusion for Earnhardt. He sat out half of last year with a concussion and fears of getting another one or having long-term symptoms from that type of injury was part of the reason to retire.
"I missed a few races last year and during that time I had to face the realization that my driving career may have already ended without me so much as getting a vote at the table," he said. "Of course, in life we're not promised a vote and that's especially true in racing."
Frustrating Season
Earnhardt was always a favorite of both fans and sportsbooks but disappointed those who wagered on him this year. Before he decided to hang it up he was a 3-1 favorite to win the Daytona 500 in February but an accident on Lap 106 knocked him out of the race in 37th.
In March at the Kobalt 400 in Las Vegas he was a 12-1 pick but finished fifth, one of his best results of the year.
He had little chance of winning the NASCAR Cup Championship this year. He began the year as a 12-1 selection but never finished high enough to amass enough points to make a serious challenge. He slid to 25-1, but was realistically out of the running by the end of summer.
Sunday's race was emotional and largely ceremonial for the No. 88 driver. Before the start, members of every pit crew gave him a high five as he drove his car through pit row to the starting line. He was a 66-1 choice to win and never challenged, ending in 25th.
As he pulled into his spot to be greeted by his crew they had beverages waiting and they celebrated, rather than mourned, his final ride.
"I told them a couple weeks ago, the only thing I care about really is finishing all the laps and pulling down pit road and getting out of the car and having a beer with my team," Earnhardt said. "These are my brothers, and we're very close, and I want to just have a moment with them before I leave and go home."
Latest Casino Stocks:
Retrieving stocks data...
Retrieving stocks data...
Retrieving stocks data...
Retrieving stocks data...
Retrieving stocks data...