Las Vegas Strip Approves Magician's Tiger-Free Tent Show
Posted on: April 19, 2023, 06:30h.
Last updated on: April 19, 2023, 06:33h.
The Clark County Board of Commissioners on Wednesday approved a magic show by Jay Owenhouse to operate in a tent across the Las Vegas Strip from Mandalay Bay. The special-use permit allows Owenhouse to prestidigitate for 13 months in a temperature-controlled tent erected on the proposed site of the SkyVue Las Vegas Ferris wheel, a project that has sat unbuilt and abandoned since 2011.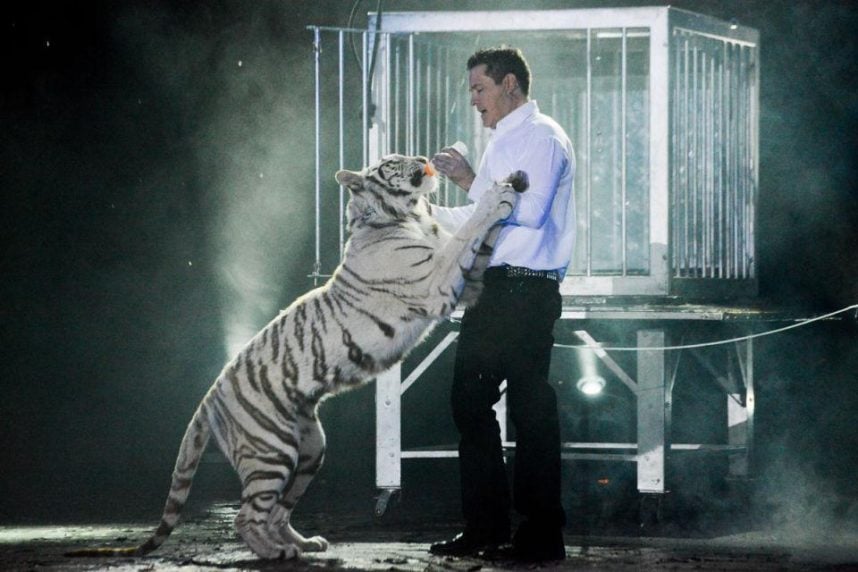 Owenhouse — an escape artist who has been featured on the TV shows "Master of Illusion" and "Magic on the Edge" — tried to launch a tented magic show at the same location in 2020, when he proposed it with three tigers. That plan was initially approved by the county but was scrapped when the land fell into foreclosure.
In January 2022, after Owenhouse applied for a second permit to stage his magic show — this time near Paradise Road and Convention Center Drive — he withdrew the request because the tigers drew opposition from People for the Ethical Treatment of Animals (PETA) and other animal welfare groups. Owenhouse also reportedly learned that county staff members no longer supported it.
A letter, submitted to the county last month by Owenhouse's attorney, describes his current show as a family affair that includes Owenhouse's four children — John, Peter, Julian, and Christina — working behind the scenes and on stage. A footnote states that Owenhouse "will not be using live animals in the magic shows."
The permit application did not indicate a starting date for the show, and Owenhouse did not return messages sent by Casino.org this morning. PETA had something to say about the development, however.
"This exhibitor had to recognize that today's public doesn't want to see tigers or any other wild animals confined and exploited for shows," read a statement from director of captive animal welfare Debbie Metzler. "PETA is celebrating his decision to give an animal-free performance while urging him to retire the tigers he's still holding captive to a reputable sanctuary, where they could live in peace and never be forced to perform again."
Another magician known for working with big cats, Dirk Arthur, had his show canceled by Notoriety Live at Fremont Street's Neonopolis before it opened in August 2022.