Arizona Tribal Casino Gets Final Approval, Gambling Venue Within Close Proximity of NFL Stadium
Posted on: July 24, 2017, 04:00h.
Last updated on: July 24, 2017, 03:35h.
A tribal casino in Glendale, Arizona, operated by the Tohono O'odham Nation, can move ahead with its $400 million expansion and transform the Class II facility into a full-fledged gambling venue with slots and table games. That comes after the US Department of the Interior (DOI) approved changes to the gaming compact between the tribe and state.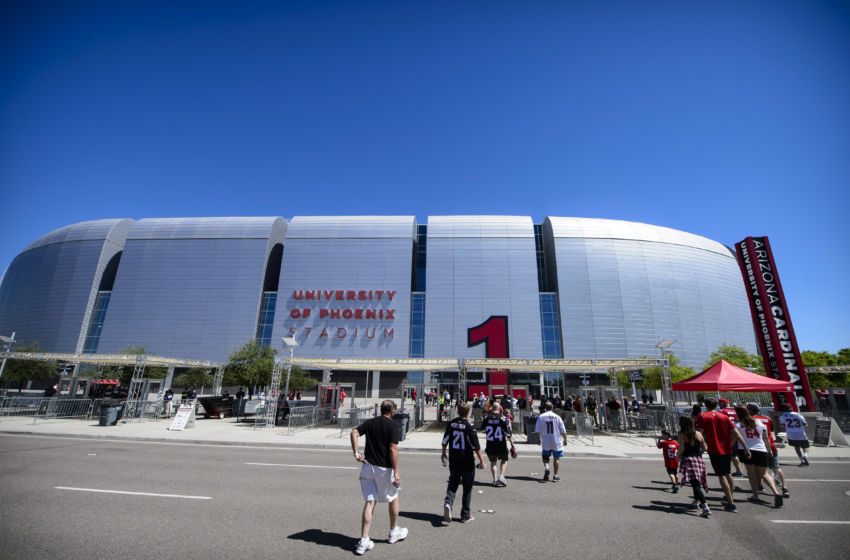 The state had been challenging whether Tohono O'odham could operate a Class III facility on ground that wasn't theirs when Arizona first established its Indian gaming compact in 2002. To resolve the conflict, the state agreed to cease its legal battle and issue a Class III permit, but in exchange, Tohono O'odham agreed not open another casino in the Phoenix metro area for a minimum of 15 years.
The DOI ruled that the terms satisfy federal Indian gaming regulations.
The Desert Diamond Casino West Valley presently sits in a temporary warehouse one mile from the University of Phoenix Stadium, home to the NFL's Arizona Cardinals. The casino now offers over 1,000 electronic bingo machines.
The $400 million expansion will include the addition of 1,089 traditional slot machines, 75 table games, a 600-room hotel, five restaurants, and a convention center.
Casinos Moving in on NFL
In addition to West Valley, Tohono O'odham operates three other Desert Diamond casinos, two of which are full-fledged venues with slots and table games. But the tribe is going all-in on its Glendale venue, as it will benefit from being closer to the University of Phoenix Stadium.
The Cardinals' 70,000-seat facility is one of the premiere sporting venues in America. In addition to hosting at least eight NFL games and the college football Fiesta Bowl each year, since its opening in 2006, the venue has welcomed two Super Bowls, a NCAA Final Four, and CONCACAF Gold Cup.
The NFL remains strongly opposed to efforts to legalize sports betting, with Commissioner Roger Goodell standing firm that a repeal of the Professional and Amateur Sports Protection Act (PASPA) would jeopardize the integrity of the league. Regardless, 81 percent of NFL stadiums are located within a one-hour's drive of a casino.
At just a little more than a mile, the Desert Diamond Casino will be the seventh-closest full-fledged gambling venue to an NFL stadium. The closest is the Rivers Casino in Pittsburg, which is just 0.2 miles from Heinz Field, home of the Steelers.
Naming Rights
Earlier this year, the University of Phoenix announced it was removing its name from the stadium, meaning the state-owned facility needs a new company to spend millions of dollars for naming rights.
The Gila River Indian Community, owners of three casinos some 20 miles southeast of Glendale, expressed interest. But NFL policy prohibits franchises from "participating in or condoning any form of gambling."
It's unclear if Gila River is still interested, or if the Tohono casino positioned just outside the stadium has made that sponsorship less attractive. Gila River already has its name attached to the Arizona Coyotes' arena, which is adjacent to University of Phoenix Stadium.