Five New Las Vegas Restaurants to Try Since Your Last Visit
Las Vegas can be addictive! There's always something new to see or drink or eat, some new rule to break and some inhibition to sent home crying to its mommy. If you ask us, enough Las Vegas is never enough, and that's especially true when it comes to new restaurants.
In recent weeks, there's been a virtual cavalcade of new restaurants opening on The Strip, so here's a quick, completely inadequate look at five new spots to try the next time you're in Las Vegas.
1. Rx Boiler Room at Mandalay Place
This new restaurant and bar comes from Chef Rick Moonen, and it's above his popular RM Seafood at Mandalay Place in the Mandalay Bay. The "Rx" in the name is pronounced "Rick's," by the way.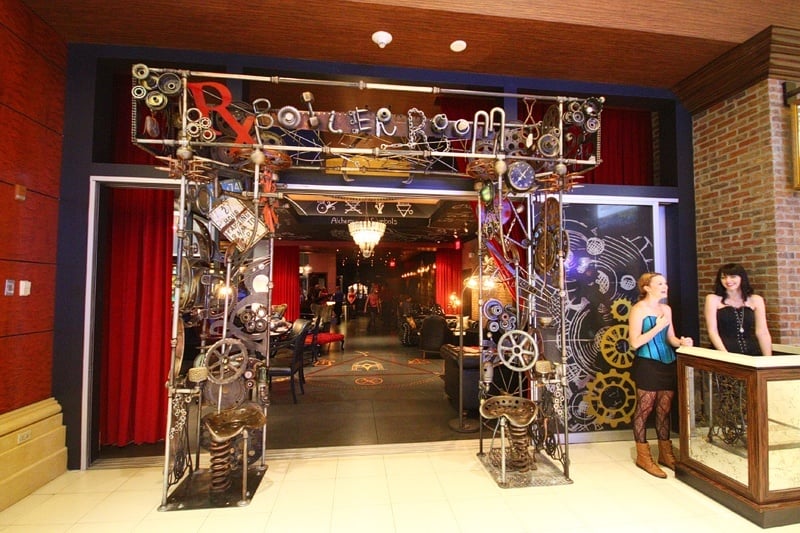 The joint is described as a "steampunk-inspired restaurant and lounge, with decor reminiscent of industrialism during the 19th century Victorian era." Translation: It's a new restaurant and bar.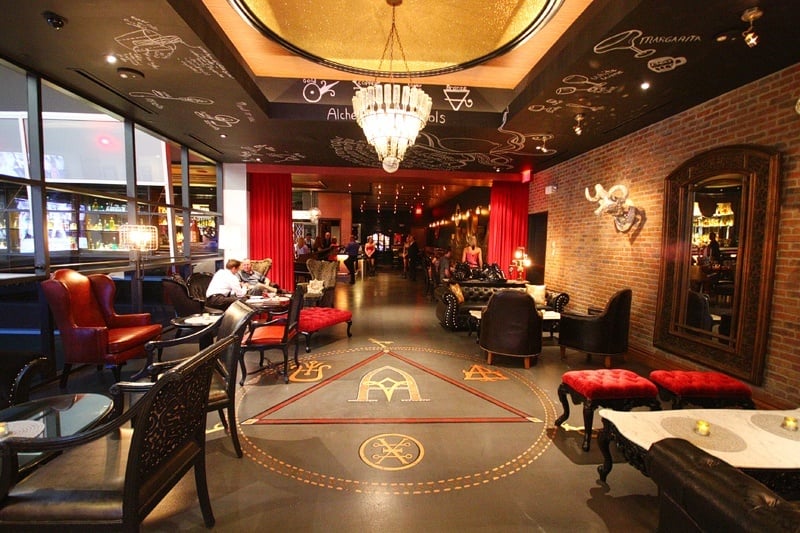 We wouldn't know a "steampunk" if we tripped over one, but the place has a comfy vibe, and that's the only excuse we need to hang out and try some cocktails and grub. Here's a quick look at the menu.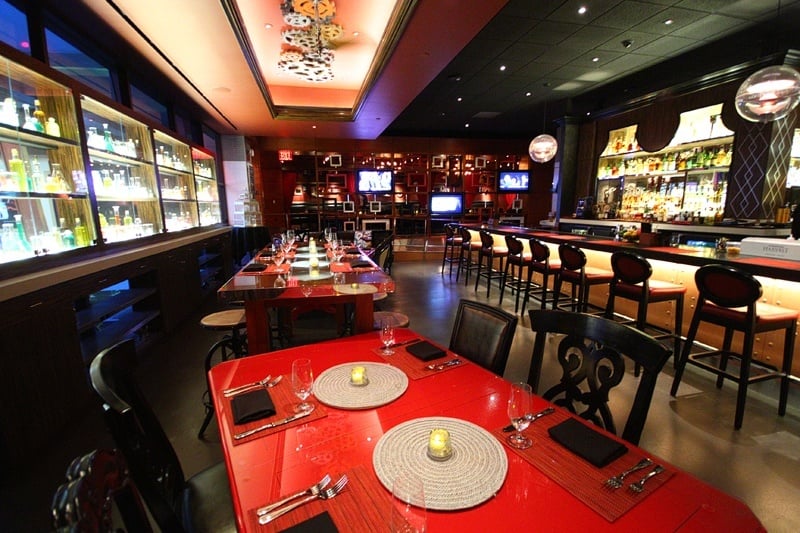 2. Kumi at Mandalay Bay
Nearby is a new Japanese offering, Kumi. Kumi comes to Mandalay Bay courtesy of acclaimed chef Akira Back, and by "acclaimed," of course, we mean "we've never heard of him, but he's probably a very nice person."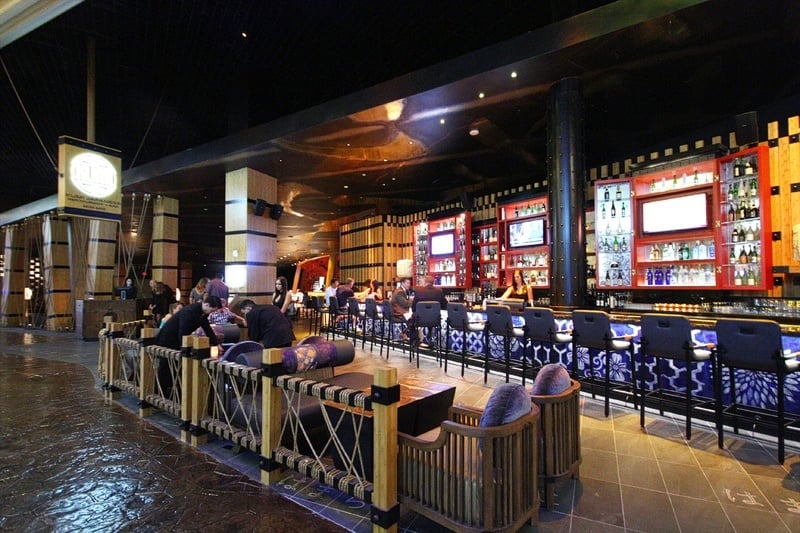 Seriously, though, Chef Back is the chef behind the popular Yellowtail restaurant at Bellagio, so Kumi is a pretty good bet, right off the bat. Here's the Kumi site.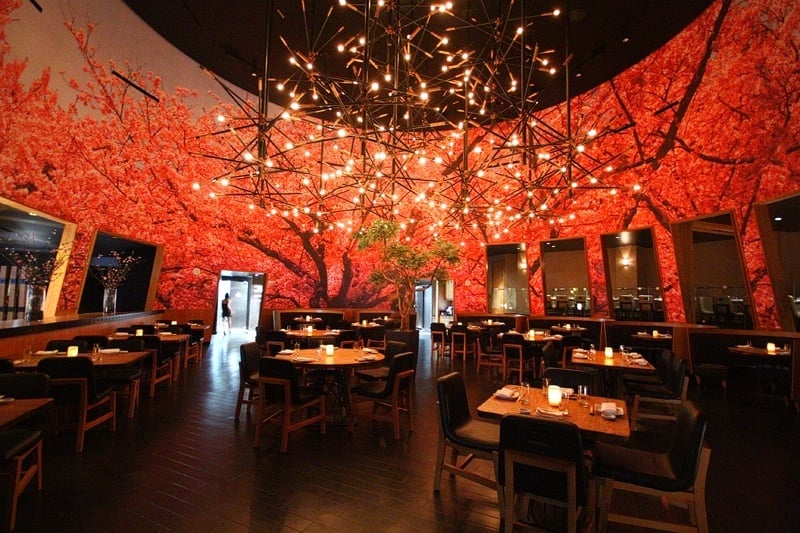 Here's a peek at the Kumi menu. It's Japanese, but with a Korean-American twist. You really can't be a Las Vegas restaurant without a twist. Or without "elevating" something or taking part in some "game-changing." It's the law.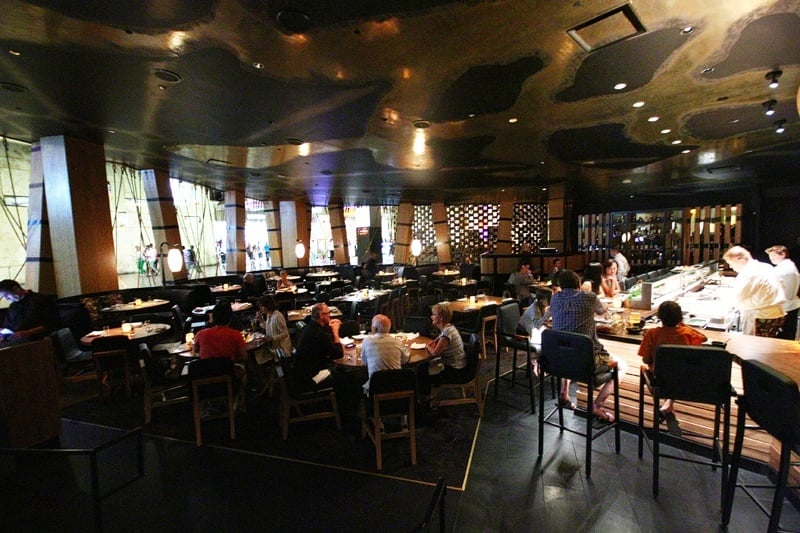 3. Five50 Pizza Bar at Aria
Finally, food on The Strip even a lowly Las Vegas can afford! It's Five50 Pizza Bar (again, emphasis on the bar) at Aria.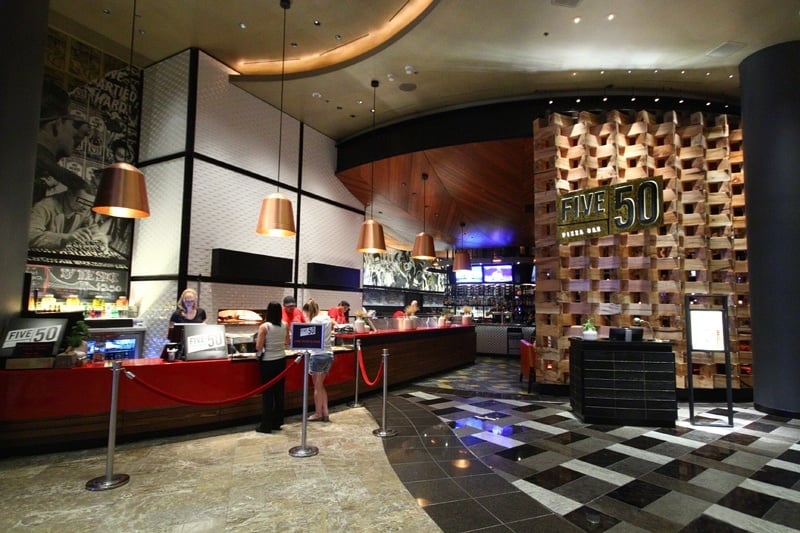 The East coast, thin crust pizza is delicious, and the atmosphere is laid back and casual. Which might mean the same thing. Let's keep moving.
We tried the margherita pizza, as it tends to be the classic Italian pizza by which all others are measured. A little crispy, a little chewy and very satisfying, hangover-preventionwise.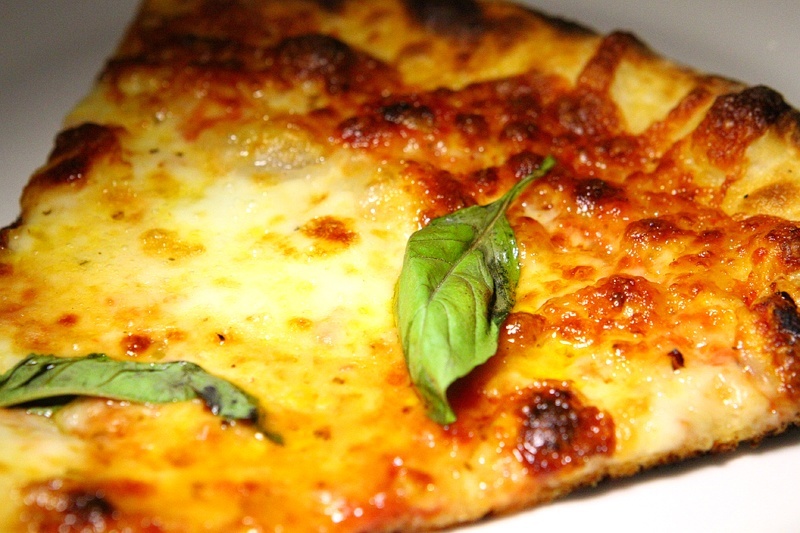 Slices are $5 a pop, and signature pizzas include the Gotham, Forager, North Beach, Farmstead, Sicilian, Truffle and Blanca. Here's a fairly poor photograph of the Five50 menu.

4. Pub 1842 at MGM Grand
Pop quiz. Why would a pub name include the number 1842? Well, that's the year Pilsner beer was invented, and it sort of captures the spirit of the new Pub 1842 at MGM Grand. Because there's beer.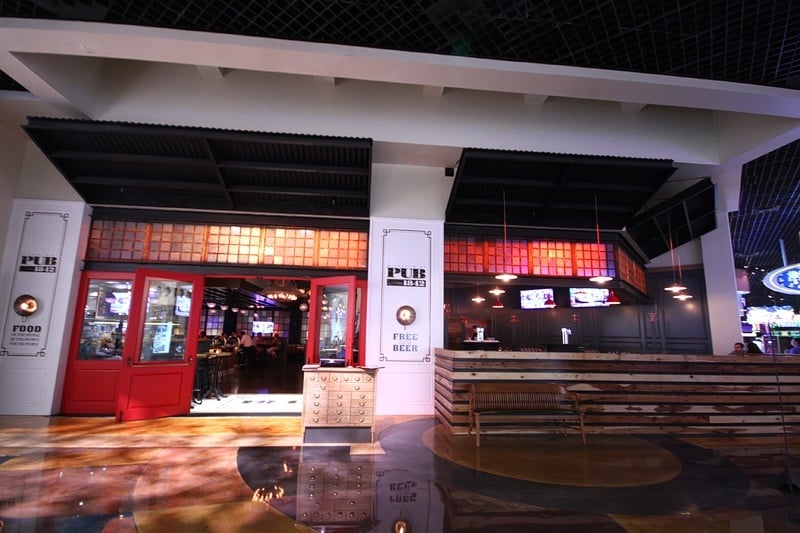 One of the first things you notice about Pub 1842 is it has tabletop beer taps (see below). You get to serve yourself, but unlike other situations when you try that, you won't get hair on your palms.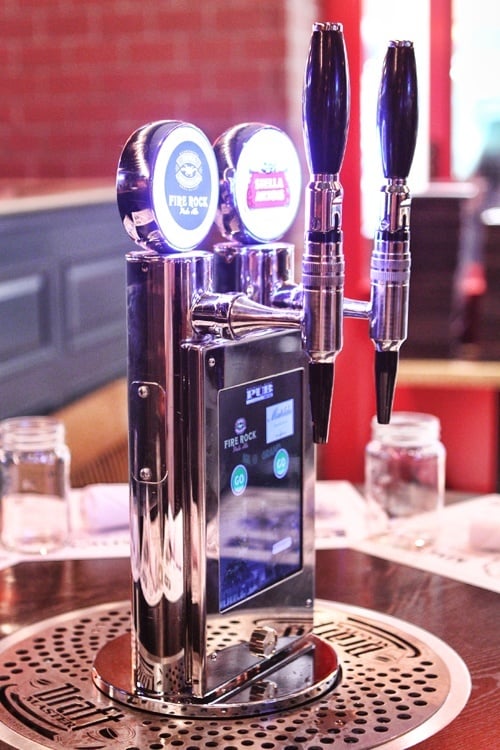 Not surprising, since Pub 1842 is the brainchild of an accomplished chef, the food is in plentiful supply, with a range of appetizers, chili, salads, burgers, sandwiches, steaks, BBQ and entrees like the Grilled Yellow Fin Tuna, an Organic Half Chicken, Apricot Glazed Salmon and one we're dying to try, the Baked Ziti Pie.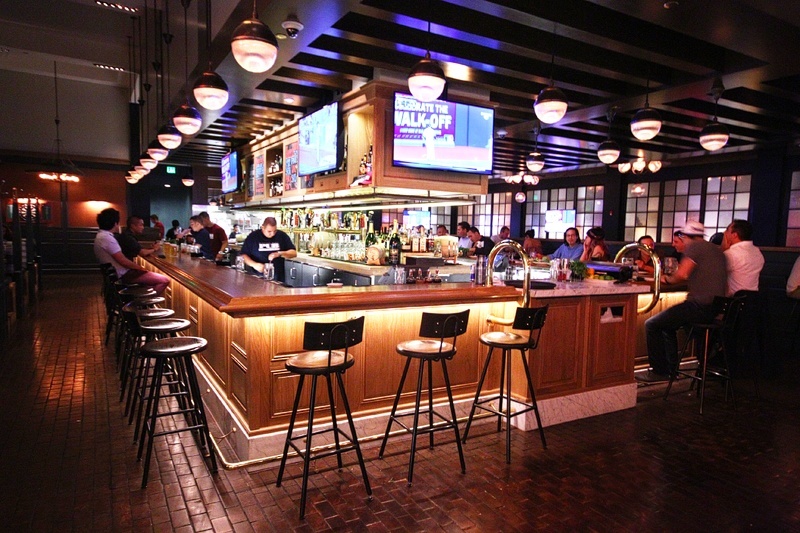 Here's the menu at Pub 1842, captured with our usual attention to not being very good at photographing menus.
5. Tom Colicchio's Heritage Steak at Mirage
Tom Colicchio, our favorite non-model "Top Chef" judge, recently opened Heritage Steak at The Mirage.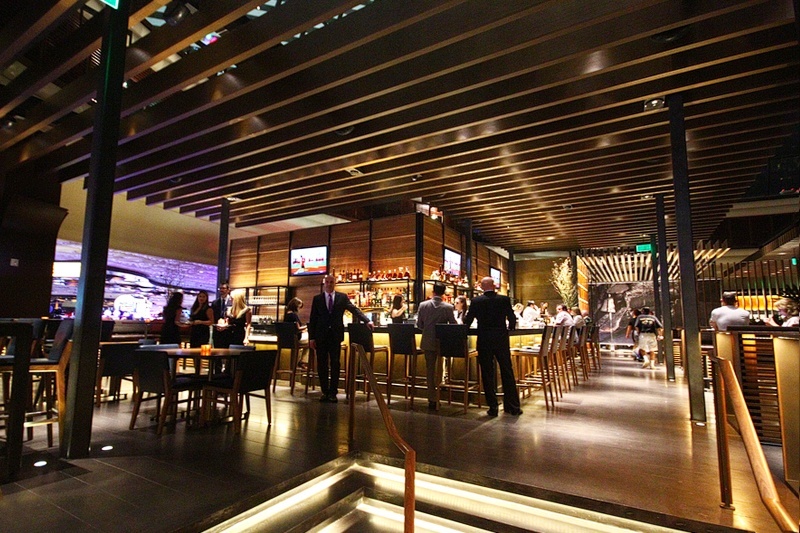 We'd love to be able to show you more photos of this much-anticipated restaurant, but on its opening night, we were informed no photos would be permitted. Apparently, there's some sort of top secret steak business going on at Heritage Steak.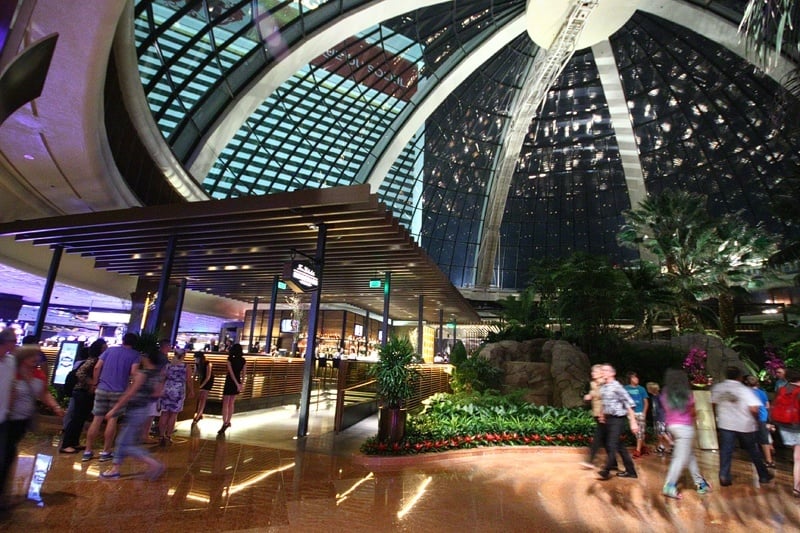 Don't worry, we'll breach security and grab some additional photos soon.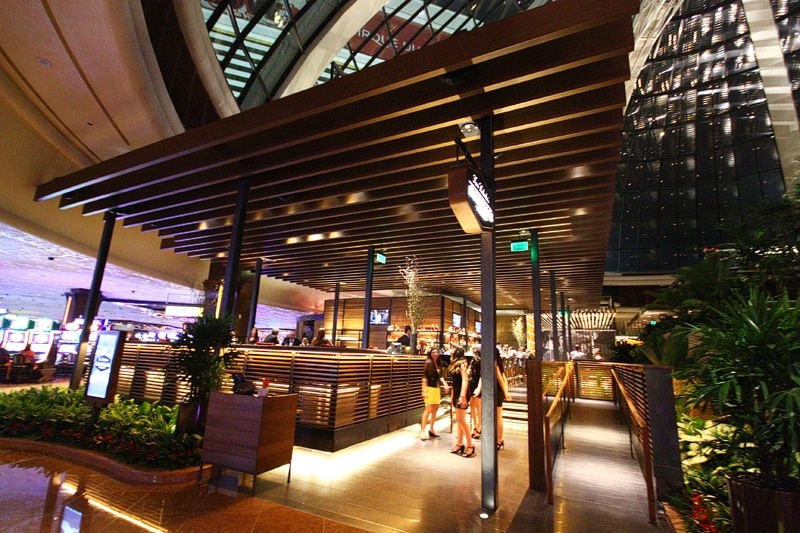 Tom Colicchio's Heritage Steak was designed by Bentel+Bentel, one of the most acclaimed design firms ever, if you get our drift. Whether we recognize the name of the design firm or not, the place is striking, at least the parts we've seen.
So, we've covered a lot of ground and used up a lot of pixels, but hopefully, you'll have a few new Las Vegas restaurants to check out during your next visit. Let us know where your Las Vegas adventure takes you.