Double Ball Roulette at Tropicana: A New Way to Play a Classic Casino Game
There's a new way to play roulette, and it's spicing up what is perhaps the best-known of all casino games.
Double Ball Roulette recently made its debut at the Tropicana as part of a "field test" required by the Nevada Gaming Commission prior to the game being more widely available.
This new take on roulette is familiar enough to keep it from being daunting. It's traditional "American" (0-00) roulette, but with two balls rather than one, plus new bets, different payouts and an added bonus: Players get to remotely control when the balls are dropped onto the wheel.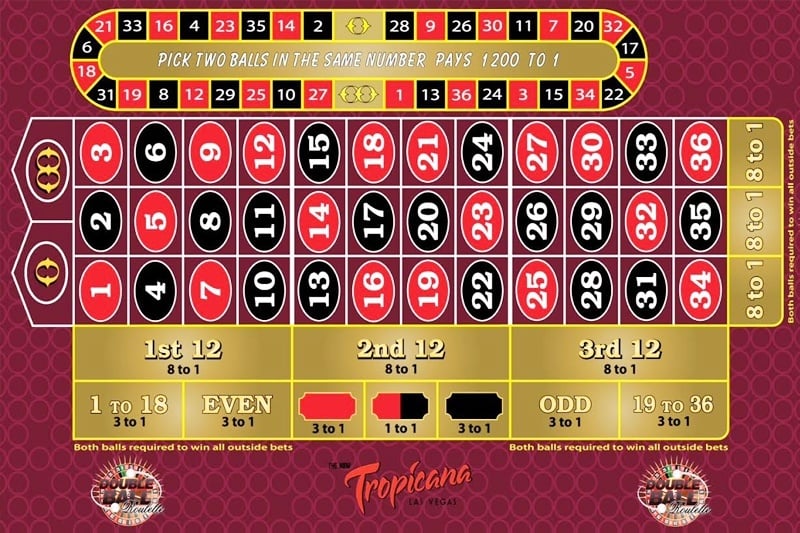 The look of the layout isn't dramatically different from traditional roulette, except for a side bet that pays off if both balls land on the same number. This bet pays 1,200-to-1. Two balls land on one number roughly once every 38 spins, so it's not too uncommon. The chances of picking that number when it hits, though, is 1-in-1,444.
Beyond differences in the layout, you'll know you're at a Double Ball Roulette table because of an eye-catching addition to the wheel itself. The balls are shot with compressed air through a tube (see photo, below), as opposed to being spun by a dealer.
A wireless remote is circulated around the table, and players get to press a button to release the balls. We love this new element of the game! Anything to make a table game more interactive, we're up for it.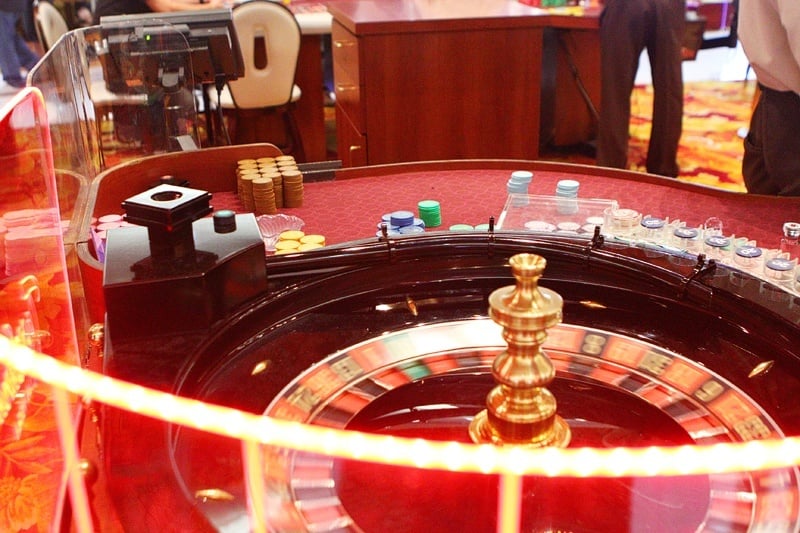 Of course, this remote control doubles as an ingenious way to keep players at the table longer, awaiting their turn to hit the button, just as craps players stay at the table longer awaiting their next roll of the dice.
We'd love to show you the remote button device, but photos are forbidden in casinos. Ha, ha. That jokes never gets old. This Las Vegas blog doesn't live by society's rules.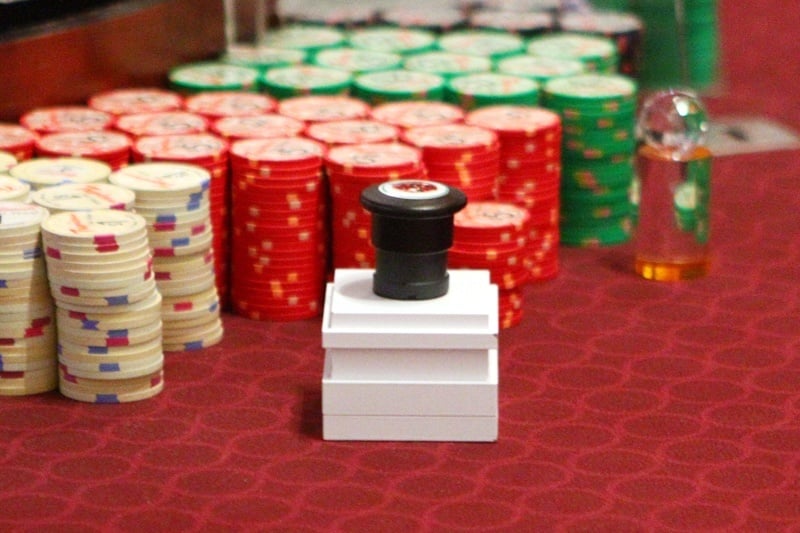 Because there are two balls, one might conclude there's double the chances of winning on any given spin. While that's true, a closer look at the payouts shows the casino isn't giving up anything extra. In fact, it's taking a little more of a commission for all the fun we're having.
For example, in traditional roulette, a win on a straight up number pays 35-to-1. In Double Ball Roulette, a straight up number pays 17-to-1. (Two balls, two resulting numbers, roughly half the payout.) So, in its payout, the casino gets a little extra something by rounding down.
For a single number, the house edge is 5.33% in Double Ball Roulette. In traditional roulette, it's 5.26%. So, not much worse, and there's definitely no bet in traditional roulette that pays 1,200-to-1.
Check out all the probabilities for this new game over at Wizard of Odds, and all the pay tables at the Double Ball Roulette site.
The Double Ball Jackpot seems unlikely, but during the first 16 days of Double Ball Roulette's operation at Tropicana, the jackpot has hit nine times. An individual player, in fact, won three times. On the same day.
Oh, and yes, there's room for two balls in any of the wheel's number "pockets." Double Ball Roulette uses a traditional roulette wheel.
Some of the other bets and payouts take a little getting used to. Two numbers, split, pay 8-to-1. Three numbers (a line) pay 5-to-1, four numbers (a corner bet) pays 3-to-1. Five numbers (called "first five," otherwise known as a basket bet) pays 5-to-2, and six numbers (line) pays 2-to-1.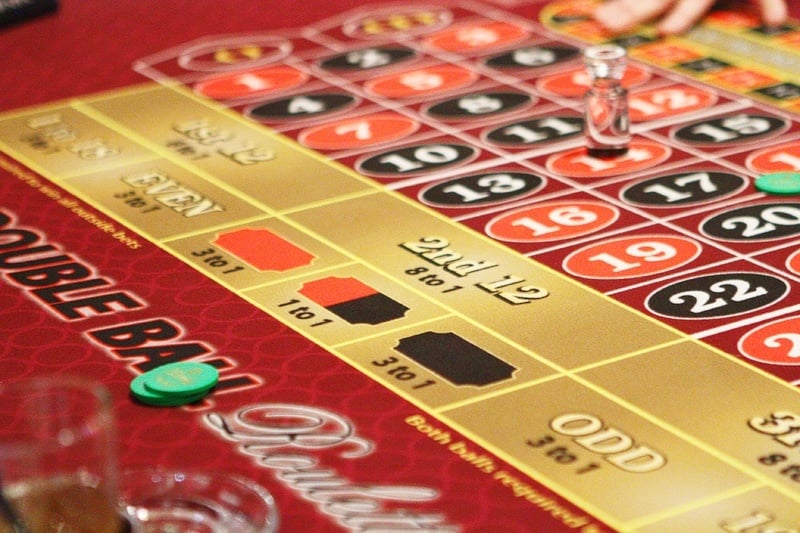 It only takes a minute to get used to two results for each spin. The dealer uses two dollies (or markers) on the layout, and a video display shows both winning numbers overhead.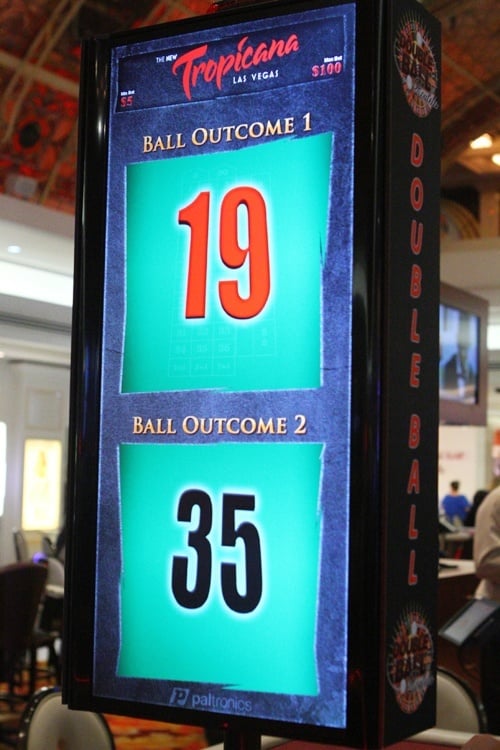 Overall, Double Ball Roulette brings some new twists to a vintage casino game. Roulette tends to get a little repetitious at times, so we find this new take refreshing.
Hardcore roulette players might opt to skip the novelty of Double Ball Roulette because of its slightly higher house advantage on certain bets, but for the recreational player, it's a fun variation we hope will start cropping up in other Las Vegas casinos soon.
Get more details about the game at the official Double Ball Roulette site, as well as some enticing hints about future prize possibilities (how cool would it be to win a jet ski at a roulette table?) which will really make this game stand out among table games.
If you get a chance to play Double Ball Roulette, let us know what you think! And while you're sharing your thoughts in the comments, please feel free to also share your shock at the fact we didn't make even a single "ball" pun in this entire blog post. It's called maturity, thanks.