The Complete List of Everything That's Changed in Las Vegas Since Your Last Visit
If you haven't visited Las Vegas in awhile, a lot has changed. We've gathered all the changes that matter into one blog post because: 1) we're awesome, 2) you have a short attention span.
We've selflessly explored the length and girth of the world's most exciting city, so let's see what surprises she has in store. Yes, Las Vegas is a she. (No Adam's apple.)
Same Sex Marriage is Legal
It's taken some time, but Nevada has gotten a clue and same-sex marriage is now legal. This means Las Vegas will open its arms to gay and lesbian couples, and by "arms," of course, we mean cash registers. Because Las Vegas.

Bottles Are Banned on The Strip and Downtown
New ordinances now ban glass bottles on the Las Vegas Strip. Crazy, right? Well, not so much if you consider there have been dozens of incidents where bottles were broken and used as weapons on Las Vegas Boulevard. Bottles and cans have also been banned in downtown Las Vegas.
While safety concerns are a big part of these new bans, they're also intended to help cops enforce package liquor laws. Banning original liquor containers helps the police discern between legally purchased beverages and those consumed illegally from package liquor stores. So, make sure your liquor is in a plastic cup.

Flamingo Has a New, More Awkward Wrap
Flamingo Las Vegas has a new building wrap, and it's a doozy. The Flamingo has inadvertently blown up the ongoing Donny and Marie feud (they don't speak offstage, unless they're on camera), literally. The two barely interact during their show, and that distance is reflected in the Flamingo's new building wrap. The siblings are on separate sides of the billboard, each doing their own thing, just as they do in their personal lives. Why do they still do a show together at all? It's all about the aforementioned cash register, baby.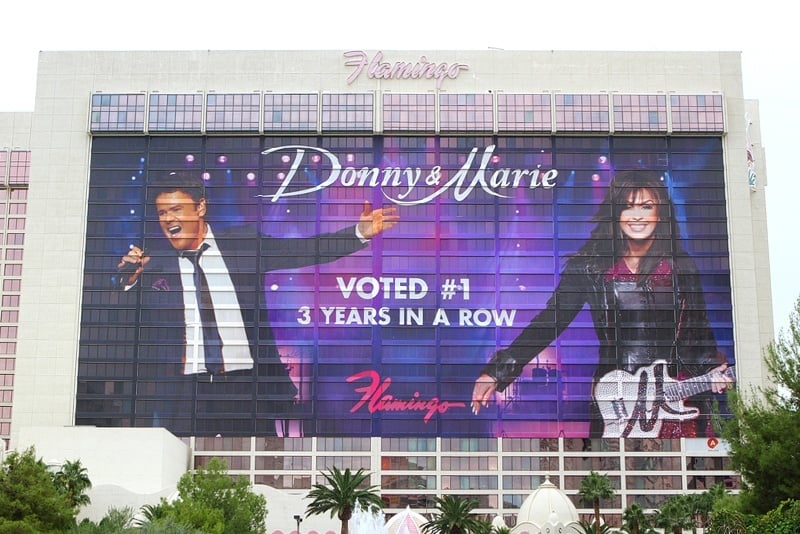 There's a New Downtown Las Vegas Events Center
A block off Fremont Street Experience, a new entertainment venue has opened, the Downtown Las Vegas Events Center. The site is the former location of downtown's courthouse, purchased by Derek Stevens, owner of The D Las Vegas. The Downtown Las Vegas Events Center has already hosted a number of events, including a displaced birthday bash (due to a hurricane) for Sammy Hagar.

Construction of the MGM-AEG Arena is Under Way
The site of the new arena behind New York-New York is bustling with activity. The arena will have 20,000 seats, will cost $350 million and is expected to create traffic jams lasting longer than the Pliocene Epoch.

Here's another bird's-eye view of the MGM-AEG arena. The arena will be completed in spring of 2016. Right around 4:15 p.m. Or whenever all the union guys come back from their breaks.

Ditto the Site of Rock in Rio USA
Construction has also begun on MGM's Rock in Rio open-air concert venue. Rock in Rio is one of the world's largest music festivals. The venue is located at the corner of Sahara and Las Vegas Boulevard, across from SLS Las Vegas (formerly the Sahara).
The first wave of acts at Rock in Rio USA have been announced, including Metallica, Linkin Park, Taylor Swift, No Doubt, Deftones and John Legend.

Rock in Rio takes place May 8-9, 2015 and May 15-16, 2015. Oh, and this is new since your last visit, too. There's a giant guitar at the Rock in Rio USA site, so you sort of can't miss it. Our friends at Vegas Chatter made an interesting discovery near the site, too.

Harmon Hotel's Coming Down
The ill-fated Harmon Hotel is being taken apart, piece by piece. Work stopped on the Harmon Hotel, part of CityCenter, in 2008 due to construction defects. Since then, it's been a glorified billboard. The building's windows have been removed, and now crews are dismantling the building.

Bally's Grand Bazaar Shops is Happening
The Grand Bazaar Shops at Bally's Las Vegas are nearing completion, and optometrists across Las Vegas are applauding the shopping center's design. Because of the increased business. If you get our drift.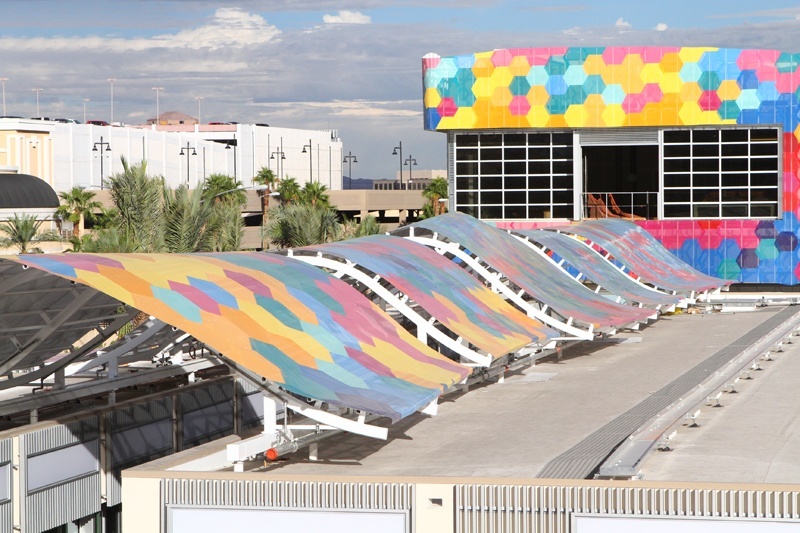 Grand Bazaar Shops at Bally's is expected to open before the end of 2014.

A Metric Ass-Ton of Restaurants Have Closed or Opened
There's been a lot of activity in the world of Las Vegas restaurants since your last visit. Here's a quick overview of the changes, which we're betting is your favorite kind.
The Perch has opened at the Downtown Container Park. It's pretty good, even without the qualification "for being in a shopping mall fashioned from shipping containers."

Martorano's has opened at Paris Las Vegas. Rumors are that Rio Las Vegas (where there's been a Martorano's for some time) has either been sold, or soon will be, and this was Steve Martorano's chance to jump ship before the sale is announced. Not that we'd ever share an unverified rumor, of course.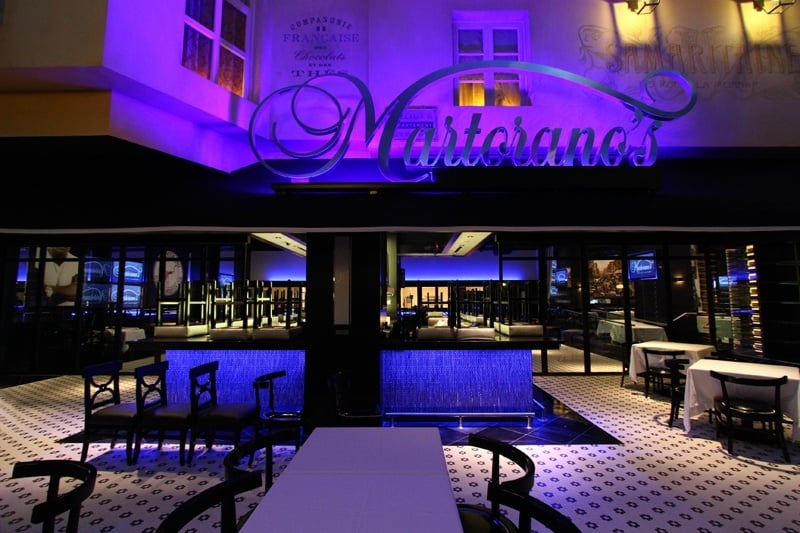 Fulton Street Food Hall has opened at Harrah's Las Vegas. It's better than your average food court, so it's definitely worth a try if you're at Harrah's.

Yong Kang Street, an Asian offering, has opened at Paris Las Vegas, in a carved-off section of the hotel's Café Ile St. Louis.

Another Asian restaurant, Lao Sze Chuan, has opened at the off-Strip Palms. And, yes, we drove all the way over there to get a photo for you. And to donate our paycheck to a certain Top Dollar slot machine. But mainly that first thing.

If you're looking for the Bally's Steakhouse, you missed the boat. It closed and has been replaced with BLT Steak. The new steakhouse doesn't have the charm of the former establishment, but it's nearly twice as large as the Bally's Steakhouse and has a full bar. The hotel was smart enough to keep the restaurant's Sterling Brunch, so there's that.

There are lots of restaurant changes on the horizon, too. Osteria del Circo has closed at Bellagio, and another restaurant we can't afford, Lago by Julian Serrano, will takes its place in March 2015.
Also coming to Las Vegas are three Wahlburgers restaurants, as well as Ramsay Fish & Chips at the Linq shopping mall. Oh, and Uncle Joe's Pizza has closed on Fremont East after 18 years. Read more.
Lion's Share at MGM is No More
The most famous of all slot machines, the Lion's Share at MGM, hit big since your last visit and the machine has been shipped off to the jackpot winner. The Lion's Share jackpot was $2.4 million. Honestly, though, the value of the machine in Vegas lore value made it worth infinity.

Dim-Witted People Can Register a .Vegas Domain Name
You can now register domain names with a .vegas extension. Like most novelty "top-level domains," registering a Web site with a .vegas extension is sort of dopey and useless, but it's something new, so we sort of had to include it here. Journalist Steve Friess did a great job of explaining why the whole thing is a racket.

Wow, you're still with us. Maybe your attention span is pretty good after all. Moving on!
Pure Nightclub is Gone, Omnia Nightclub is Coming
Pure Nightclub at Caesars Palace was the hottest night spot on The Strip for a few minutes, but like most things in Vegas, it was time to upgrade. Pure has closed, and is in the throes of a major renovation. A new nightclub is in the works, and the name will be Omnia. Omnia will be operated by the folks at Hakkasan Group.
Ask your doctor is Omnia is right for you.

In other nightclub news we don't care about, Haze nightclub closes at Aria on Nov. 1, 2014. The club's operator, Light Group, says a new club concept is coming in 2015, which means it will be a dramatic departure from Haze, specifically, the name will probably be different by several letters.
The Quad Resort and Casino is Becoming The Linq Hotel & Casino
The Quad has changed a lot since your last visit, and as of Oct. 30, 2014, it'll change so much it won't be The Quad at all anymore, but rather The Linq Hotel & Casino, not to be confused with The Linq outdoor shopping promenade. Possibly.
The new Linq Hotel is getting a fresh coat of paint, so don't be alarmed if you don't recognize it at first. (Flourishes left over from the Imperial Palace should help with your disorientation.) Read more about The Quad's transformation into The Linq Hotel.

The Quad's Dealertainers Have Left the Building
The Quad's "dealertainers" (blackjack dealers who also performed songs), a holdover from the aforementioned Imperial Palace, are now a thing of the past. A couple of the dealertainers found their way to the Ellis Island casino (they're being called the Ellis Icon Dealers), but, yeah, this one doesn't have a happy ending.

The Kardashians Have Been Given the Boot
You'll be broken-hearted to hear the Kardashian store at The Mirage, Kardashian Khaos, is closing Oct. 30, 2014. Thankfully, there are lots of other places to get overpriced crap in Las Vegas. That's why they invented bottle service.

There's No More The Hotel
Blink and you'll miss it in Las Vegas. The sister hotel of Mandalay Bay, The Hotel, has disappeared. The Hotel has been rebranded as Delano, a non-smoking (yay), non-gambling (boo) hotel that is said to have cost $100 million to make over.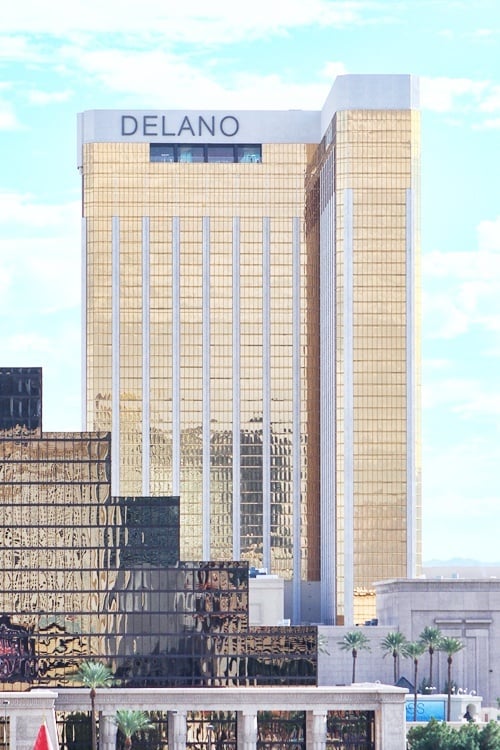 Downtown Has a Grocery Store
Yes, downtown finally has its long-awaited grocery store. Who cares? Lovers of produce, that's who.

Las Vegas Has Two Zip Lines
There's a chance that during your last Las Vegas visit, the city had zero zip lines. Now, it has two. The VooDoo Zip Line at Rio Las Vegas and SlotZilla, at Fremont Street Experience, have both opened in recent months.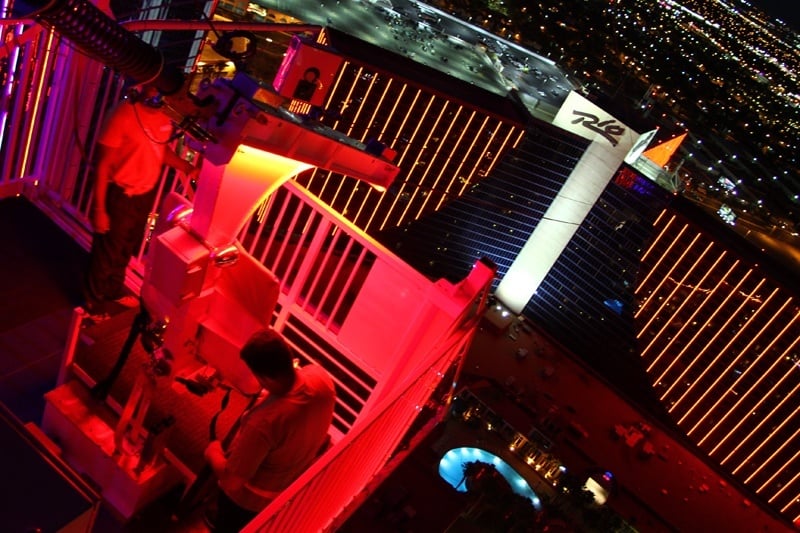 Each of the Las Vegas zip lines offer a different experience. Both provide thrill seekers a chance to get their adrenaline pumping. The SlotZilla zip line has two levels, a lower "Zipline" and upper "Zoomline," where riders go superhero-style. Our day job involves marketing SlotZilla and Fremont Street Experience, so please tell them we sent you so we'll get a private office, company car and Jacuzzi someday.

Shows Open, Shows Close, There's Drama
Nobody can keep up with all the changes in Las Vegas shows, but here are some highlights.
Frankie Moreno's show at The Stratosphere will be closing Dec. 20 after three years.

Big cat magician Dirk Arthur will be coming back to the Las Vegas Strip with a show at Riviera starting Dec. 1, 2014. Read more.

"Raiding the Rock Vault" is leaving the Westgate Hotel (formerly LVH) and moving to Tropicana starting Nov. 1, 2014. Oh, yes, lots of drama.
Magician Jan Rouven, who has performed at Riviera since 2012, is also moving to the Tropicana starting Nov. 28, 2014.
Shows moving into the Tropicana means magician Murray Sawchuck, known mostly for people not recognizing him on red carpets (oh, and for his wife, a performer in "Fantasy" at Luxor), is moving out. His show will be closing up shop at Tropicana on Oct. 30, 2014.
"Purple Reign," the Price tribute show, is no longer at The D Las Vegas, but has moved to Westgate. There will be a quiz.

A well-received show, "Limelight," is playing at The Plaza through Nov. 1, 2014. Get details.
The multi-talented Eric Jordan Young, formerly of the excellent "Vegas! The Show," has opened a new show, "Shakin'," at the Sin City Theater inside Planet Hollywood. Learn more.
Rounding out our list of show-related things that have changed since your last Las Vegas visit: The Blue Man Group pre-show parade at Monte Carlo has had its plug pulled. This was a fun way to spend 3-5 minutes on The Strip, and the procession will be missed.

So, that's about everything that's changed in Sin City since your last visit. It's a lot of news to take in, but trust us, it's even more challenging to gather and ineptly regurgitate.
There's always something new in Las Vegas! What changes surprise or dismay you? We'd love to hear. Especially the dismay. That's usually funnier.