Want to Spend New Year's Eve in Las Vegas? Bring Plenty of Cash
Posted on: December 30, 2013, 05:54h.
Last updated on: February 4, 2015, 07:47h.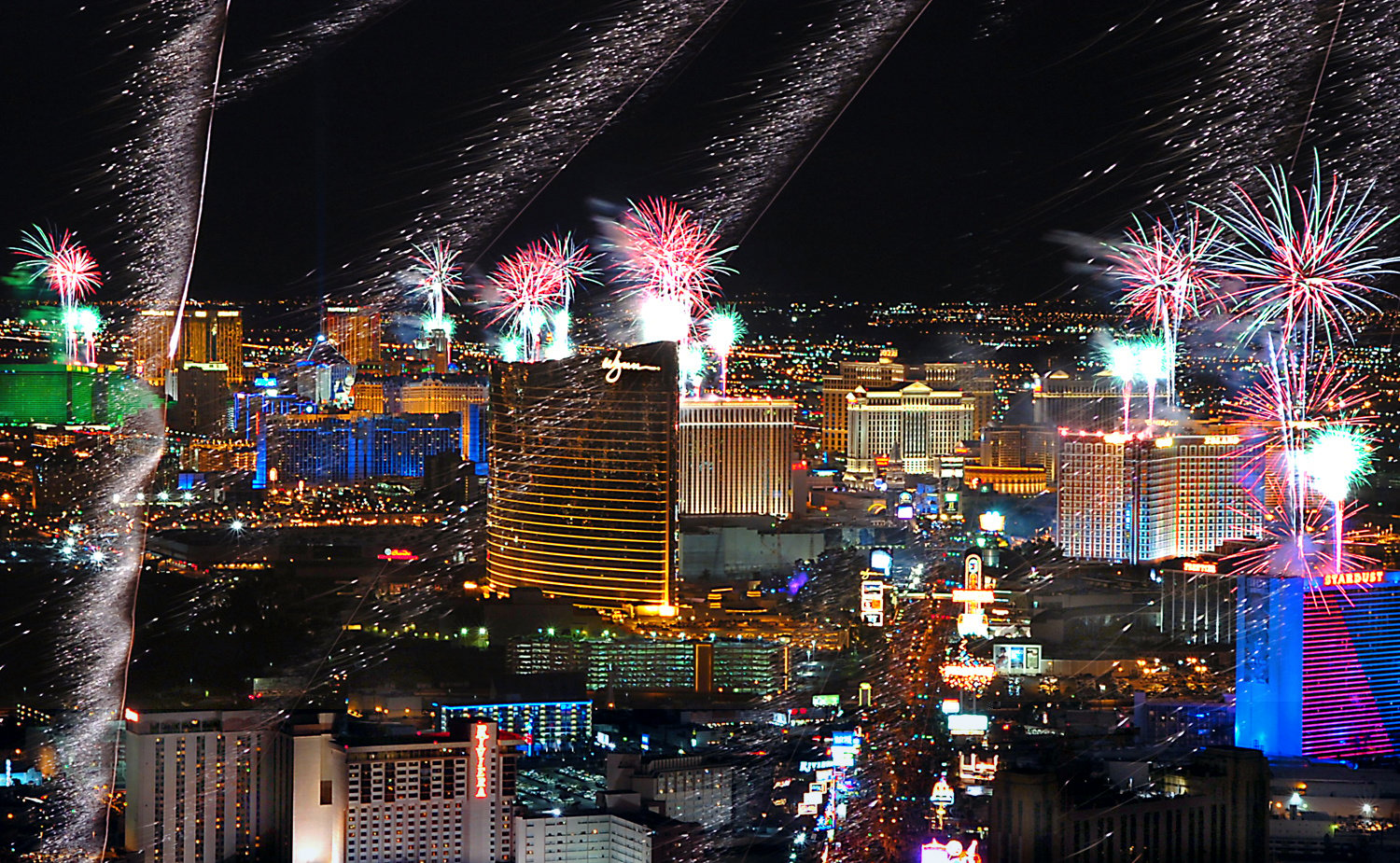 Next to possibly New York's Times Square, nowhere in the world says "New Year's Eve" like Las Vegas. In a city that's built on booze, sex and gambling, who doesn't want to bring in 2014 where the party never stops?
Naturally, that's what the Las Vegas Convention and Visitors Authority (LVCVA) is counting on, because in Las Vegas, New Year's Eve is big, big business. This year, LVCVA is expecting some 335,000 wild and crazy revelers to show up, and with them comes an anticipated nongaming revenue of about $213 million, which makes it very close to last year's numbers.
Guests Will Pay Top Dollar
That's still pretty good news, though, according to LVCVA senior vice president of marketing Cathy Tull. She says that the numbers are still up from two years ago, when about 314,000 tourists brought in some $192.6 million in nongaming spending. Naturally, a fair amount of that is liquor, marked up sometimes as much as 2,000 percent per bottle in the fancier nightclubs in  town – and that's on a normal night, so possibly even more for New Year's Eve.
Hotel rooms are making bank, that's for sure; with a 98 percent occupancy rate across the board and almost all properties will demand a minimum stay of several nights to get in. Room rates will be maxed out to boot, and if you don't have your reservation yet, chances are, you are out of luck before you even arrive in this gambling mecca.
Want a look at what you're likely in for? Well, a deluxe king over at Mandalay Bay – certainly a higher-end Strip property – will run you close to $527, before tax and extras. If you want to go a bit more "budget", you'd be shelling out $409 at minimum for a coveted Strip view room at Planet Hollywood – where you can watch the massive city-wide fireworks display while sipping insanely upcharged champagne from the comfort of your own window. A similar scenario over at Treasure Island mid-Strip will run you a mere $386 per night.
Entertainment Galore
Of course, few people expect to be spending New Year's Eve couched up in their rooms, and the city makes big bucks on fancy prix-fix dinners, lavishly decked out nightclubs, and headliner entertainment to boot. Depending on your age range and what your idea of "fun" is, there's something for everyone.
"[Our Trump rooftop pool deck] has been very popular," said Trump International marketing manager Jason Demuth. "Our emphasis is service, so we don't charge for music or entertainment on our property. And we have a complimentary champagne toast. I think that's kind of unique."
Of course, by "complimentary", you can usually assume the charge is built in elsewhere in Vegas; plus,  that's just for your first glass, and who has one glass of anything in Las Vegas? For this privilege, you'll be paying $334 a night at Trump.
Because of the demand and overflow, many high-end casinos off the Strip that typically cater to more of a locals crowd are also charging top dollar for their rooms. For example, Station Casinos – now better known by the general public as the first online poker providers in Nevada via their UltimatePoker.com site – is charging $300 a night  for a Green Valley Ranch stay or $480 for the elegant Red Rock casino, both far off the Strip. Because of the valley geography of Las Vegas, visitors will likely still be able to see most of the primary fireworks, albeit from a distance, of course.
If you want to stay downtown, amidst the neon spectacular that is the Fremont Street Experience, expect to dole out $329 at the chi-chi Golden Nugget or $200 at the not-so-much Golden Gate. Even the budget properties in town will milk you dry: a South Las Vegas Strip Super 8 Motel wants $322 total for a two-night minimum, while the same deal at a Best Western on Paradise (the street on which the Convention Center sits) will run you $387 for the two nights. And virtually all of these properties were already sold out by mid-December.
As for entertainment, there's whatever you want, from high-brow to low-brow, and everything in between. Downtown's elegant new arts center, the Smith Center, features squeaky-voiced singer Kristin Chenoweth for a New Year's Eve songfest starting at 9 p.m., with tickets running about $60 each. The flashy Fremont Street Experience – more of a beer than champagne crowd overall – will host a Downtown Countdown with a variety of headliners, including bad boy Vince Neil and Papa Roach; tickets are $40.
Several normally scheduled casino headliners will simply make more on New Year's Eve. The just-opened Britney Spears show "Piece of Me" will be going at Planet Hollywood, as will Maroon 5 at Mandalay Bay and Bruno Mars at the Cosmopolitan.
Of course, it's not New Year's Eve in Las Vegas without the massive pyrotechnics display, put on with enormous planning each year by the iconic Grucci family. This year, you can expect an eight-minute, multi-property run from seven Strip rooftops, from downtown's Stratosphere up to the Strip's Caesars Palace, and everything in between.
Keeping Them on Site
The hardest part for each property is capturing those precious tourists dollars; to that end, one-upmanship is the name of the game. And with New Year's Eve hitting on a Tuesday this year, most have tried to lure guests in the weekend before for maximum dollar output.
"They all try to gear to something you can't get somewhere else. Each of the properties is trying to cater activities for their guests that will keep them on property," said LVCVA's Tull.
If budget is no consideration, for example, you can wine and dine at the high-end Le Cirque at Bellagio (of "Ocean's Eleven" fame) for just $495 per person; for that, you'll be dining like Henry VIII himself on a dinner of  lobster salad with a truffle vinaigrette, wild Atlantic turbot, Kobe beef ox tail timbale and a fantasy dessert. Perhaps you think that high-ticket price would include alcohol, but you'd be mistaken; if you want wine pairings with your meal, tack on another $150 per person. And remember, with taxes and an expected minimum 20 percent gratuity for everyone you encounter, your bill could easily end up pushing the thousand-dollar mark by the time you're done.
And if after all your partying, you want some room service breakfast delivered the morning after, you can have that as well for another staggering fee. But when you feel like toast after a night of hard partying, what's another $100 room service charge, after all?
Happy New Year, everyone. Make it a safe one, please.