Rhode Island Faces Competition from Impending Massachusetts Gaming
Posted on: March 15, 2014, 05:30h.
Last updated on: March 11, 2015, 08:02h.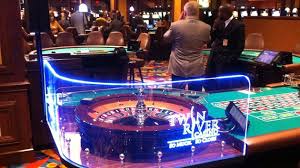 Gamblers and state officials in Massachusetts are starting to getting excited; after all, in the next few months, licenses will be awarded to up to three casino operators in different regions of the state to join the slots parlor in Plainville, and that's going to mean a lot of new revenue for the state. It also means that Massachusetts gamblers will be able to stay a lot closer to home when they want to visit a casino – great for them, but not so good for the state's neighbors who rely on gambling revenues as part of their state budgets.
The most dramatic effect could be felt in the tiny state of Rhode Island, which directly borders Massachusetts to the southeast. Gambling is the third-largest revenue source for the Ocean State, with most coming from the Twin River in Lincoln and the Newport Grand in Newport.
Massachusetts Casinos Will Impact Rhode Island Revenues
Right now, those casinos are expected to bring in $394 million for the state in the current fiscal year, and another $400 million in 2014-15. But in the four years after the Massachusetts casinos begin opening – which many believe could happen as early as next year – the Rhode Island Office of Management and Budget estimates that the state could lose $422 million over a four-year period. That would start with a $48 million dip in 2015-16, which would increase to $144 million by the end of the four-year projection.
That's an issue for the state, since they are already predicting budget shortfalls for those years. The loss of gambling revenue would only exacerbate that problem, leading to an estimated shortfall of $419 million for the 2018-19 fiscal year.
The issue only grew more apparent when the Penn National Gaming proposal in Plainville was chosen as the site of Massachusetts' lone slots parlor. That facility – which could be up and running before the end of this year –  is right on the border with Rhode Island, and perfectly located to attract what University of Massachusetts Dartmouth professor Clyde Barrow calls "convenience gamblers," who normally traveled to the Rhode Island casinos.
"The first objective was to capture convenience gamblers that were leaving Massachusetts and going to Twin River and Newport Grand," Barrow – who is an expert in the gaming industry – said.
While casino operators in Rhode Island know this problem is coming and will work to combat it, there's only so much they – and the state – can do to protect their revenues.
"We've said all along that we can focus on the things that we can control," said Twin River Chairman John Taylor. "While we want to be aware of what's happening over the border, we can't really have much impact on what happens."
Online Gaming Still Aways Off
One potential avenue for increased gambling revenues is online gambling. However, Rhode Island has yet to even test Internet gaming sites, and the state has yet to move beyond the exploratory stage in considering the idea.
The state lottery believes that it could add online versions of games like keno and bingo, since it already offers such games offline. However, adding casino games or poker would require approval from Rhode Island's residents, since it would be an entirely new form of gambling.
"We wouldn't pursue it without statewide approval," said Rhode Island Lottery Director Gerald S. Aubin. "To venture into online poker and online gaming would take constitutional approval."
Aubin also questioned whether offering lottery products online would simply cannibalize revenues from convenience stores and other vendors who currently sell their games, potentially causing more harm than the added revenue would be worth.